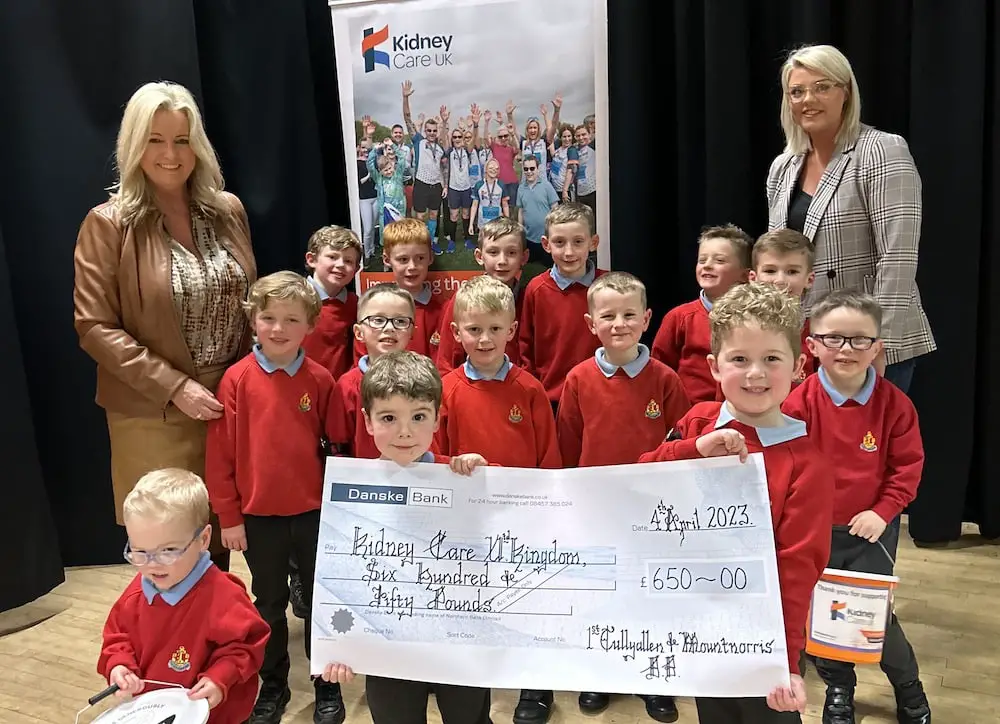 The plight of three-year-old Olly Cartmill, who is waiting on a life-saving kidney transplant, has inspired local Boys' Brigade members to raise money to help others.
The story of Olly, from Newry, has led to the Anchor Boys of 1st Tullyallen and Mountnorris to raise the fantastic sum of £650 to help support local people living with kidney disease.
The cheque was presented to living kidney donor and Kidney Care UK Ambassador Jo-Anne Dobson at the Annual Display and Parents Evening which took place recently at Markethill High School.
Commenting Jo-Anne said: "Olly is a little fighter who so urgently needs a kidney transplant and he is inspiring people across the country to learn about and support people living with chronic kidney disease.
"In response to Olly's appeal for help his cousin Jack and his friends in the Anchor Boys worked together to raise this amazing amount to help us to continue to support people when they need it the most.
"It was a privilege to attend and be a part of the Annual Display and the evening was made very special indeed by having Olly, his baby sister Etta and wonderful parents Dionne and Neil with us.
"None of the dedicated services we provide to kidney patients would be possible without the terrific support we receive from the heart of the local community and that's why it was truly humbling to be on stage and to thank these young boys and their leaders who had a very special reason indeed for their fundraising.
"Kidney Care UK is proud to support children, and adults, right across Northern Ireland who are living with kidney disease including funding the children each year to attend the Transplant Games.
"We also provide dedicated support including funding Shared Care nurses in the Western Trust and a Renal Counsellor in the Northern Trust.  "
"All of these wonderful boys are deserving of praise but a special thank you must go to Arthur Simms who was the top fundraiser and who helped to make the presentation on the evening and to Olly's Aunty Lynsey of Studio 44 in the village for all her continued support.
"Please think about becoming a life-saver and have that family conversation about organ donation – we all have it in us to become a life-saver."
Sign Up To Our Newsletter