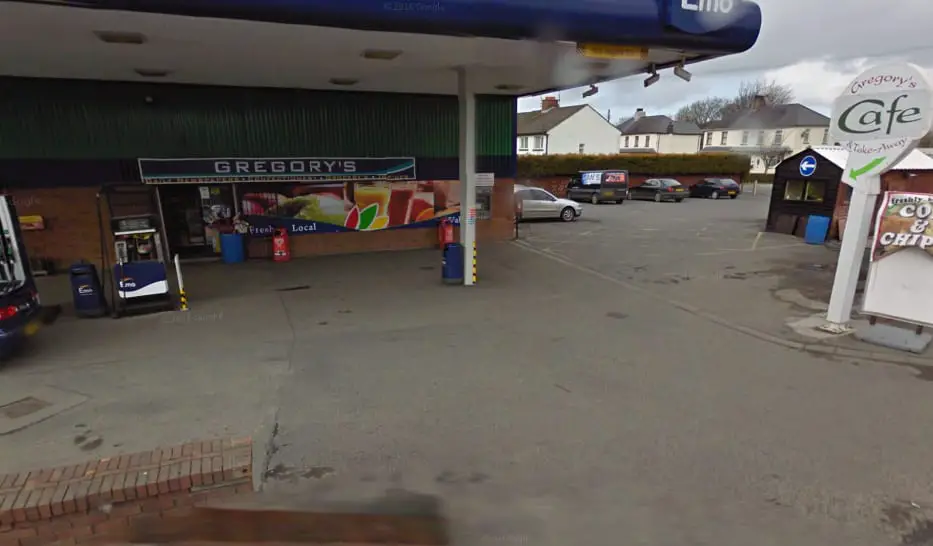 These pictures on Twitter by @NewrayPics show the sheer destruction left behind after this morning's ATM robbery on the Camlough Road.
It appears that Gregory's Petrol station in Bessbrook – directly adjacent to St Paul's High School – was completely ripped apart down one side with the second floor coming down on top of the shop.
The digger used in the raid was set alight in the middle of the road.
Traffic issues Camlough following a ram raid on Gregory's Shop, Camlough road closed as the digger is blocking it pic.twitter.com/ZThsY6nqof

— newraypics (@newraypics) November 6, 2015
Owner Simon Gregory, speaking to Q Radio, said: "Shock is not the word for it. We got a phonecall this morning about 4.14am and we came down to see the excavator on fire. The fire brigade were actually putting it out at that time and then the police arrived.
"I'm lost for words for the damage that was done. We were hit about six years ago but the damage was nowhere near as bad then."
Detectives in Newry are currently investigating the theft.
Detective Constable Sarah Lyttle said, "It is believed at this stage that heavy machinery was stolen from a building site on the Camlough Road at around 3.30am this morning, and then used to remove an ATM machine from the wall of a filling station nearby.
"The machinery was set on fire following the incident, blocking the road, which remains closed at this time as we carry out our enquiries.
"I would ask anyone who witnessed this incident or who has any information which may assist our investigation to contact detectives in Ardmore on 101 or Crimestoppers anonymously on 0800 555 111."
Sinn Féin MLA Conor Murphy has condemned the thieves involved.
"This was a despicable attack on a locally owned business that provides jobs and a crucial service to the community," he said.
"The theft of the shop's cash machine is particularly loathsome as these machines provide a vital service to people in rural areas, especially people with limited mobility or access to transport.
"In addition to the destruction caused to Gregory's shop the digger they used to carry out this attack was stolen from a local building site and then set on fire outside St Paul's school, dealing a huge financial blow to yet another local business.
"It takes an absolutely craven mentality to set a vehicle on fire outside a school. thankfully nobody was hurt but their actions have caused the closure of a particularly busy stretch of road at its busiest time, stopping people getting to work and, crucially, children getting to school.
"These thugs have no respect or regard for this area or its people.  Crimes like this are an assault on the entire community and as such the entire community must unite to face these parasites down.
"If anyone witnessed any suspicious behaviour last night or indeed anything of note in the area of the Camlough Road I would urge them to contact the PSNI as soon as possible and help get these criminals off the backs of our communities."
Ulster Unionist MLA Danny Kennedy has also condemned the incident.
Mr Kennedy said: "I unreservedly condemn last night's robbery in which a digger was used to rip a cash machine from the wall of a filling station on the Camlough Road close to Bessbrook.
"This is the second similar attack in six years on a well-respected family run business.
"To compound their crime, the robbers then set heavy machinery on fire in the middle of the Newry to Camlough Road, which created major traffic disruption on Friday morning.
"I would appeal to anyone who can assist the Police to catch those responsible, or who saw any suspicious activity in the Camlough Road, Bessbrook around 03:30 on Friday morning, to contract the Police immediately."
SDLP Slieve Gullion Councillor Kate Loughran has also condemned those responsible.
She said: "Those behind a the reckless raid on Gregory's store in the early hours of Friday morning have to be condemned outright.  This is not the first time this store was attacked in this way, however this time the incident was much more destructive and has caused a large amount of disruption throughout the area all day.'
"The Gregory's are a very well respected and hard-working family, this community is extremely angry that this has happened and want to see those responsible brought before the courts and held accountable for their actions.'
"News has been breaking throughout the day of progress by An Garda Síochána and the PSNI as they follow up their investigations in relation to this incident.  They have to be commended for their swift actions and this is a good example of good progress being made when the police services on both sides of the border work together tackling the scourge of crime in our communities."
Read more news:
Co Armagh woman's warning to lone female drivers after car park incident last night
Donations flooding in to help brave Willie and Lyndsey tie the knot
Motocross ace thrilled to have stolen motorhome recovered
Sign Up To Our Newsletter