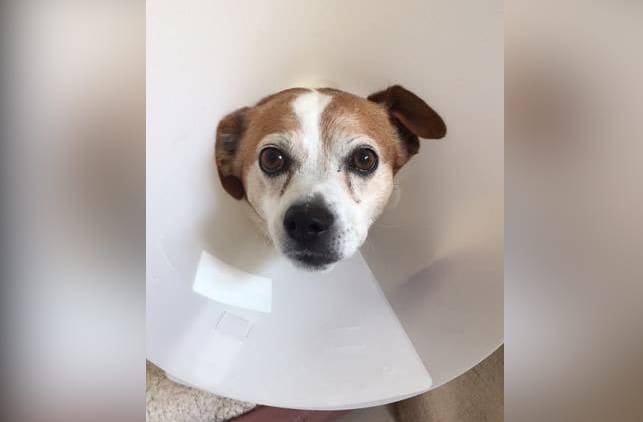 A pet owner has hit out at a driver who ran over his dog before fleeing the scene.
Ciaran McDermott's 11-year-old pet terrier was knocked down by the driver of a Nissan Qashqai, however, the dog managed to survive the collision on the Armagh Road, on the outskirts of Newry.
Ciaran, whose had Purdy from she was a puppy, hit out at the cowardly driver who drove on, leaving the dog for dead by the side of the road.
Speaking to Armagh I, Ciaran said: "She [Purdy] escaped through the back gate as there was a plumber in, so I was out looking for her. When she saw me, she legged it on to road towards me.
"The driver had time to stop so I reckon he wasn't maybe concentrating on the road. He stopped way ahead, then looked in his mirror and drove off quite quickly."
The driver was travelling towards Newry and took off in the direction of the Five Ways roundabout.
Ciaran continued: "She had blood all over her leg and face and couldn't breathe. I flew her to vet and they gave full check over with antibiotics and pain killers.
"She had a very lucky escape and we are very fortunate she is still with us today.
Have to stay with her cos her heart etc just in case more prevention."
He added: "She's been here since a pup, so she's like the baby.
"It's not the driver fault when it's an accident, he just wasn't looking at all but it happened. It's one of those things, it's just annoying he fled the scene."
It is understood the driver is of Oriental descent, driving a black Nissan Qashqai. If you have any information that could help please contact
Ciaran directly via Facebook. 
Read more news:
Watch the shocking moment woman and child duck under barriers as train approaches
Fifteen people imprisoned in house forced to live in squalor by gangmaster
Young family left shaken as thugs target house as baby slept
Lithuanian man extradited to face charges including county Armagh rape
Another major cash windfall confirmed to help revitalise Armagh city centre
Sign Up To Our Newsletter