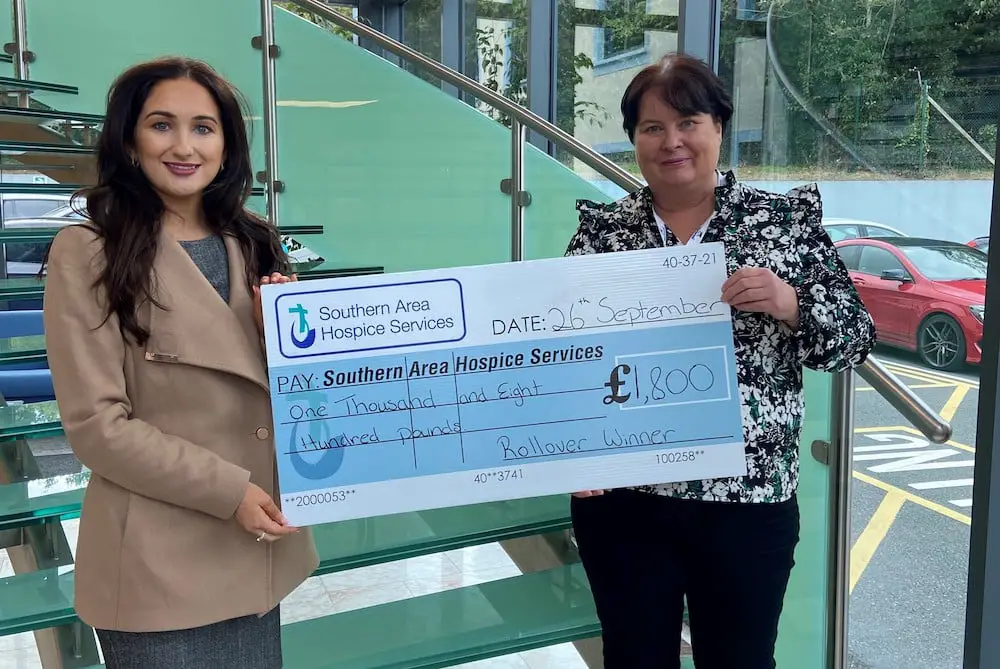 Another Norbrook employee had a stroke of luck after scooping the Southern Area Hospice's lottery rollover recently.
On Friday, September 16, Lisa Walsh from Norbrook Laboratories won the rollover prize of £1,800.
Lisa is the twenty-fourth member of the Norbrook team to have won a prize in the charity lottery this year with a combined winning total of £7,300. While the team at Norbrook are on a winning streak they have donated back a phenomenal £20,253.58 to the weekly lottery in 2022 alone, making a huge difference to local Hospice care.
Lisa only joined the weekly lottery less than a year ago via her workplace, Norbrook Laboratories to support Southern Area Hospice on a regular basis.
Speaking about her win Lisa said: "Norbrook enable us to play the weekly lottery from our pay each month so we don't have to do anything, I nearly forgot I was being entered so when I got the call to say I had won a prize I couldn't believe it.
"When I was told it was £1,800, I was in shock, you never expect to win these things yourself. I have wanted to book a holiday to Italy for a while now so that is what I will do with my winnings."
Norbrook Laboratories encourage their employees to take part in many charity fundraisers including joining Southern Area Hospice Services weekly lottery.
Employees are entered via their payroll and have an opportunity to win three guaranteed weekly prizes plus a rollover prize of up to £5,000.
The Hospice lottery draw takes place every Friday and costs just £1 per week to play or £4.34 per month. Once you sign up, you're assigned your own unique 5-digit number which is entered into the draw each week and all prizes are automatically posted directly to winners, so there's no need to claim your prize…it couldn't be easier!
If you would like to join the Southern Area Hospice Lottery you can do so at www.southernareahospiceservices.org/lottery-support-us
Or, if you would like more information on how you can introduce Southern Area Hospice Lottery to your workplace,
call Bernie on 028 3026 7711.
Photo Caption: Norbrook Laboratory employee, Lisa Walsh is pictured receiving a cheque for £1,800
which she won in the Southern Area Hospice lottery from Fundraising Officer, Bernie Murphy.
Sign Up To Our Newsletter