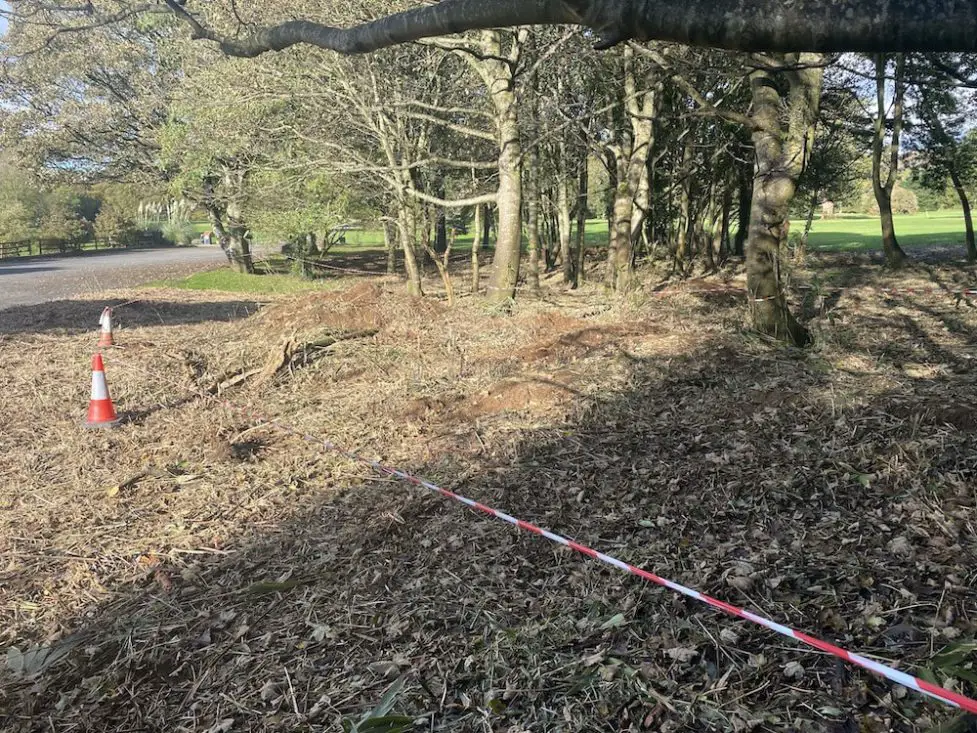 A local council has been slammed for removing bamboo in a Co Down park which has exposed a previously hidden badger sett.
Independent councillor Jarlath Tinnelly said he had faced members of the public who had gone "absolutely doolally" and "were demanding answers" over the removal of the plants in Kilbroney Park during the weekend.
He said the council had acted in a "callous" way and that he "unequivocally condemned" their actions.
Speaking during a meeting of Newry, Mourne and Down District Council (NMDCC), Cllr Tinnelly said: "I want to put it on the record that it wasn't done in my name. I am absolutely shocked and share the concerns and the outright anger in relation to this matter.
"It is too late now to save this site and it's my understanding that the council have been reported to the police because the Wildlife Northern Ireland Order 1985 protects badgers so someone could be in trouble over this."
It was at this point that Chairperson Cathy Mason tried to interject to let the NMDDC Chief Executive in, but Cllr Tinnelly continued.
He added: "What I am seeking here tonight chair[person], is an assurance that going forward council officers liaise with councillors to cover any work that will fundamentally change the character of any area on any of our estates.
"As I said earlier, it's too late chair[person] to save this site but we should acknowledge, and I would like to see an acknowledgement from our senior management team, that this was a mistake.
"This work should not have taken place in Kilbroney Park regardless that we're talking about an invasive species here.
"These plants have been in place for decades and I want to make this part of my proposal, that the council come out with an official statement on their social media sites to address what I have just discussed."
Chief Executive Marie Ward, who was also in attendance, said she had already previously spoken to Cllr Tinnelly and advised him that it would be "inappropriate" to reveal the details at the meeting.
Ms Ward said: "I have communicated with councillor Tinnelly on this matter and it's a matter that I believe is being looked at in some detail. I would again say to members that this is not a matter to be voted on in council in relation to what the council do and not do on this.
"It's a matter we need to allow the process to conclude on and I'm happy for it to be picked up outside the meeting and a meeting has been arranged between the director and councillor Tinnelly on this matter.
"I don't think it's appropriate and councillor Tinnelly was advised of that pre-meeting to go into detail or make the accusation regarding the council doing works is inappropriate because there has to be a process that concludes on that."
However, despite the chief executive's request, Cllr Tinnelly said he would rather go forward with a vote on his proposal: "I would not be doing my job if I did not raise this matter tonight.
"We are the elected members and the metaphorical mob was not at Marie Ward's door at the weekend but I can assure you that it was at my door and at councillors Gibbon's door and probably other Crotlieve councillors.
"I fully propose this chair[person] and if I get a seconder I would respectfully request that you allow it to go to a vote please."
Cllr Tinnelly's full proposal was as follows: "[That this council] going forward any works, not only tree felling, any works with Kilbroney Park and other council sites that will fundamentally change the character of the area are to be discussed with elected members in advance and reason given for the proposed works.
"And also that the council give an official statement onto their social media immediately following this meeting to address the details of this meeting and its decisions."
Meanwhile, a spokesperson for the PSNI confirmed that a report was made to them on Saturday, October 30 over the removal of the plants.
A PSNI spokesperson said: "Police received a report in relation to the suspected destruction of a badger sett in Kilbroney Park, Rostrevor.
"Officers attended the scene and discovered no deliberate or malicious interference had taken place. Police have liaised with relevant agencies and are working with them to rectify the situation."
Marie Ward said the terms of Cllr Tinnelly's proposal was "very operational" and said that he would need to define what he meant by "changing of the character", in regards to council areas.
Ms Ward also suggested that a report be brought back to the Neighbourhood Services Committee on the matter.
When asked if that would be a suitable way forward, Mr Tinnelly said he would prefer to hear what other members had to say on the matter.
Sinn Fein's Mickey Ruane said 'it wouldn't be hard to seek the views of elected representatives and residents before work like this takes place in the future'.
He added: "I do appreciate that this is part of the council's local biodiversity plan and the area in question was very dense and it was only after it had been removed that it was noticed that the badgers were there.
"But there is still an issue there. I do think when [council] officers are dealing with an issue or proposing to deal with an issue, they really do need to stand back at times and see how it impacts the area and local community.
"There's no harm in getting the views of local elected representatives and I agree with councillor Tinnelly, we need to get our message out there. People don't know why it was done or who did it.
"We do cause ourselves numerous problems by not communicating with the local area and local community and I would be of the opinion that a paper [brought back to Neighborhood Services Committee] would be fine because this isn't just relevant about Kilbroney Park, it could be other areas across the district."
NMDDC said the work was carried out to remove "a non-native invasive species" and that they were currently cooperating with the relevant authorities.
A spokesperson added: "Bamboo is a non-native invasive species which originates from Asia and was introduced to Ireland as an ornamental plant.  It grows rapidly to the detriment to other native plants.
"As part of the Council's Biodiversity Action Plan we are committed to controlling and where possible removing non-native invasive species from Council land so that, as in this instance, the native woodland wild flowers and plants can grow back.
"Regrettably, due to the dense nature of the bamboo at this location, maintenance staff were unaware of the presence of the badger setts.
"The Council has undertaken immediate steps to provide protection to the badger setts so as to prevent further disturbance and will be working with PSNI's Wildlife Liaison Officer and Officers within NIEA on any further action required."
Sign Up To Our Newsletter