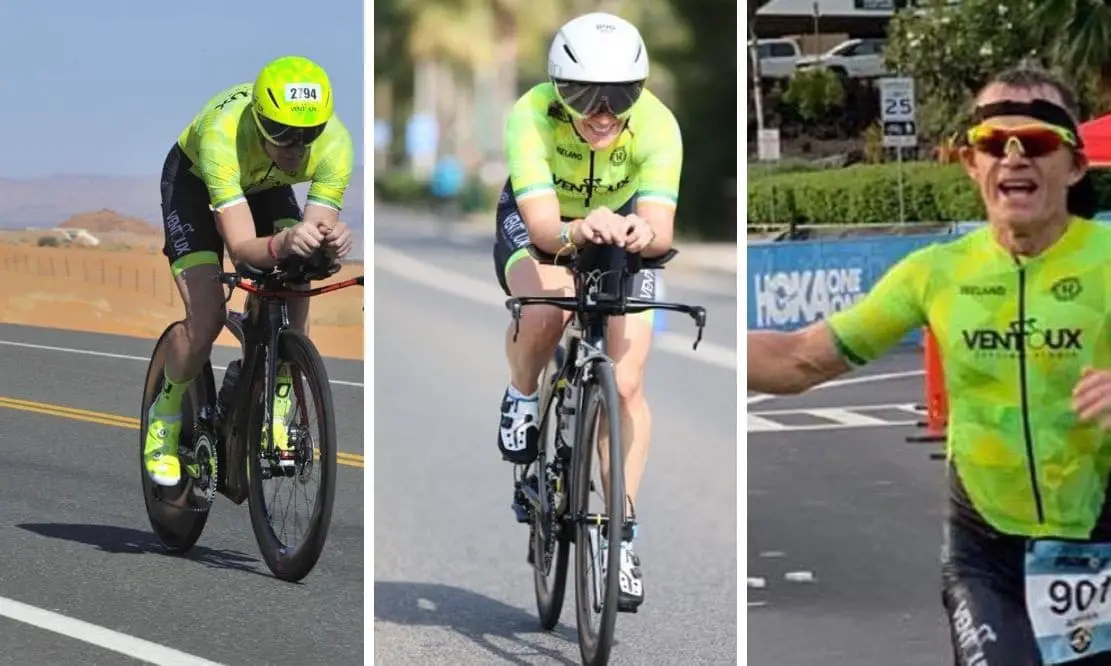 Three Newry athletes are hoping to bring sporting glory back to Ireland as they prepare to head to Hawaii for the Ironman Triathlon World Championships in October.
Owen Martin is no stranger to the World Championship as he looks forward to his 11th trip to Kona in Hawaii this year.
He will be accompanied by his two teammates Adrian Garvey and Eithne McGorman. This will be Adrian's third visit to the Pacific, while Eithne is gearing up for her first ever performance.
All three belong to Ventoux Cycling Club in Newry and have been training hard to get to this stage.
The qualifiers, which are required in order to obtain a place at Kona, were certainly no pushover, but hard work and dedication means that Owen, Adrian and Eithne are among approximately twenty Irish athletes making the pilgrimage across the oceans.
The Ironman Triathlon World Championships are hosted annually in Hawaii and are reserved for the best of the best in the triathlon world.
The 2022 offering of this 140.6-mile expedition is due to take place on October 6 & 8, and will see thousands of athletes from across the world take part. The gruelling race consists of a 2.4 mile swim, then a 112 mile cycle, followed by a marathon 26 mile run.
Speaking to Armagh I, Owen – who holds the record for most consecutive appearances at Kona in Ireland – says that the World Championship is the 'crème de la crème' of the Triathlon world, with only around twenty athletes from Ireland making the cut.
"We don't race professionally, but it's professional level training to get there," he said. "You're racing against every top athlete in the world to qualify.
"It's going to be quite hectic, having three to four to five thousand athletes there in two weeks, but we've missed all that with Covid. We just want to get there and get racing.
"It's a very prestigious race, but not many people here know about it.
"I can't wait to go back. It's such a special special place. I know it'll be hot, I know it'll be extremely humid, but I still have a lot of fire in my belly. I love passing on my experience to the people like Eithne, who are going over for the first time."
Adrian Garvey, like Owen, is no newcomer to Kona. He says that he's glad to be making the return to Kona following the hiatus due to the pandemic. "It's a great event and a great place to go", he says.
He explains that the weather conditions in Hawaii make for an Ironman like no other.
"It's a different place and a different heat. Particularly the humidity, which is very difficult to explain to anybody who hasn't been there before.
"The first time I went I couldn't believe it. I walked outside and within five minutes my shirt was damp with sweat.
"The trepidation of thinking 'how do I race an ironman in this heat?' was very nerve wracking initially, but your body adapts within four or five days and you get used to it.
"There is no such thing as an easy Ironman. They are all tough and bring their own challenges. Physically? Yes. Mentally? Without doubt.
"You're pretty much racing the best of the best, the guys that put the hours, the time and the effort in. There could be 400 people in your age group and everybody is at the top of their game. It's extremely difficult to qualify. You have to be very lucky and very dedicated.
"I'm extremely blessed and lucky to be able to go there. Most people who partake in our sport would never get that opportunity, but there's a lot of sacrifices that both me and my family have to make for me to be able to do that."
However, he adds that it's the moral support from friends and family that helps drive his motivation.
"The whole island nearly comes out to support you," says Adrian. "There's people from all over the world of all different nationalities. That kind of drives you on and inspires you. For a first timer, that's just fantastic to be part of it."
Eithne McGorman will be making her Kona debut this year and says that, despite being nervous about her first time in Hawaii, she is looking forward to it.
Speaking to Armagh I, Eithne said: "I'm very excited to be going to Kona in October, I feel it'll be an amazing experience after qualifying through Ironman Lanzarote in May this year.
"I've been consistent in my training, made sacrifices and taken on all the advice that my coach Owen Martin has given me, his knowledge and experience in triathlon have been invaluable.
"I've had great support from family, friends and fellow triathletes over the years", she added.
Sign Up To Our Newsletter