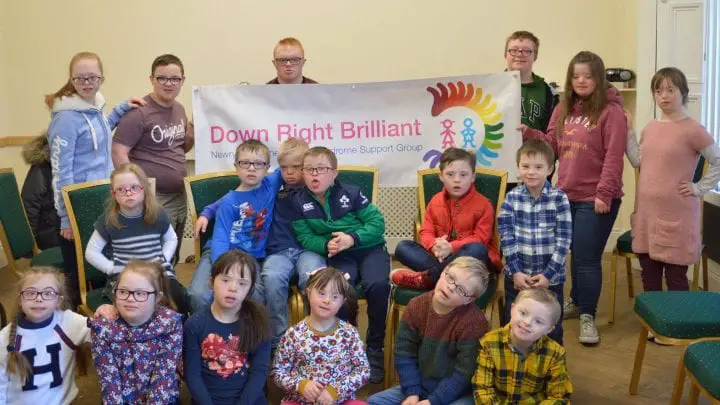 A Newry-based group is hoping to win a lottery grant to run a youth club for young people with Down's Syndrome and their siblings.
And that is where the public comes in, as this is one of five projects in Northern Ireland competing to win a share of £150,000 through a public voting system, which opens tomorrow (Monday), March 20.
They are due to feature on UTV Live every day this week and will also be showcased in the Daily Mirror and Belfast Live on the same day of broadcast.
On Wednesday, it will be the turn of Newry & Mourne Down's Syndrome Support Group, which works with children and young adults with Down's Syndrome.
It is hoping to secure £49,955 in funding will be used to set up a Down Right Brilliant Youth Club for children and young adults with Down's Syndrome and their siblings.
The project will offer activities that the young people will help decide on including dance, circus skills, football and outings. The activities will reduce isolation, build friendships and give the young people a place to call their own where they can go and have fun.
The Big Lottery Fund, ITV and The National Lottery have teamed up for this great initiative and are giving the public the chance to decide how £150,000 of National Lottery funding can make a difference.
The People's Projects is an opportunity to celebrate some of the incredible projects the Big Lottery Fund has supported over the past year. With five shortlisted across Northern Ireland, the public can now decide which groups should win up to £50,000 to develop their project further.
Starting tomorrow (Monday), March 20, the B.U.I.L.D project by The Coast Office in Portballintrae, Co Antrim, will be featured first. If successful, the community organisation will receive £50,000 to connect people including schoolchildren and older people with each other and their local coastal countryside. Activities include traditional boat building, a conservation award for young people, and maritime skills workshops.
On Tuesday it will be the turn of Connecting Care Homes by Linking Generations NI in Belfast. They hope to receive £50,000 for a project to connect older people with schools, youth clubs and sports clubs in their communities. They will work in Antrim, Holywood, Banbridge, Larne, and Crossmaglen. The intergenerational activities, including an art project, will bring the older and younger people together, and increase their confidence and skills.
On Wednesday it will be the turn of Down Right Brilliant Youth Club by Newry and Mourne Downs Syndrome Support Group in Newry.
Thursday's programme will feature Food for the Soul by Via Wings in Dromore, Co Down, who hope to receive £48,900. If they win, the group will use the money to set up a year-long catering and hospitality and work placement and training programme for young people and adults facing issues including unemployment and learning disability. This will take place mainly in their social enterprise coffee shop, the Olive Branch in Dromore, Co Down. The people taking part will also distribute meals to vulnerable local people.
And Harmony Hubs by Everyday Harmony Music Therapy based in Belfast will be featured on Friday's UTV Live at 6pm. If successful, they will receive £50,000 to bring music therapy to more people by setting up treatment sessions in rural hubs in Tyrone, Fermanagh and Antrim and buying instruments. The music therapy improves wellbeing for children and adults with learning and physical disabilities, mental health issues, acquired brain injuries or people who are receiving palliative care.
Terry Brennan, Head of News and Programmes, UTV said: "The People's Projects is an exciting opportunity for you to make a real difference to your community. We are showcasing some fantastic shortlisted projects across Northern Ireland this week. All you have to do to get involved is tune in to UTV and vote for your favourite project."
Julie Harrison, Big Lottery Fund NI Chair, added: "We are proud to support projects like these every year that use the knowledge and ideas of local people to strengthen communities. The People's Projects is a chance for you to decide how National Lottery funding can benefit your local community, so make sure you have your say on who you think should win!"
Voting opens at 9am on Monday 20 March at www.thepeoplesprojects.org.uk
Voting closes at noon on Monday, April 3, and the results will be announced on Thursday, April 6. People can vote once per region and will need an email address to vote.
Sign Up To Our Newsletter