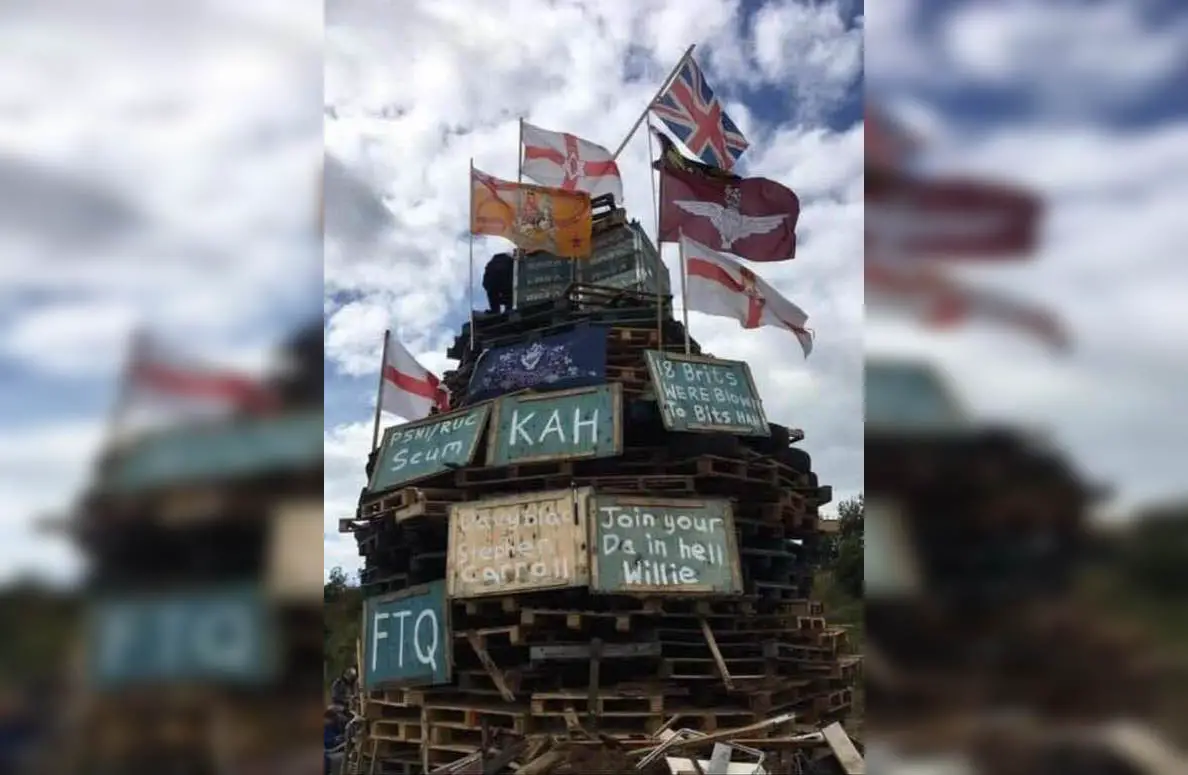 Moves to address the building of a controversial bonfire in Newry – which in past years has included "insensitive and sickening" materials – are due to be made shortly.
The bonfire at Carnagat hit the headlines over recent years and there was cross-party condemnation from local politicians.
Weeks after the death of victims campaigner Willie Frazer, flags were placed on the bonfire and a number of placards too, one reading: "Join your Da in hell Willie."
Another referred to the killing 0f 18 soldiers in a bomb attack at Narrow Water in August 1979 and it read: "18 Brits were blown to bits haha."
Other slogans referenced Prison Officer David Black, gunned down on his way to work in November 2012, and to PSNI Constable Stephen Carroll, from Craigavon, shot dead by the Continuity IRA in March 2009, the first serving member of the PSNI to be killed since the force came into being.
As Newry, Mourne and Down District Council's PCSP and Policing Committee prepared to meet on Tuesday, a report from its bonfire sub-group of an earlier meeting refers to the need to address this issue to prevent it from happening again.
The bonfire sub-group includes political representatives, as well as PSNI, NI Fire and Rescue Service, Housing Executive, NI Environment Agency, and independent members of the Policing and Community Safety Partnership.
Councillor William Walker had voiced his outrage at the language used which "mocked the dead".
It was agreed at the meeting that approaches needed to be made to the builders and community in Carnagat before this year's bonfire.
But the meeting was told that it had been difficult to engage with the bonfire builders as they were "not known" to council.
Staff had been threatened last year, it was pointed out, when they attempted to remove items from the Carnagat site.
The sub-group report going to Tuesday's meeting reveals: "Local residents had advised councillors that most had nothing to do with the bonfire and feel powerless to deal with it.
"It was agreed that the situation needs to be dealt with sensitively.
"The bonfire was built on private land by outsiders, not locals. Council did, in this instance, assist with the clean-up due to local tensions following the bonfire."
It had been agreed that "all agencies need to support the community in Carnagat to address this issue" and the hope was to do this "early" in the year.
Sign Up To Our Newsletter