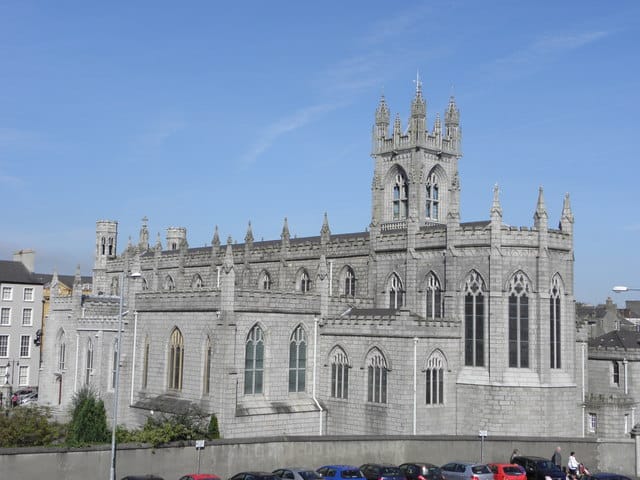 A man accused of stealing £300 from a pensioner's bag as she attended Newry Cathedral has been denied bail.
John Paul McDonagh, of Ardcarn Park in Newry, appeared before Armagh Magistrates' Court, sitting at Newry Courthouse, for the purposes of a bail application.
The 35-year-old was presented via video-link from Banbridge custody suite, charged with two counts of theft and one count of common assault.
The court heard that the charges relate to two incidents that occurred in July 14 and August 2 of this year.
A police constable outlined that on July 14, a report was received from a member of staff at a chemist in Newry alleging that a male had attempted to steal items and had pushed a staff member whilst trying to leave the store.
The defendant was accused of removing three pairs of sunglasses to the values of £18.99 and putting them in his pocket. The defendant is alleged to have pushed past the injured party when she tried to prevent him from leaving, and as a result her little finger on her left hand was "bruised and cut."
The second incident is alleged to have occurred on August 2, when police received a report from a member of the public claiming that their 83-year-old mother had £300 stolen from her at Newry Cathedral.
The injured party said that while partaking in communion, she had left her bag at her pew. When she returned she discovered that the bag was missing. A member of the public subsequently located the bag at the back of the Cathedral. The pensioner noted that a small change purse had been taken, along with £300 from a large purse.
A witness claimed that two ladies had been approached by a male asking for money. They then observed an "extremely thin and sick looking" male entering the Cathedral. This male was later observed leaving the Cathedral, however the defendant was not witnessed taking money from the bag.
The defendant was subsequently arrested on September 12 on suspicion of theft.
Police noted that their main objection to the bail application was that they believed the defendant was "likely to commit further offences", noting that he had 80 previous convictions.
John Rocks, McDonagh's defence solicitor, explained that in respect of the incident at the Cathedral, his client "denies this offence in its entirety", arguing that some of the information provided during interview was "highly contestable".
He added that the bail application was based on family commitments that the defendant has to his children, and that "he has enjoyed periods of time whereby he hasn't been committing offences."
District Judge Anne Marshall noted that McDonagh has an "atrocious, appalling and relevant record", and that the bail request before the court was "a difficult, if not impossible application, as far as I'm concerned".
Judge Marshall, speaking on the incident at the Cathedral, commented: "That's a particularly mean and nasty offence on an elderly lady who's attending at her church service, so I can't think of any conditions that would deal with the very real risk of reoffending."
Bail was refused and McDonagh was remanded in custody to appear by way of video-link before Newry Magistrates' Court on October 5.
Sign Up To Our Newsletter