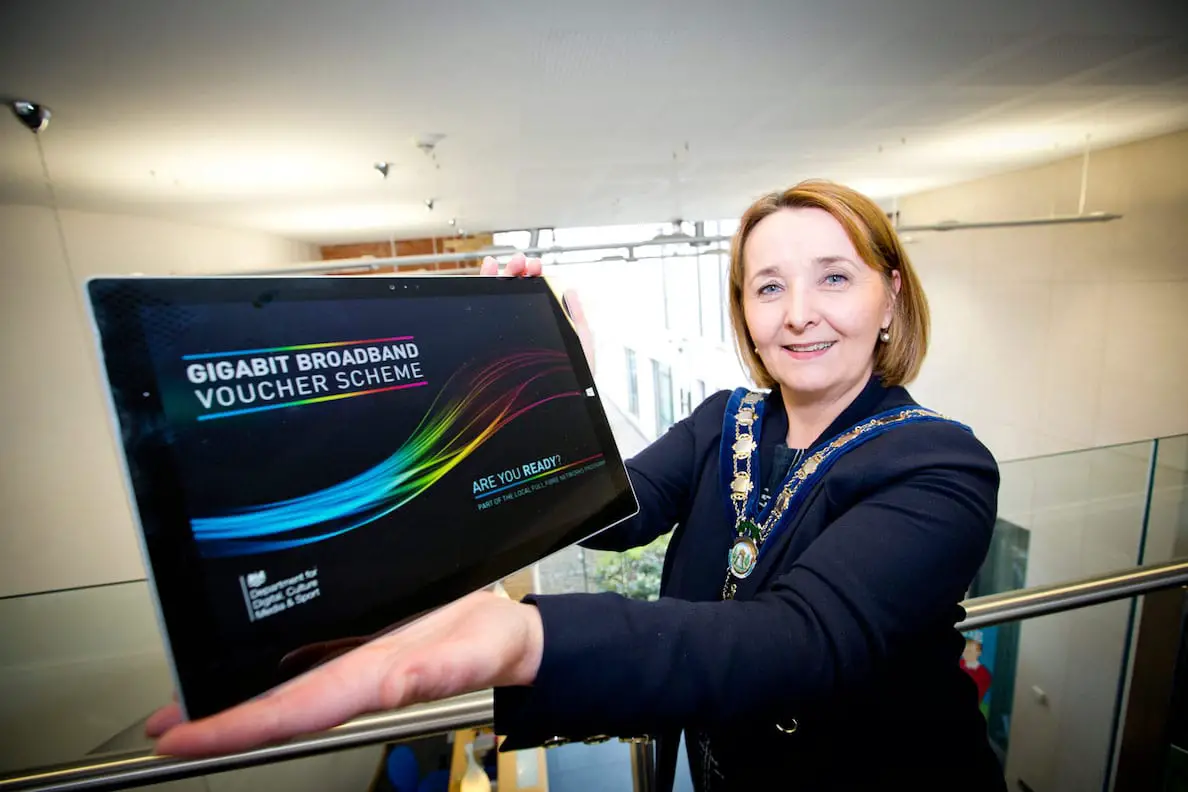 Hundreds of businesses and homes across the Newry, Mourne and Down District Council area are set to benefit from faster internet connections, following the news that the Government has launched a nationwide Gigabit Broadband Voucher Scheme (GBVS).
The £67m investment is in addition to the £200m allocated to the Local Full Fibre Networks (LFFN) programme, and will future proof full fibre connections for both businesses and residential communities.
The scheme follows a successful pilot launched in Great Britain in late 2017 which has already seen nearly 1000 vouchers snapped up.
Newry, Mourne and Down District Council Chairperson, councillor Roisin Mulgrew said: "Following a recent district wide survey of broadband hotspots and areas without reliable broadband, the Council is aware of the connection and line capacity problems limiting some residents and local businesses.
"We sincerely hope that the Gigabit Broadband Voucher Scheme will play a significant part in addressing many of these problems.
"The scheme is designed to be led by the demand of local residents and businesses and as such, its success depends on businesses and communities working together and coming forward, identifying their needs and applying for a Gigabit voucher."
The vouchers, worth up to £3,000 for a small or medium sized business and £500 for a resident, provide a one-off contribution to subsidise the installation cost of gigabit-capable infrastructure.
In addition to providing a boost to the 95% of the UK that can already get superfast speeds (24Mbps or faster), the vouchers could also help those not yet able to do so, helping to narrow the diminishing digital divide even further.
Full fibre connections are faster, more reliable and cheaper to operate than traditional copper lines, and are capable of supporting not only gigabit, but terabit, which will serve the UK far into the future. Currently only around 3% of UK premises have access to a full fibre connection.
The scheme forms part of Government's commitment to make full fibre broadband available to at least 10 million homes and businesses by 2022.
The scheme was launched at the end of March 2018 and will run until March 2021 or until all available funding has been allocated. For more information please visit http://gigabitvoucher.culture.gov.uk or email: connectionvouchers@nmandd.org
Sign Up To Our Newsletter