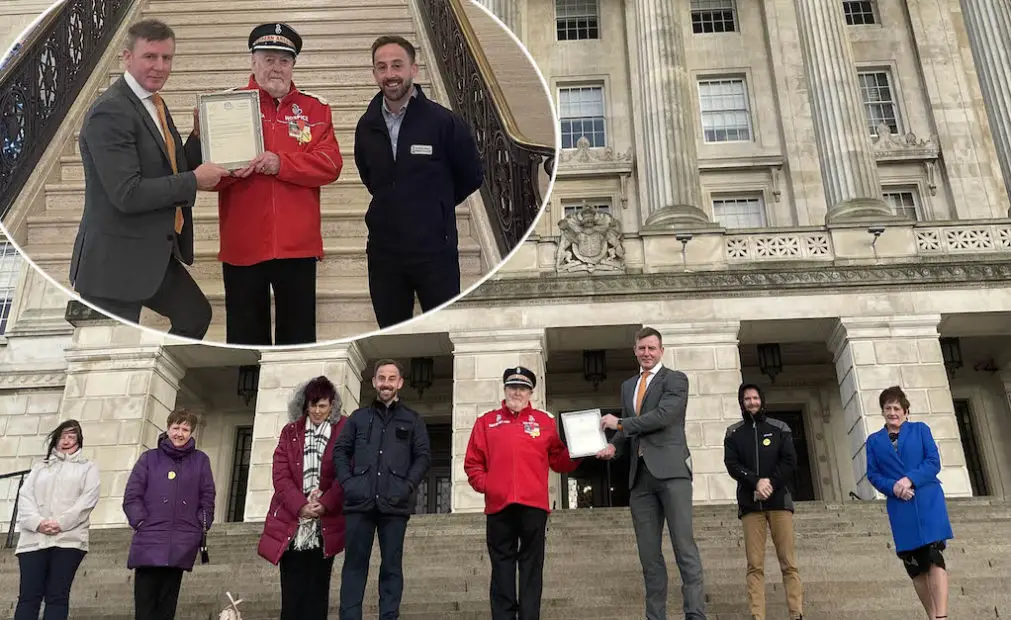 Southern Area Hospice fundraising stalwart John Dalzell has joined SDLP MLA Justin McNulty at Stormont in recognition of his decades of service to the local community, and to launch his 30th annual sit-out.
"I felt that it was important to invite John to Stormont today (Tuesday) in recognition of the extraordinary contribution he has made to our local community over the last three decades," said Mr McNulty.
"There are so many families across our area who rely on the compassionate care of Southern Area Hospice during what can be the darkest and most challenging chapters of their lives.
"By raising a total of £1.85million over the years, John, his team, and those who support him have have played a huge role, not just in keeping the Hospice to the fore of our collective consciousness, but ensuring that it is there to support our community for years to come.
"Through his steady, dependable, and highly visible advocacy and selfless charity work John has inspired a new generation in Newry to put their shoulder to the wheel for our local Hospice.
"John's contribution to the welfare of our community is inspirational. I was delighted and honoured that he and his team joined me at Stormont today. I'm really looking forward to supporting him on the ground this year, and I hope that his sit-out goes from strength to strength."
Sign Up To Our Newsletter