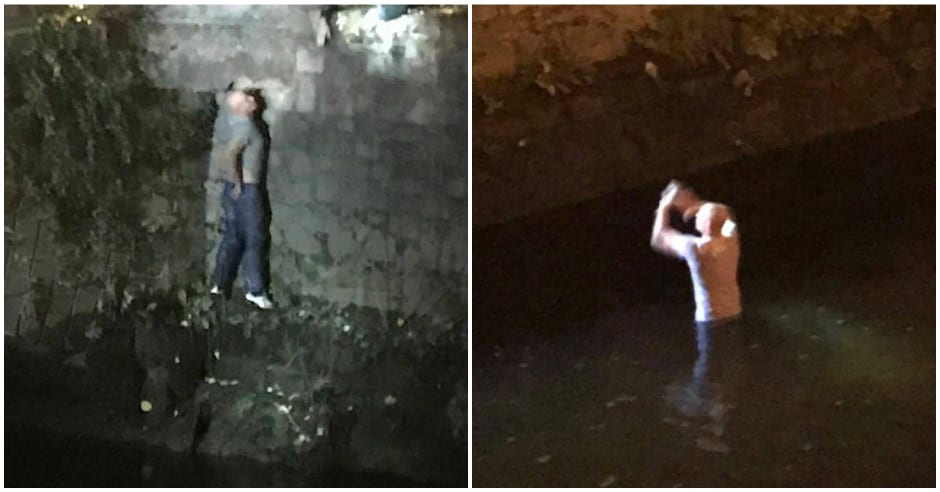 A man had a lucky escape after being forced to jump into Newry Canal to escape a gang of youths giving chase.
The drama unfolded late last night.
The man plunged over the edge of the canal, falling some 15 feet into the freezing and murky waters below.
According to eyewitnesses, the man was being pursued by a group of young people.
The PSNI and Northern Ireland Fire and Rescue Service attended the scene and came to the man's aid.
Also attending to help out were knights of the Newry corps of the Salvation Army, who regularly patrol the city centre to help those in need.
They too gave assistance to the man.
He managed to scramble back to the edge of the canal and cling to the sheer wall. Slowly he inched himself upwards before he was within reach and hoisted free from the water.
Fortunately the man has been described by police as "safe and well", but the ordeal could have ended so differently.
*Main pics by Newry Knights @SalvoNewry1
Read more news:
South Armagh-born MP Conor delivers beautiful baby daughter on living room floor
Tyson the dog left for dead after being knocked down in Tandragee
Armagh bar shortlisted in prestigious Pub of the year Awards
Appeal for witnesses as woman remains in critical condition in hospital
Man and woman have lucky escape after home is set alight in suspected arson attack
Game of Thrones filming begins as stars descend on The Mournes
Natural beauty spot in south Armagh targeted by 'small minded' vandals
Ghostly figure spotted on the Mall in Armagh
County Armagh man personally flown over to style hair of Liverpool FC stars
Sign Up To Our Newsletter