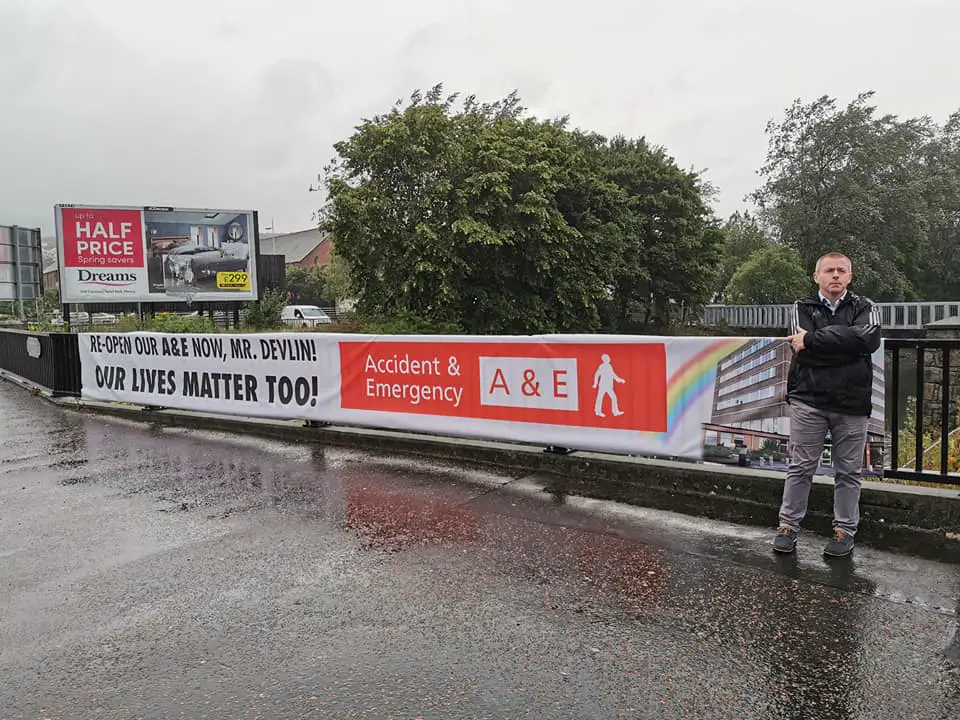 A visible advertising campaign created by Newry residents has been designed as part of a concerted campaign to have services re-introduced at Daisy Hill Hospital.
The focus of the 'Our Lives Matter Too' campaign surrounds the temporary removal of the Emergency Department but with no date set for its return, residents are pushing for more tangible goals.
Campaigners gathered in the rain to hammer home the message last night (Wednesday).
They were joined by Independent councillor Gavin Malone who says part of his election manifesto was to "maintain and expand the services offered to our residents at Daisyhill Hospital".
Councillor Malone said Tuesday night's gathering was aimed at increasing the pressure on the Southern Health and Social Services Board, to return Emergency facilities currently residing at Craigavon Area Hospital, back to their home at Daisy Hill.
"We are erecting substantial advertising posters throughout Newry City demanding the return of our A&E Services," he said. "The posters will display, "OUR LIFE MATTERS TOO".
"The people of Newry will not tolerate any longer the reduction of services at Daisy Hill Hospital and demand an increase in facilities to meet our growing population.
"I call on all our residents to raise their voices to ensure our anger and frustration is listened to at the highest level at the Northern Ireland Assembly.
"I will continue to monitor the situation at Daisy Hill Hospital and bring all information I can to our community."
Sign Up To Our Newsletter