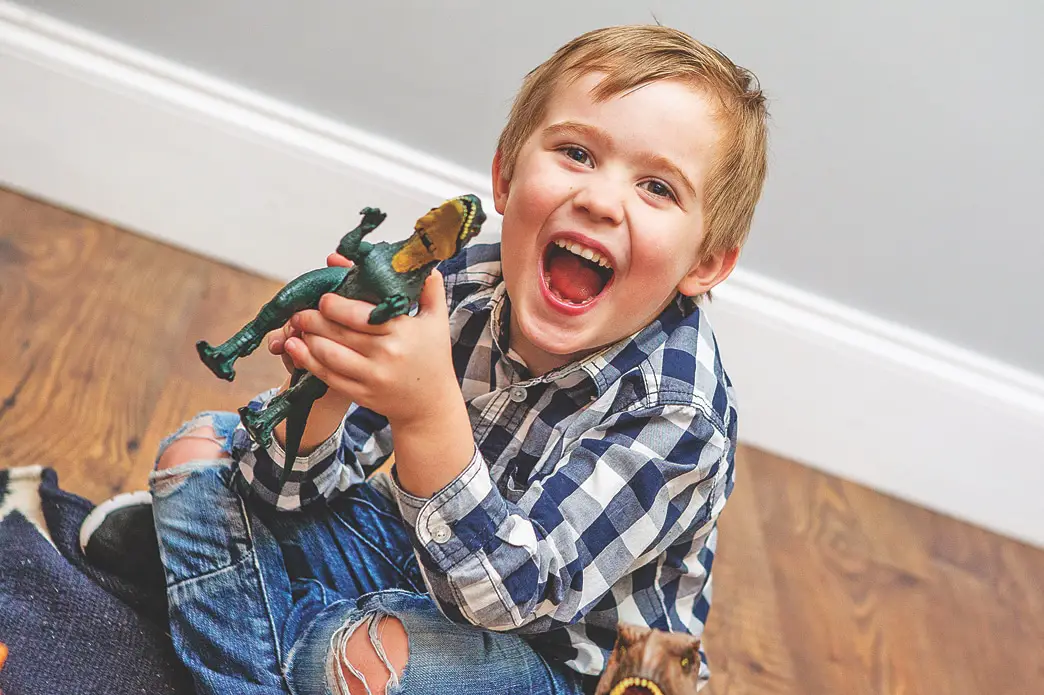 The charity Air Ambulance NI launched its exclusive membership programme for young people across NI, Junior Club AANI as the perfect gift for young people this Christmas.
The member club has been backed by Cillian Rogers and his family after the Air Ambulance was tasked to young Cillian on April 24, 2019.
What started as a normal day for four-year-old Cillian, playing with his dinosaurs and eating pizza, suddenly turned to tragedy when he was knocked down by a motorcyclist.
The HEMS team arrived by Air Ambulance and working with NIAS paramedics, the team carried out critical care interventions at scene before transporting to hospital.
Cillian, from Co Down, suffered a brain injury incurring several bleeds on the brain, a blood clot as well as a fractured skull and femur. He spent nine days in Intensive Care at the Royal Victoria Hospital for sick children, six of those days he was in an induced coma.
Cillian's recovery has been slow but thankfully, he was able to return to school part-time and is making good progress.  His mum, Courtney recalls: "I remember Cillian being in the coma in Paediatric Intensive Care Unit and begging him just to wake up and it wouldn't matter what we had to face just as long as we could cuddle him one more time and because of Air Ambulance Northern Ireland we have the chance to do that every day."
Now six-years-old, Cillian and his family are helping Air Ambulance to launch its very own Junior Club Membership programme to encourage other young people across NI to support the service.
Cillian's mother, Courtney said: "The Air Ambulance saved Cillian's life, please help them to save others. By signing your child up as a Junior Club member, you can help them to get to even more patients across NI needing that immediate help, plus they'll also get a fantastic pack in the post to keep them entertained."
Charity representative Colleen Milligan said of the membership club: "We are absolutely delighted to launch our Junior Club Membership for children as we approach Christmas. During the early stages of the pandemic, we noticed that the levels of support out there from the younger members of our community dramatically increased and it really gave the team such a lift to see how creative and motivated young people were to support Air Ambulance NI.
"We already have our Club AANI member programme for adults and we wanted to really embrace that interest in the service from our younger supporters and by creating a membership programme for them to be a part of. We
hope the service will inspire them as much as they inspire us. We can't wait to be able to organise
our first Junior Club AANI members day in 2021."
At a time when charitable income from events has drastically declined, the charity is encouraging parents, aunts, uncles and grandparents to sign up the children in their life to Junior Club AANI. The cost of the membership is just £5 per month or £50 for an annual membership, the perfect Christmas gift. It's a simple way family can involve their kids in something positive and support Air Ambulance NI to ensure the helicopter can keep flying.
All Junior Club AANI Members will receive an exclusive pack with information and branded items to suit their age range. Younger supporters age 12 and under will receive a branded cuddly teddy bear member card and certificate as a quarterly basis including updates and fun activities.
Teenagers will receive a gold helicopter pin- badge instead of the teddy bear, and their information will highlight the different roles within the operational crew that may help some budding doctors, paramedics or
pilots out there.
To sign up your child to be a Junior Club AANI member, please visit the AANI website
www.airambulanceni.org/junior-club-aaani or call us on 028 9262 2677 or if you would like to sign up to our general Club AANI membership please visit www.airambulanceni/club-aani-membership.
Sign Up To Our Newsletter