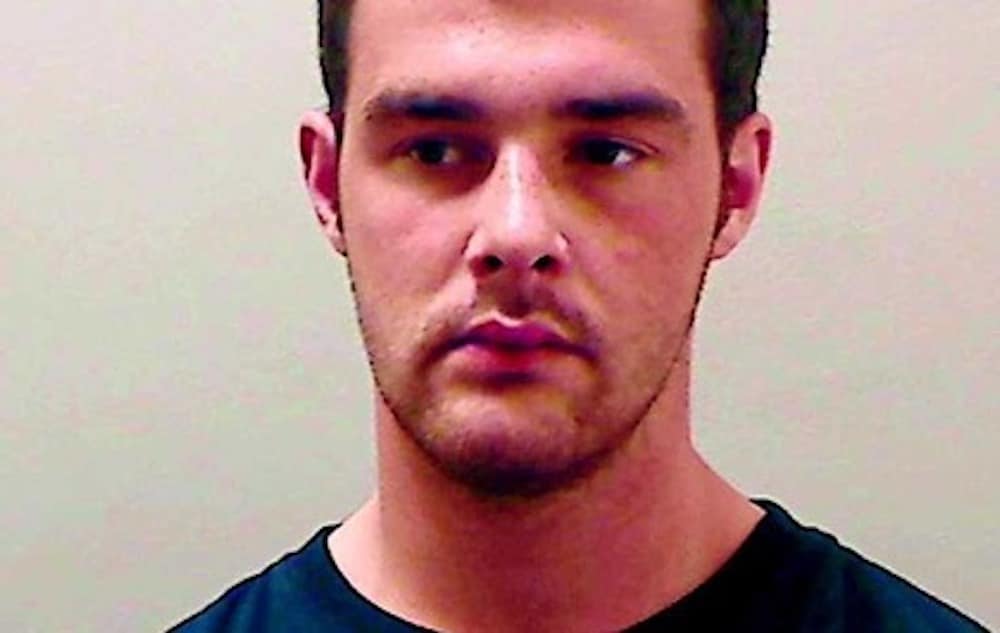 A callous knife killer handed a life sentence this week can be revealed as a convicted sex offender who has associations with hardcore dissident republicans.
In what must be close to a record, the Newry Crown Court jury deliberated for just 75 minutes before finding 30-year-old Daniel Carroll unanimously guilty of the brutal and unprovoked murder of Brian Phelan in July 2018.
The slightly built 33-year-old brickie and father-of-two from Bessbrook had been lured to the isolated and rural Carrivekeeney Road on Camlough Mountain on the pretence of buying quad bikes when Carroll launched his murderous assault, stabbing Mr Phelan three times in the neck and twice in the chest.
Having managed to break free from Carroll, the heavily-bleeding victim ran down the road, pulling the bloody and broken knife blade out of his own body and throwing it to the ground as he sought sanctuary in the garden of a house nearby, but having tried to run him over, Carroll went in after him and retrieved his phone from the victim's pocket and drove off, leaving his supposed mate to bleed to death.
Knowing that he was dying, Mr Phelan phoned his partner and called 999 himself, telling the operator with his last breaths that "my mate, my mate Dan" had stabbed him.
Having driven off, changed his clothes and ditched the car, Carroll was arrested within hours but despite the overwhelming evidence against him, remained silent for 15 months until he claimed, in a legal document, that three men came over the mountain and attacked Mr Phelan, threatening him into silence as they fled the scene.
He repeated and extended those lies while giving blatantly untrue evidence before the jury on his own behalf, outlining that he had been "given permission" to talk about the killing but on condition "that there's no names."
Two names the jury did hear about were Patrick 'Mooch' Blair and Liam Hannaway. Carroll had been in phone contact with the two men, described by the defence simply as "senior dissident republicans," in the hours before and immediately after the murder with convicted bomb builder Blair texting him "well what's the story."
What the jury did not hear is that, just like kidnapper turned killer Carroll, both Blair and Hannaway are serving sentences in Maghaberry prison but for terrorist offences following a covert MI5 sting with possibly the biggest understatement coming from Det. Con Ewart who told the trial jury they were "known to police."
The pair were among seven men handed prison sentences totalling 33 years at Belfast Crown Court last November arising from a covert MI5 surveillance operation against the Continuity IRA in Newry seven years ago.
Patrick Joseph 'Mooch' Blair (65), of Lissara Heights, Warrenpoint, Co Down, Joseph Matthew Lynch (79), of Beechgrove Avenue, Weston, Co Limerick, Liam Hannaway (50) of White Rise, Dunmurry in west Belfast, John Sheehy (36), of Erskine Street, Newry and Colin Patrick Winters (49), of Ardcarn Park, Newry, all pleaded guilty to charges of belonging or professing to belong to a proscribed organisation, providing weapons and explosives training, conspiring to possess explosives, firearms and ammunition with intent to endanger life.
They further admitted conspiracy to possess explosives, firearms and ammunition with intent, along with preparing acts of terrorism.
Blair, Hannaway and Winters also admitted collecting information likely to be of use to terrorists.
Having determined that Blair and Hannaway were dangerous offenders, Mr Justice Colton handed them indeterminate prison sentences, ordering that they serve five years behind bars before being considered for release under licence conditions.
The senior judge said it was clear that neither men had "disavowed their involvement in dissident republican activity" and that both had played "significant and leading roles" at those meetings of the Continuity IRA.
The secret recordings revealed:
a plot to target a senior prison governor while out walking in Co Down;
a plot to target specific police officers;
robbery plots on homes for cash an legally-held firearms;
a plot to steal sulphur from a factory in Dublin to make explosives;
a plot to buy a silencer for £2,000 for an automatic handgun which 'Mooch' Blair had in his possession;
frustrations at the lack of weapons, ammunition, low membership numbers and finances to fund its terror campaign;
training of individuals in the making of pipe bombs and the use of firearms
It was the prosecution case that 'Mooch' Blair was the leader of the Continuity IRA while Hannaway was his number two.
Carroll's jury heard that both men had been spoken to by detectives investigating the murder and while they had refused to make statements, both were eliminated from enquiries.
The jury also heard a few details about Carroll's conviction for kidnapping a woman off a Street in Dundalk just a few days before Christmas in 2012 when a "resourceful and brave" young woman was subjected to a "night of horror."
Handing Carroll an eight year sentence, Judge Kevin Finnegan QC said that to describe the case as "disturbing would be a massive understatement".
"This was a brave and resourceful young woman who underwent a night of horror," said the judge adding that the time then the "world lay at her feet until she came across the accused".
Judge Finnegan said the "very attractive young lady" was walking close to the Square in Dundalk in the Republic on her way to meet her boyfriend when she saw a drunk man watching her and crossed the road to avoid him.
He followed her however and she was bundled into the back of a car with Carroll repeatedly punching her in the face and head and lying his full weight across her as the car sped off and headed to the car park of the Carrickdale Hotel.
The young woman tried to escape but was hauled back and the car drove over the border into Northern Ireland.
That car was driven by Carroll's accomplice 34-year-old Aileen Gray and one stage, their victim pretended to lose consciousness and heard the couple "discussing what to do with her body if she died".
"The victim was subjected to an increased level of violence," said the judge who added that charge of sexual assault arose when he kissed her in the mouth and rubbed her thigh with his hand but she pushed it away "and he accepted that" and even offered to give her a lift back to Dundalk.
In addition to the eight year sentence, Carroll was ordered to sign the police sex offenders register for the rest of his life and was also made the subject of a lifelong Sexual Offences Prevention Order.
Sign Up To Our Newsletter