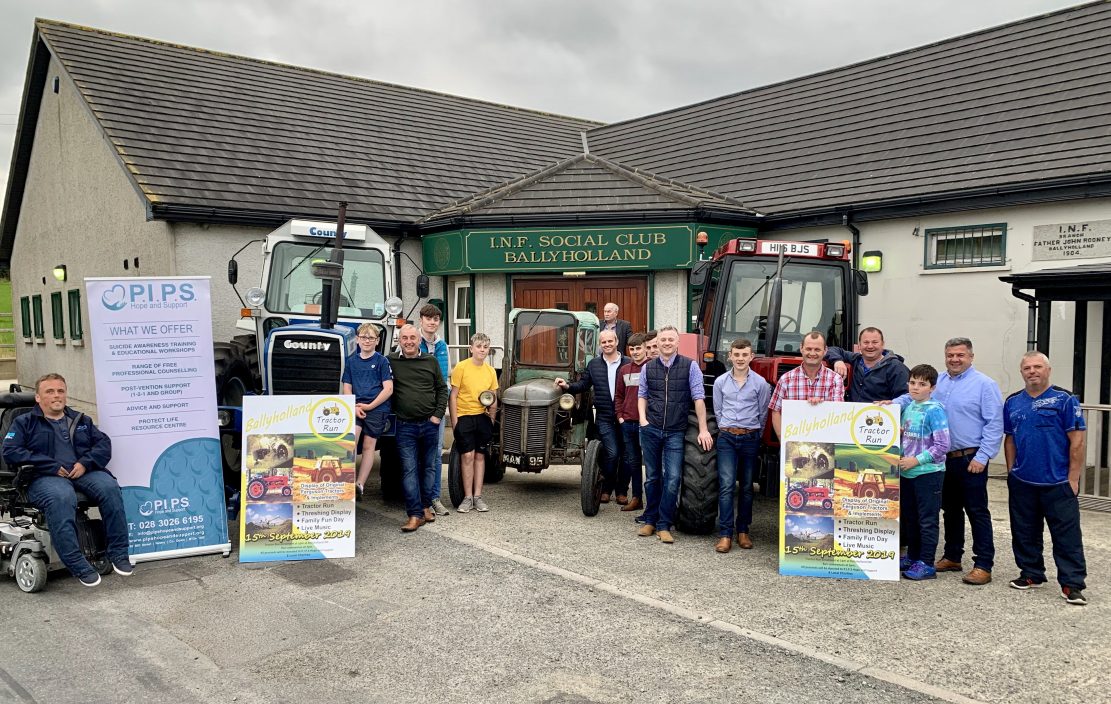 Ballyholland Tractor Run Organising Committee have officially launched this year's Tractor Run which will take place on Sunday 15 th September from 1:00pm at Ballyholland INF.
This year's chosen charity is local Suicide Prevention Charity, PIPS Hope and Support.
Speaking at the official launch, organiser Johnny McAteer said the committee look forward to facilitating another successful family fun filled day to raise vital funds and awareness for PIPS Hope and Support.
"We as a committee are delighted that we are able to deliver this fun filled day for those of all ages and interests," said Mr McAteer.
"The day will have a number of initiatives including; a display of Ferguson Tractors, Tractor Run, Threshing Display, Family Fun Day and Live Music.
"The committees main aim is to raise as much awareness and donations for our chosen charity PIPS Hope and Support.
"This organisation we believe is vital within our local community and has supported many individuals, families and organisations since its formation.
"We are very pleased to be able to play a part in ensuring they can remain sustainable and resourced. We look forward to welcoming all on Sunday 15 th and would be delighted to see as many as possible in attendance."
Padraig Harte, PIPS Hope and Support Fundraising Coordinator commented: "PIPS Hope and Support are thrilled
to be the main charity benefitting from the organising committees efforts.
"PIPS Hope and Support are thrilled and appreciative of the support from Ballyholland Tractor Run. The committee have been working tirelessly over the recent period to ensure this event is a major success and has something for
all ages and abilities.
"Without the support of committees like Ballyholland Tractor Run and the local community, PIPS Hope and Support simply couldn't deliver the much-needed help and support services we provide to our community. We wish the organising committee the very best for the event and look forward to working with them."
For more information, contact PIPS Hope and Support emailing fundraising@pipshopeandsupport.org or
or telephone 028 302 66195.
Sign Up To Our Newsletter