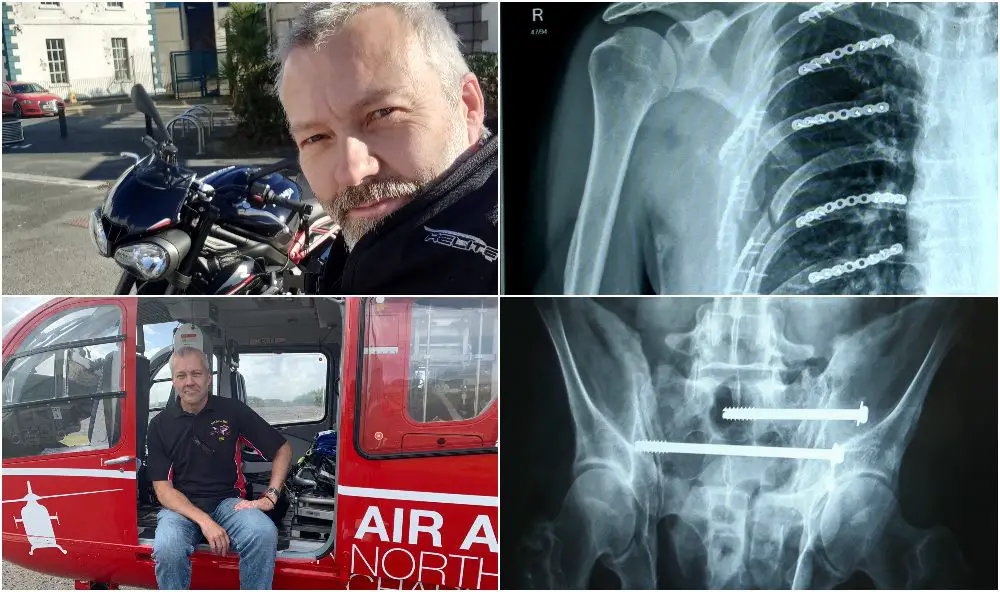 On the 15 th August 2020, Martin Poll from County Down was on his motorcycle at a bend in the road between Hillsborough and Ballynahinch, when the worst happened.
Martin's bike crashed, causing him to be thrown from it into the middle of the road. When recalling the moment, he said: "I remember only lying in the middle of the road and the sound of the helicopter flying overhead."
Unbeknownst to him the air ambulance helicopter had been called to Martin's aid.
After arriving on scene, the Helicopter Emergency Medical Service (HEMS) team alongside Northern Ireland Ambulance Service (NIAS) road crews assessed Martin and administered much needed pain relief as he was in a significant amount of pain.
He had suffered serious injuries including a broken pelvis, a punctured lung, broken shoulder blade as well as shattering several of his ribs.
Martin, reflecting on his accident, commented: "When the HEMS team arrived on scene, I felt an overwhelming sense of
relief just knowing I was in good hands. I remember feeling I could completely put myself into their hands that day,
letting them do whatever was necessary at that traumatic time."
Martin was taken to the Royal Victoria Hospital in Belfast where he spent some time in the High Dependency Unit before going for surgery.
It has been a long two-year recovery for Martin which involved a lot of rehabilitation, including the complex repair of his shattered ribs.
Recently, the team at the charity Air Ambulance Northern Ireland were delighted to welcome Martin to the airbase in Lisburn to hear his extraordinary story. He is now back on his bike after much deliberated thought and enjoying rides again.
Martin wanted to give something back to the charity involved in the Helicopter Emergency Medical Service, Air Ambulance NI.
Prior to his visit to base, he reached out to the charity to join their 'Club AANI' – the charities club membership for anyone who would like to be part of the journey and support in this unique way.
Previously having supported AANI on charity runs, Martin explained: "I recently joined the club because I believe the team that attended my motorcycle accident had a big part to play in being the reason I've recovered enough to lead a fairly normal life."
Amy Henshaw, Regional Fundraising Coordinator at the charity said: 'We were delighted Martin reached out and told
us about his story and experience.
"Having a serious motorcycle accident is extremely traumatic and we are happy to hear that Martin is making a good recovery from his accident. His continued support for the charity and the HEMS team that attended him that day is very much appreciated and by becoming a Club AANI member, Martin has supported those who may find themselves in the same situation he once was in.
If you would like to become a member you can register for just £2 a week online at www.airambulanceni.org.  All our members are invited to an annual BBQ get together and receive our monthly e-newsletter."
HEMS is provided by way of a partnership between the charity Air Ambulance Northern Ireland and the Northern Ireland Ambulance Service. The service brings urgent medical assistance to anywhere in the province, operating seven days a week for 12 hours per day.
The helicopter can get to anywhere in Northern Ireland in approximately twenty-five minutes. On average, the service is needed by two individuals in NI every day. If you have been a patient of the service or know someone who has and would like to visit the airbase, please call the charity on 028 9262 2677.
Air Ambulance NI aspires to raise £2million each year to maintain and sustain this service so public support is crucial.
Find out more by visiting www.airambulanceni.org or contact the charity on the above number or by emailing
info@airambulanceni.org.
Sign Up To Our Newsletter