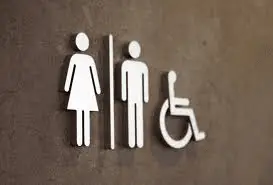 After years of lobbying, Middletown finally looks set to get public toilets.
A planning application for toilets, as well as a new bus shelter, will be approved by DoE Planning Service when it attends a meeting of Armagh City and District Council next Monday night, August 4.
The application, which had been submitted by the council, relates to lands adjacent to the Monument and No 7 Main Street, Middletown.
The need for public toilets and lobbying to have them provided in Middletown is something which has been ongoing for some time now.
In January 2013, Armagh I reported that a series of meetings had been planned in a bid to address the need for traffic calming measures and public toilet provision in Middletown.
Sinn Fein Councillor Mary Doyle, speaking at the time, said she had been contacted by many residents of Middletown, all stressing the need for toilets in the village.
"Middletown has a large volume of traffic passing through it daily," she explained. "And there are just simply no toilet facilities for people passing through the village, who may have travelled a long distance.
"In response to these concerns, I have requested at a number of council meetings that council officials identify an appropriate place in Middletown where new toilets can be positioned. Officials have been actively pursuing my request, and I have met with the chief executive and a director of Armagh Council to discuss how we can move this project forward.
"There are a few possibilities that the council will now explore and I will be meeting senior council officials this week in Middletown to progress the issue."
Read more news:
County Armagh boxer Sean Duffy through to last eight of Commonwealth Games
IPad and jewellery among items stolen in Portadown house burglary
Tricolours at Bessbrook Pond 'attempt to create tension', says Kennedy
Man due in court on attempted murder charge
Man (22) charged with possessing firearm and making threats to kill
Residents suffering from a two-week village fire say children being affected
Newsletter
Sign up for our weekly newsletter here.