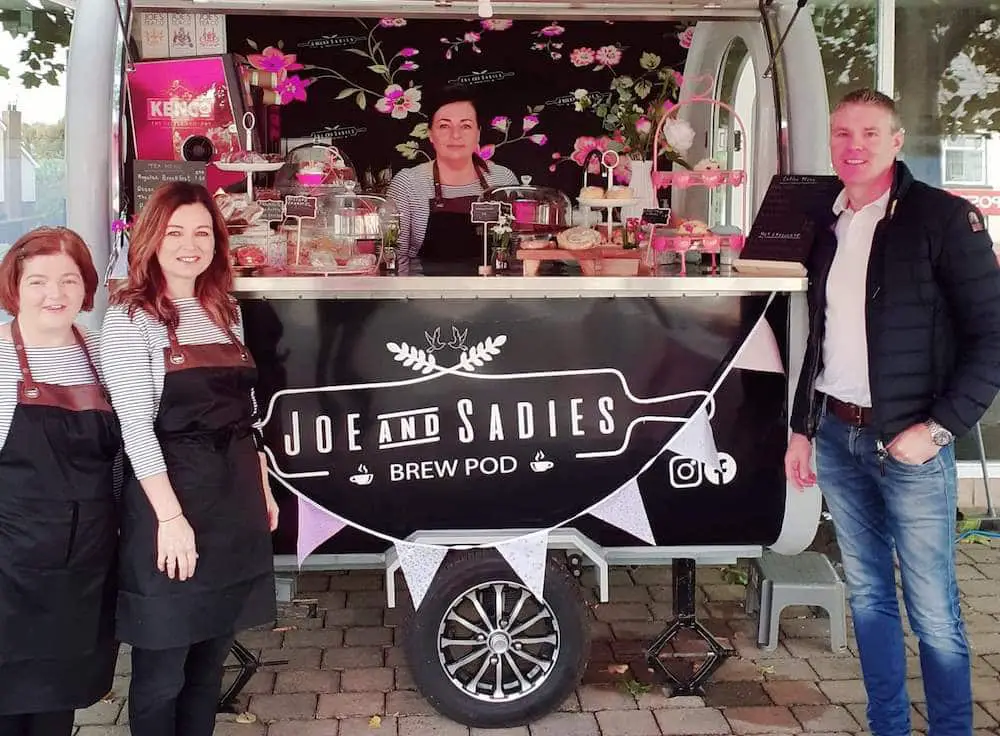 A proud daughter has taken the step into business in these uncertain times to ensure the legacy of her late parents is not forgotten.
If you happened to find yourself in Middletown last weekend, you might have been taken aback by the buzz and queues surrounding a "dinky" coffee pod on the Diamond outside the Markethouse.
This was the opening weekend of Joe and Sadie's, a new business venture in the village, by Paula Jordan who told Armagh I she named it after her late mother and father.
"I just felt that Middletown needed a little tea or coffee spot," said the born and bred Middletown woman.
Paula had not been keen on opening up in bricks and mortar building and after being put in touch with Seany McCleary, of Streat-school in Glaslough – by her brother-in-law – she now is the proud owner of a "dinky" pod with which to develop her business dreams.
After discussing it with her family, Paula decided to name the business Joe and Sadie's after her mum and dad, who both passed away three years ago, within months of each other, due to cancer.
"They were very much a big part of the Middletown community", said Paula, "our home was a big hub with the GAA; the idea of this was basically so people would keep talking about them and keep their names out in the community."
The name Joe Jordan will certainly ring a bell for avid Armagh fans, in the words of Paula "he was the man that brought Sam Maguire to Middletown".
Joe had been the county chairman when Armagh won the All-Ireland back in 2002 – 18 years ago this week – and he was heavily involved in this success.
Paula said: "Whenever he died they all turned up, even the 1977 team turned up; every one them where there and every one of them had a fantastic story to tell about him.
"My mum was very much his backbone at the time, you know the way they say 'behind every great man is a great woman', she definitely was and was a huge supporter".
Recalling that famous win, she said: "I remember speaking to dad the night after Armagh won the All Ireland, I asked how it felt to be involved and he said it wasn't about him, it was about Middletown being involved."
While a brave step to open a new business in the current climate, this new venture is not a completely alien concept to Paula, having previously ran a cafe in Co. Meath until her father took ill and she had to return home to help out.
"We just wanted to do something for them but we had to take our time," said Paula. "I was going to hold off until Spring next year but I just thought what's the point in hanging on; open up at a bad time and see how we go.
"I have the support of my husband and my sisters; at the minute we are doing a Friday, Saturday, Sunday just to find our feet and see how we are getting on."
After the first week Paula says she is happy with the response.
"We were very very busy, that is the part that I love, meeting people and having a chat.
"We had people from Belfast and people from Kilkenny stopping so we had a wide range of passers-by but it is important for the local people, it is a great community; mummy and daddy were Middletown people and we very much are involved here too."
She added: "There were quite a lot older people out last weekend, they were loving it. Many even quipped that this was not their first time having tea at Joe and Sadie's."
Sign Up To Our Newsletter