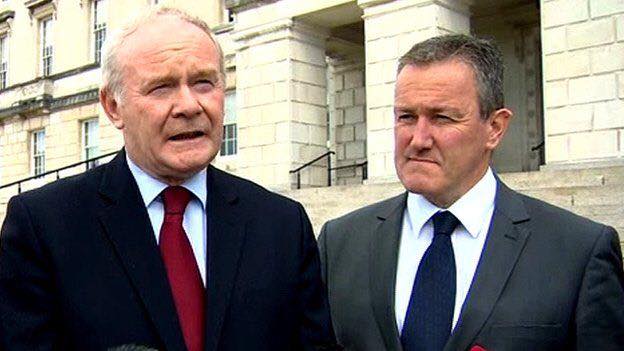 The former Northern Ireland Deputy First Minister Martin McGuinness has died.
He was 66.
Mr McGuinness stood down from the Assembly triggering a snap election which was held last month.
There had been growing speculation over his ill health in recent months.
The party paid tribute at the time to someone who had been instrumental in the Northern Ireland peace process and without whom there would have been no Good Friday Agreement.
He became a member of the Assembly in 1998 and took up the role of Deputy First Minister in 2007.
During that time he has worked alongside three DUP First Ministers, Ian Paisley, Peter Robinson and Arlene Foster.
Having grown up in the Bogside area, he was regarded as a leader within his community.
A former member of the IRA, he made history when he shook hands with Queen Elizabeth II.
Speaking in more recent years, he said his "war is over", adding: "My job as a political leader is to prevent that war and I feel very passionate about it."
The father-of-four married his wife, Bernadette Canning, in 1972, and he was a proud family man, and a keen GAA enthusiast away from the political spectrum.
He passed away during the night in Altangelvin Hospital after a short illness.
Tributes are expected to be forthcoming throughout the day.
This morning (Tuesday), Sinn Féin President Gerry Adams TD said: "Throughout his life Martin showed great determination, dignity and humility and it was no different during his short illness.
"He was a passionate republican who worked tirelessly for peace and reconciliation and for the re-unification of his country. But above all he loved his family and the people of Derry and he was immensely proud of both.
"On behalf of republicans everywhere we extend our condolences to Bernie, Fiachra, Emmet, Fionnuala and Grainne, grandchildren and the extended McGuinness family."
Picture: Martin McGuinness with Newry and Armagh MLA Conor Murphy.
Sign Up To Our Newsletter