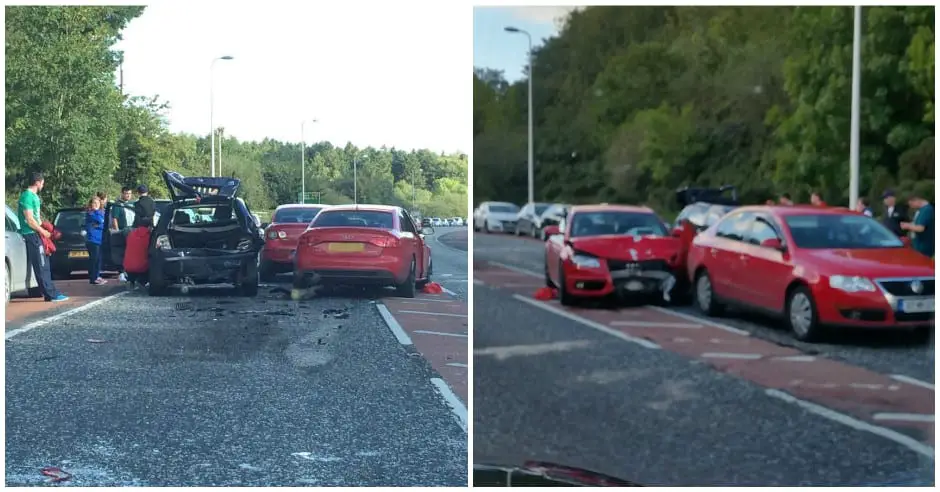 Ministerial intervention required urgently to finally solve the ongoing parking problem outside Gosford Park in Markethill.
Councillor Sharon Haughey-Grimley has called for immediate action following Sunday's three car accident.
"It's about time some action was taken to stop parking on the hard shoulder outside Gosford Park," she said.
"There has been numerous meetings but no clear way forward has been agreed. We're told enforcement can't take any action as its not illegal parking as such. And it's clear the £5 entry fee to the Park is considered too much for many as they continue to choose to park so dangerously along a very busy and fast main route.
"If this is allowed to continue something very serious will happen here and then it will be too late. There are children getting out of these parked cars and it's really the most dangerous place for them.
"Forestry Service have resisted reducing the fee as the £5 vehicle entry charge goes towards the upkeep of the beautiful grounds and it's common practice for a charge into forest parks. However people can enter the park by foot at no charge which is why so many choose to park outside the gate.
READ MORE: Councillor slams 'shocking parking' following multi-car crash outside Gosford Forest Park
"I believe the only way to resolve this long running and dangerous problem is to reduce the vehicle charge and possibly introduce a small pedestrian charge to make up the shortfall. That would mean everyone using the park would make a small contribution towards the upkeep and development of this beautiful outdoor space.
"The SDLP has written to the Minister in charge to ask for an urgent intervention on this matter.
"I would like the Minister to come down and see the extent of the problem and to meet Road Service officials, Police, Forestry Service and local elected representatives so that we can get an agreed way forward and urgent steps taken to resolve this."
Cllr Haughey concluded: "I appeal to all those who park on the hard shoulder to seriously think about their actions and how it's risking safety for all road users.  There is a £5 vehicle charge and regular users can avail of £50 a year fee which gives access to other forest parks. Until this issue is resolved everyone should respect that charge."
Read more news:
Emergency services attend scene of three vehicle smash outside Gosford
Watch the shocking moment woman and child duck under barriers as train approaches
Fifteen people imprisoned in house forced to live in squalor by gangmaster
Young family left shaken as thugs target house as baby slept
Sign Up To Our Newsletter