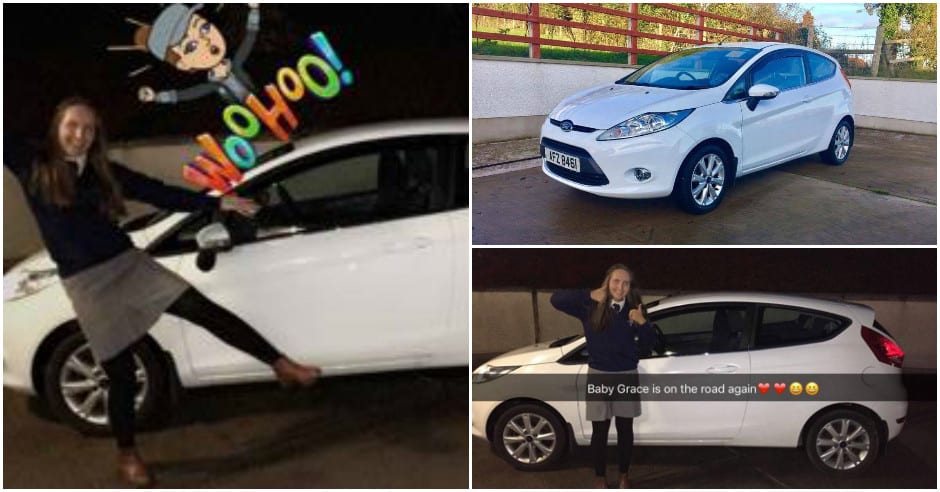 A teenage girl who had her car stolen at gunpoint by three masked thugs has had her vehicle returned – and she's thrilled to bits!
Seventeen-year-old Chloe Hawthorne was subjected to a terrifying ordeal almost a month ago.
The three – armed with a gun – called at the family home at Redrock at around tea-time.
They smashed their way inside and demanded the keys to Chloe's car, which she had bought and paid for with her own money.
The Royal School Armagh student was left very badly shaken.
But she was also deeply upset that her pride and joy – which she calls Grace – was gone.
The thugs called at the house after crashing another vehicle close by the Hawthorne family home.
Chloe's car was later recovered in the Republic of Ireland.
After a little work it is now shining like a new pin and Chloe is delighted.
She offered thanks to Chris and Tom Patterson for a first class job in getting "Grace all clean inside and out".
And Chloe added: "She is gleaming now – so happy to have my baby back, fixed and back to normal."
The investigation into the incident is still ongoing.
Read more news:
Road reopens after collision near Markethill
Police release description of man they believe was involved in violent assault
Stunned and gutted: Reaction as Donald Trump is elected to the White House
Donald Trump elected 45th President of the United States of America
When are the Christmas Lights switch-on across ABC council borough?
Man, 60, arrested in Co Armagh on litany of alleged violent offences
Person in distress rescued from river in freezing temperatures
Sign Up To Our Newsletter