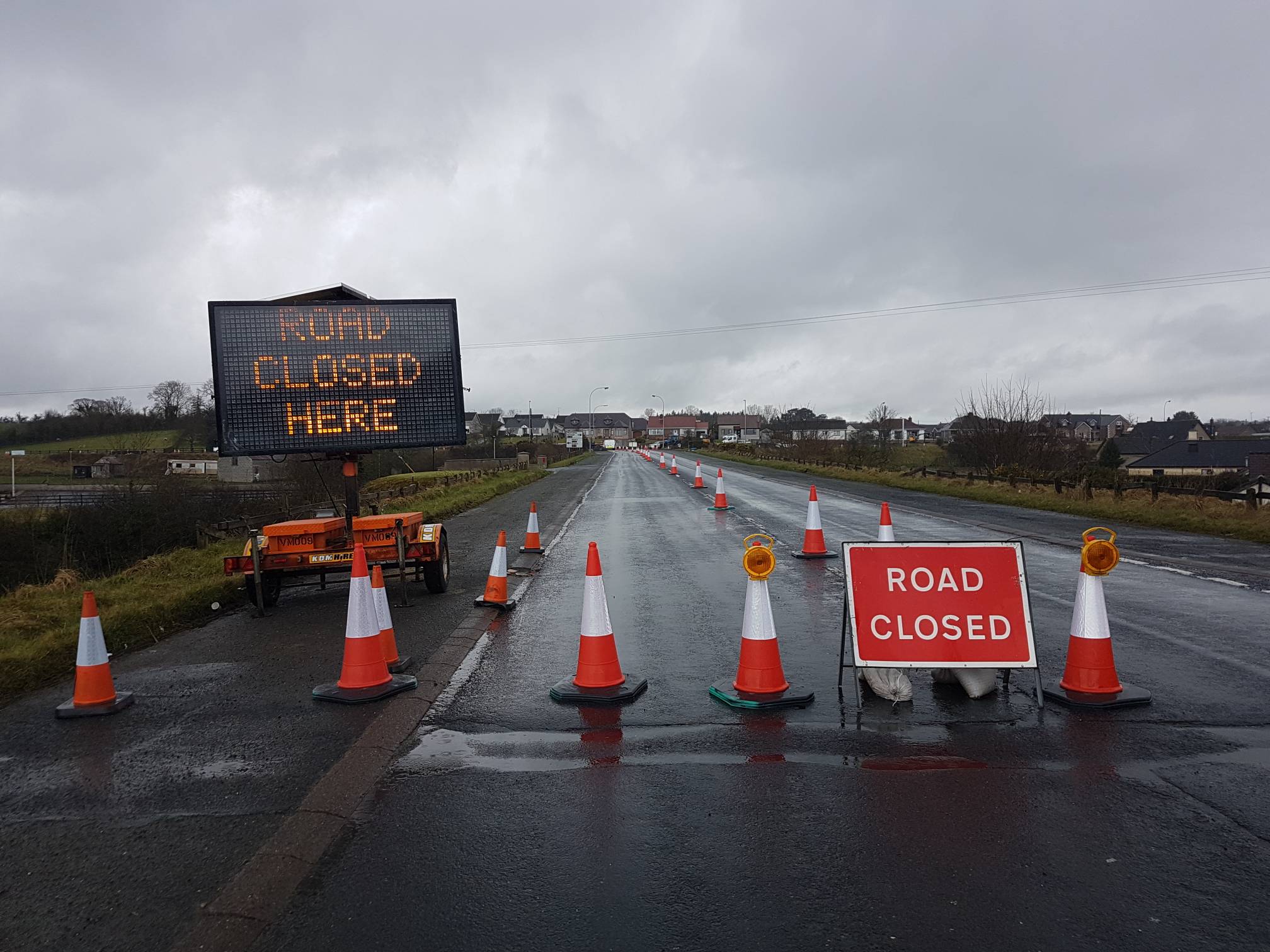 Motorists continue to disobey road closed signs in Markethill as the contentious roadworks near completion.
The £220,000 road improvement scheme for the A28 Armagh – Newry Road at the B3 Tandragee Road junction in Markethill will be completed next Sunday, April 22.
The scheme involves the provision of a dedicated right turn lane into the Tandragee Road and widening of the Tandragee Road at the junction to facilitate left and right lanes for exiting onto the main A28 Armagh – Newry Road.
It is aimed at improving road safety and deliver significant benefits to the road network.
Final resurfacing work will be carried out from Wednesday, April 18 to Sunday, April 22, inclusive.
In order to carry out the work safely it will be necessary to control traffic travelling on the A28 Gosford Road using STOP/GO from 9.30am each weekday morning and at all times at the weekend.
The Tandragee Road junction will be closed completely during this period with a diversion in place for this traffic.
Traffic is being diverted via Tandragee Road, Moyroukan Road, Drumnamether Road, Marlacoo Road, Mullurg Road, Mullaghbrack Road and Gosford Road.
The Department has programmed the works operations and traffic management arrangements to minimise any inconvenience, however, drivers should expect some delays and are advised to leave additional time when travelling in the area.
The dates and duration of the works will be dependent on favourable weather conditions.
For traffic information about this and other improvement schemes visit: www.trafficwatchni.com
Markethill resident Neville Black said the signs at the Tandragee Road junction are the "most disobeyed I have ever seen".
He explained: "The access for drivers turning down the Tandragee Road is now tight due to the ongoing work. For three days in a row now I have met oncoming traffic.
"On Thursday I was doing the school run and had four grandchildren on board. I met a crew cab jeep bulling its way up through and was nearly into the front of me. And the he gives me a dirty look because he had to drive into the coned off area to let me pass.
"And again the next day, the same thing – this matter needs sorted. Where are the police? It's long passed time for a few tickets.
"I use this road some days up to five or six times and I would meet cars more often than I wouldn't. There is absolutely no excuse for it."
Sign Up To Our Newsletter