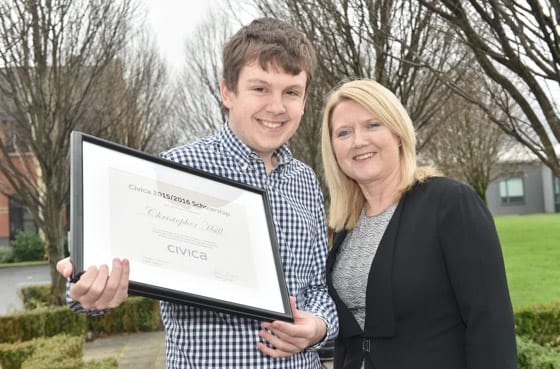 A Markethill student has received a scholarship package worth up to £25,000 from Queen's University, Belfast.
Christopher Hull is one of four given the award to the best IT and Engineering students in Northern Ireland.
The Civica Scholarship Programme was launched in 2008 with the co-operation of leading universities in Northern Ireland (Queen's University Belfast and Ulster University) and the West Midlands (Aston University, University of Birmingham & University of Warwick).
The programme was set up with the aim to "nurture fresh talent in the UK IT sector," explained managing director of Civica Digital Solutions Ireland, Angela Canavan. Since its launch, 42 leading IT and Engineering students across the UK have been placed on the programme; each securing a scholarship package worth up to £25,000.
This year Christopher Hull, Christopher Purdy, Jamie Gardner (all Queen's University Belfast) & Colum Ferry (Ulster University). An awards ceremony was recently held in Civica's Belfast office to allow family members and university representatives to join Civica in congratulating the new scholars.
Markethill's Christopher Hull explained that he was looking forward to "gaining practical work experience" by working on real projects.
"An incredible opportunity" is how Ulster University's Computer Science student Colum Ferry described his award. "I saw the scholarship as a way of enhancing university with first class project experience. It was an incredible opportunity that I couldn't miss."
Speaking during the event, Ann Doris, senior careers & placement advisor at Queen's University Belfast said: "We are delighted that Civica continues to recruit and financially support top IT and Engineering talent from Queen's University. It enables our students to gain industry relevant experience and grow into young professionals from the beginning of their academic career."
A view shared by Mairin Nicell, senior lecturer and courses' coordinator, School of Computing and Intelligent Systems, Ulster University. "Our students are learning both theory and practical skills at university. Civica's Scholarship Programme allows them to apply those skills on real world projects."
As part of the programme, Civica's new scholars get the opportunity to work alongside talented professionals during paid summer and year out placements. Jamie Gardner explained that he was looking forward to being "fully immersed in this environment" and surrounded by IT professionals with modern technology. "I hope to excel in my Computer Science degree thanks to the knowledge and experience I will gain with the IT professionals in Civica," continued Jamie.
This year also seen another first for the programme. Christopher Purdy from Queen's University followed in his family's footsteps becoming the second Civica scholar from the Purdy household. Christopher applied after hearing enthusiastic reviews from his brother Michael (another current Civica scholar). "My brother was on his summer placement last year and we could barely get him to stop talking about it! Everything from the challenge of the work, to the team camaraderie just seemed a perfect fit for me."
The award ceremony helped emphasise the family and innovative atmosphere at Civica – a view shared by the scholar's parents who attended the ceremony. "We are excited for our son as he will really enjoy the challenging and friendly environment," explained Alison Gardner (Jamie Gardner's mother). Christopher Hull's father, Jonathan added: "I was impressed by the friendliness and openness of the management team; helping support a family atmosphere. It is clear that Civica is focused on the growth and development of their scholars."
In bringing the ceremony to a close, Angela went on to conclude: "At Civica we encourage our people to develop their full potential in an open and supportive environment. Having already shown their outstanding talent, we are confident our Scholarship Programme can help our new scholars to further stand out from their university peers – giving them the necessary skills, training and vital experience needed to have a successful career in IT."
With financial assistance secured, Civica's four new scholars will continue with their first year studies at Queen's University Belfast and Ulster University, returning this summer to begin their first industrial placement with Civica.
Read more news:
Planners poised to refuse demolition of derelict GAA social club in Keady
Who will you vote for in Newry and Armagh on May 5?
Councillor says police confirm "serious sexual assault" on woman at Peatlands Park
Peatlands Park: Police investigate 'serious' incident tonight
Pensioner 'very badly shaken' after finding woman and teen boy in her home
Shock revelation as 666 sat over 12 hours in NI emergency departments last month
Buddy bench for autism to be lovingly restored after stolen 'heart' is found
Vile vandals steal crafted heart from Armagh's new 'buddy bench' for autism
Sign Up To Our Newsletter