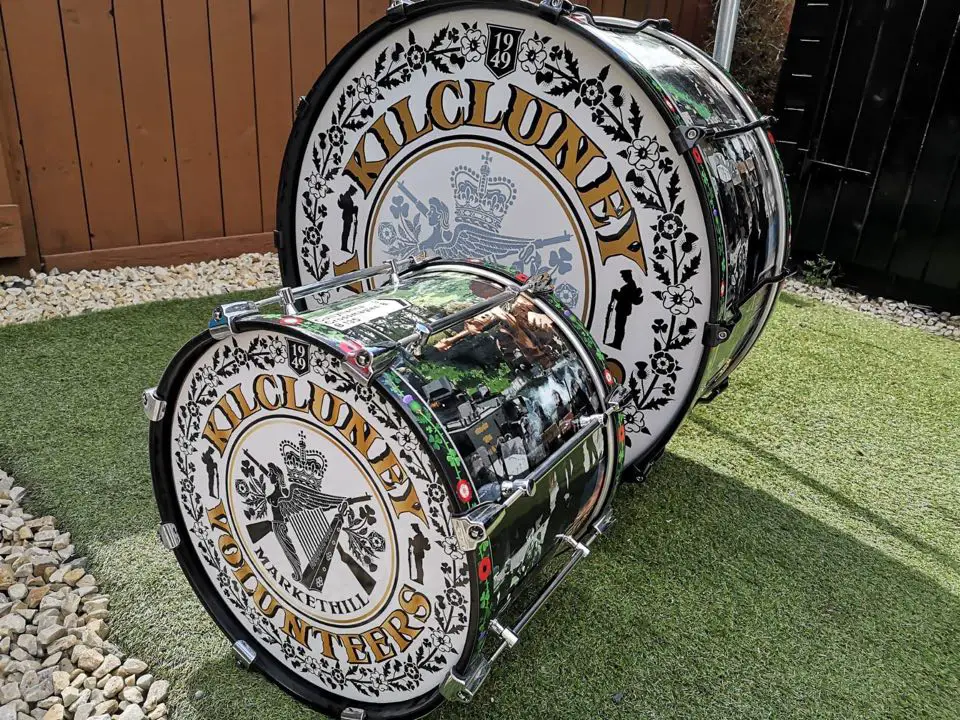 A Markethill band is raffling a mini bass drum replica to raise money for the Cancer Fund for Children, a charity which provided support to the family of one of its members.
With the marching season currently on hiatus, Kilcluney Volunteers Flute Band turned their attention to raising much needed funds for the Cancer Fund for Children.
The band have launched an online campaign for the charity and to help encourage donations, the band is giving away a mini bass drum, which is an exact replica of the bass drum the band plays when on the march.
One of the reasons the band chose this charity is that long-standing member, Barry Brown, has had direct help from this local charity in recent times following his son's cancer treatment.
Barry's son, Tom, is now four, but had treatment for neuroblastoma when he was just a baby. His wife, Karen, has long been a member of the Cancer Fund for Children's Armagh Support Group.
Speaking to Armagh I, she said: "I would be the chairperson of the support group and I would encourage local people to fundraise for us. I was involved in it before Tom even came along.
"Tom is four now, he had treatment for neuroblastoma when he was a baby, I knew of the work of the Cancer Fund but then I went on to learn first hand just what they provided"."
Karen explained that 90% of the Cancer Fund's income is from public donations, which have been significantly affected by the current pandemic.
She said: "Cancer doesn't stop it keeps going. Children still need chemo, they still need support.
"I imagine it would be very anxious times, especially with everything going on. Obviously when you are getting chemo you are in a wee bubble anyway. You are isolating, you are watching bloods like a hawk, you are watching temperatures like a hawk
"It must be extremely difficult times, that is why the support of the Cancer Fund is vital. They are using Zoom meetings with teenagers and young people. They are using technology to try to keep in touch with people and provide support or using phone contact. They just can't have physical contact."
Explaining how she first became involved in the support group, Karen added: "I lost my brother 26 years ago. He was 15 at the time and had a brain tumour.
"Back then there were very little services for children, basically there were a couple of rooms in Belvoir
"There was very little, so mum and her friend got involved after that and it just sort of snowballed.
"I was always involved because I knew what it was like to have a brother brought home after that and the sibling support they offer afterwards is also important."
The support group was set to celebrate its 25th anniversary this year.
Karen said: "We had planned a whole big event to thank all our supporters over the years and to try and drum up a few more.
"We are voluntary, we do it out of the goodness of our hearts. We just do it because we want to do it.
"We have a signed Ulster rugby ball and shirt for auction. We may have to do a similar thing to Kilcluney now."
She added: "I am so amazed at the money which has been raised. The Cancer Fund is such a vital service and very donation helps."
For your chance to enter the competition, visit the Kilcluney Volunteers Flute Band on Facebook or to make a donation go to their JustGiving Page.
Sign Up To Our Newsletter