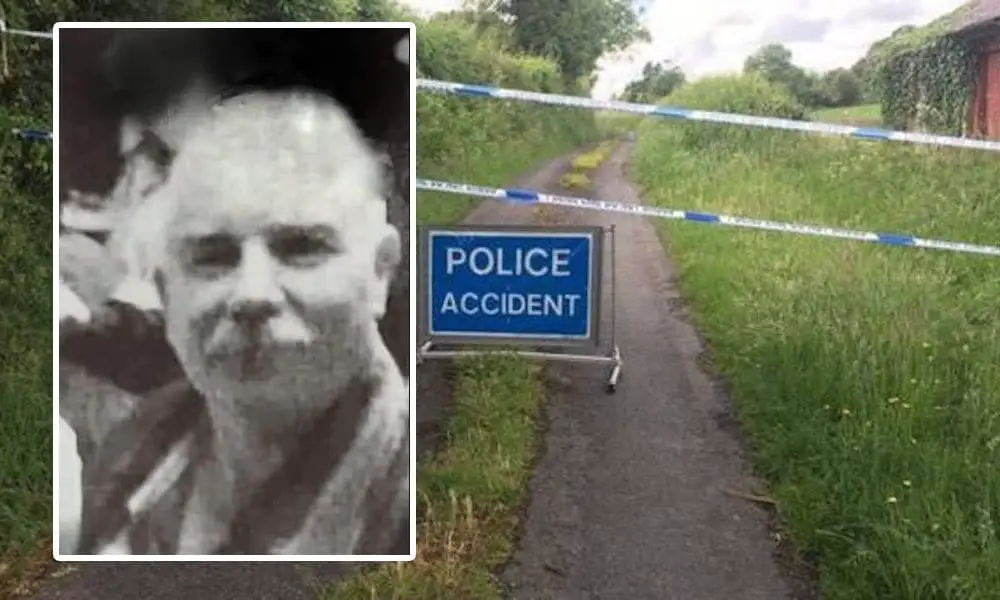 A drunk driver who ran over a pedestrian and drove on, leaving him to die on a rural country lane, was today (Tuesday) ordered to complete 200 hours Community Service.
Sentencing 43-year-old John McBurney at Newry Crown Court, Judge Gordon Kerr QC made it clear he was sentencing on the basis that McBurney had no "criminal culpability" in relation to the death of David James Shields but rather that he was not fit to be behind the wheel and despite knowing he had struck a human being with his Hyundai jeep, "he failed to perform his duties" as a driver and left the scene.
Judge Kerr added however that it had been made clear to him that even if McBurney had stopped and alerted the authorities, the 52-year-old was so severely injured, "it would not have made any difference to the outcome."
McBurney, from Green Park Avenue in Markethill, had originally been charged with causing death by careless driving while unfit but the Public Prosecution Service accepted his guilty pleas to driving while unfit through drink or drugs and that after an injurious accident, he failed to stop, remain and report it, on a date unknown between 11-14 June 2016.
Prosecuting QC Charles MacCreanor told the court how Mr Shields had left a local bar to walk home at about 10pm on June 13 but was not found until 7am the following morning, his body found lying at the side of the the Shillinghill Road in Markethill.
The senior barrister described it as a single lane, unlit country road, 2.3 metres wide and bordered by grass verges and hedges on either side, adding that Mr Shields would regularly have walked home along that road.
The police launched an extensive investigation when his body was found and a month later, on July 13, two officers were directed to speak to the owners of four separate 4×4 vehicles.
One of those people was McBurney who confirmed he had been drinking "four, five, six" pints in the same bar as Mr Shields on the night he was killed and that he drove along the Shillinghill Road.
His Hyundai jeep was seized and when it was forensically examined, Mr Shields' DNA was recovered from the towing cleat "on the underside of the vehicle," said Mr MacCreanor, adding that a forensic engineer opined there had been "significant contact" with Mr Shields.
McBurney was arrested and twice interviewed but refused to answer police questions and the court heard that he has two previous convictions for drink driving in the late 90's.
Defence QC Gregory Berry submitted that neither "the manner nor the standard" McMcBurney's driving caused the tragic death of Mr Shields but he did concede that "the reason he panicked" and fled the scene was that he had been drinking alcohol.
"That doesn't in anyway cover him in glory," said the senior lawyer, "quite the reverse and he apologises for that."
"My instructions are that he was aware that he struck a human being and that he drove on in panic," said Mr Berry.
Sentencing McBurney, Judge Kerr revealed he had refused a defence "no bill" application to have the case dismissed, "ruling that the charge should proceed to trial" but after that, the PPS reviewed the evidence and instead, chose to accept the defendants pleas to lesser offences.
The rationale behind that decision, explained the judge, was because there was evidence that Mr Shields "was lying on the road at the time of the impact that caused his death."
He said while there was no criminal culpability in the death, nevertheless "this was a bad case of it's type" given the fact that McBurney "deliberately brought his car" to the pub, knowing he was going to be drinking alcohol and driving home "clearly realising the low risk of detection on the minor road home."
Had there been any criminal culpability, "custody would have been the inevitable outcome," Judge Kerr warned but he continued that from reports it was clear that Mr Shields was "considered a character in the area and someone who despite the passage of time, is still sorely missed by his family and community."
"It seems to me appropriate that this defendant should contribute to the community in some way, not that it can ever, in anyway, make up for or relieve the loss that the family have suffered," concluded Judge Kerr.
In addition to the 200 hours CSO, McBurney was banned from driving for three years.
Sign Up To Our Newsletter