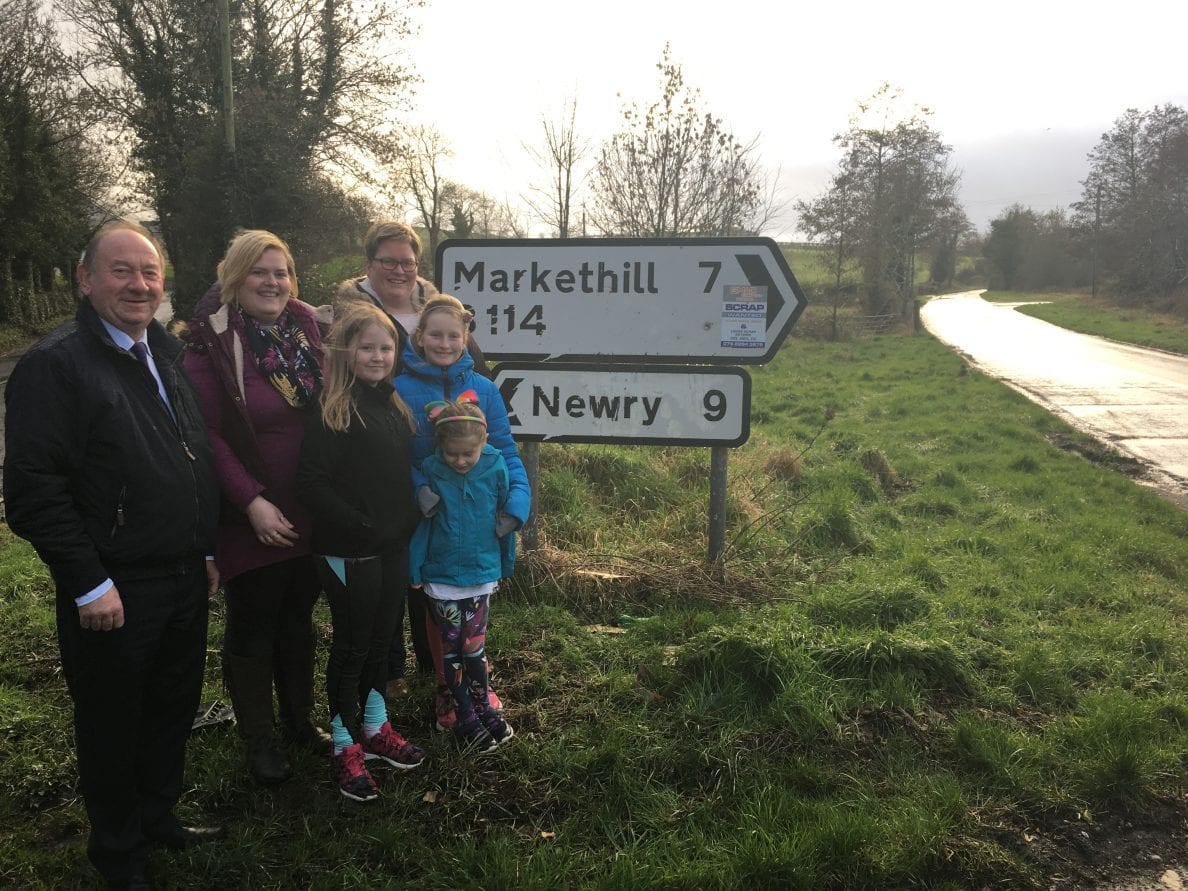 Parent power has paid off as the powers-that-be have agreed to add the Tannyoky Road – between Markethill and Poyntzpass – to the winter gritting schedule.
The recent spell of freezing weather conditions saw a number of collisions along the road, and buses turning back as they were unable to get through.
The issue was taken up by local parents and a petition organised online.
And now the Department for Infrastructure has confirmed that it has reconsidered the criteria in this case.
It is now "deemed to be a through route" between Markethill and Poyntzpass.
According to the Department it will be added to the schedule from the start of the 2019 winter season.
But the official letter of confirmation adds: "In the meantime, during periods of adverse winter weather when when secondary salting of the network is undertaken, Tannyoky Road will be included when necessary."
The news has been welcomed by local political representatives.
Newry & Armagh DUP Assemblyman William Irwin has praised the combined actions of local mothers in helping to secure the gritting of the Poyntzpass to Markethill road.
Mr Irwin said he had been contacted by local parents who had deep concerns about the risk involved in travelling the road in icy conditions with sections being described as "absolutely treacherous".
He explained: "This is an issue which I have continually raised on many, many occasions, however Transport NI repeatedly refused to listen to the views of local people and refused to carry out the gritting of this route.
"I was shocked to visit the road in recent icy weather after being contacted by local mother Linda Henry and indeed others who had sadly damaged their vehicles after hitting very icy sections of this twisty and dangerous road on one particular frosty morning.
Those who had damaged their vehicles all had children on board and indeed one vehicle overturned. Thankfully there were no serious injuries. I immediately relayed these serious concerns to Transport NI and I am pleased to note that on this occasion our combined lobbying efforts have been acted on and the road will be gritted starting from next winter. This is very welcome news.
"The fact that many parents make school runs each morning on this route and school buses often have to find alternative routes should have been enough to have this road gritted years ago.
"At last parents will have some comfort in knowing that from next winter the gritting will make a difference to this route and that it will reduce the risks for everyone. A massive thanks to local people for making their voices heard loud and clear and it was a pleasure to help them all!"
Cusher DUP Councillor Gareth Wilson added: "Having been out at the scene of the collisions after recent icy weather and hearing the very real concerns of local mothers, it is very welcome news that this route has finally been agreed for inclusion in the winter 2019 gritting schedule.
"I thank local mothers for really getting behind this campaign and being the voices in the community that shouted loudly about this serious issue. It has paid off in the end and I thank Transport NI for finally reviewing their decision on this matter."
Sinn Féin Cusher representative Brona Haughey also expressed her delight.
She said: "This is great news for road users in the area as local people had recently started a petition to appeal to the Department of Infrastructure to add this road to the salting schedule.
"I was more than happy to support this petition and appealed to the Roads Service to take action.
"Thankfully, the Department have responded to my letter and have fulfilled my request.
"I am sure that the people that use this road daily will rest easy knowing their roads are a safer place because of this positive result and that school buses, commuters and parents will feel safer on the road knowing that it has been treated."
Sign Up To Our Newsletter