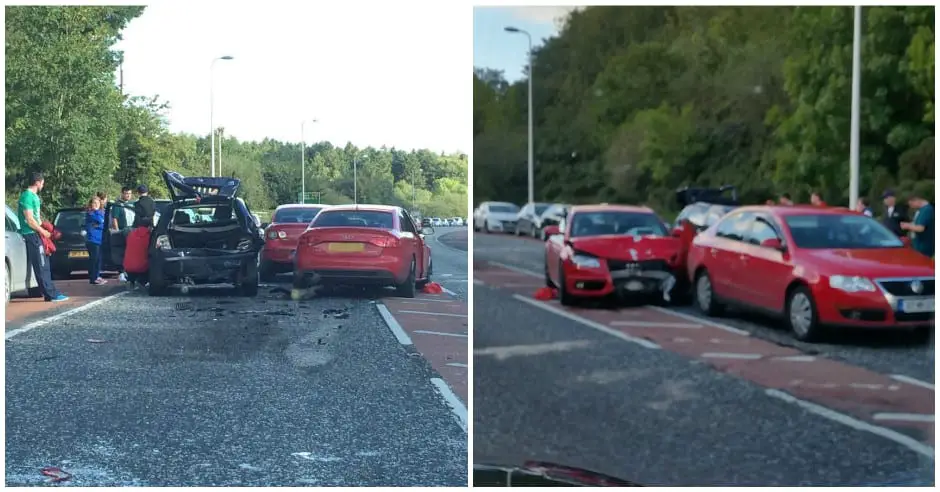 A local councillor has hit out at irresponsible motorists for parking on the hard shoulder outside Gosford Forest Park following a three-vehicle crash earlier on Sunday.
Police and medics were called mid-afternoon but once again the area was heavily congested with dozens of cars and other vehicles parked along the hard shoulder.
Councillor Gareth Wilson slammed motorists but is also working on ways to alleviate the on-going issue of parking around the entrance to Gosford.
"Not good enough at all. Totally shocking and totally irresponsible parking," said cllr. Wilson.
"There's been meeting after meeting on this and myself and William Irwin MLA put forward the straightforward proposal to lower the fee at weekends to encourage people to park in the car park but as yet this has not been an idea that Forest Service are willing to trial.
"The hard shoulder is there for emergency situations and the double parking in the images at the worst possible point, right at the entrance, is a total shocker.
"I have also put the request to Transport NI for a foot bridge which would mean people could access the park from the town without crossing the road and this remains an option – if a costly one.
"The culture of parking on the hard shoulder is a very dangerous one and today we have seen the very risky results of that – if indeed that was the contributing factor to the smash.
"I hope those in the cars make a speedy recovery. William and I will meet again with the Police and Forest Service on this matter as there are in our view steps which could be taken.
"It is of course everyone's responsibility to park safely and respect other road users. The fee as it stands in my view is not prohibitive and is no excuse to endanger other drivers or indeed your own safety or that of your children.
"There is also another very worrying trend at the castle entrance and as I know a good friend that uses that entrance every day, the footpath parking is a total disgrace and endangers lives of people trying to exit the castle entrance onto the main road and it also is at a fast point and in a dip.
"This whole issue needs a really detailed investigation and most importantly a solution and I can assure people I will continue to lobby for this."
An unusually mild October afternoon brought large crowds to the park.
But visibility was reduced due to the number of vehicles which were tailed well back in either direction.
There were vehicles double parked close to the entrance too.
The cause of the accident meanwhile is not known at this stage.
Read more news:
Emergency services attend scene of three vehicle smash outside Gosford
Watch the shocking moment woman and child duck under barriers as train approaches
Fifteen people imprisoned in house forced to live in squalor by gangmaster
Young family left shaken as thugs target house as baby slept
Sign Up To Our Newsletter