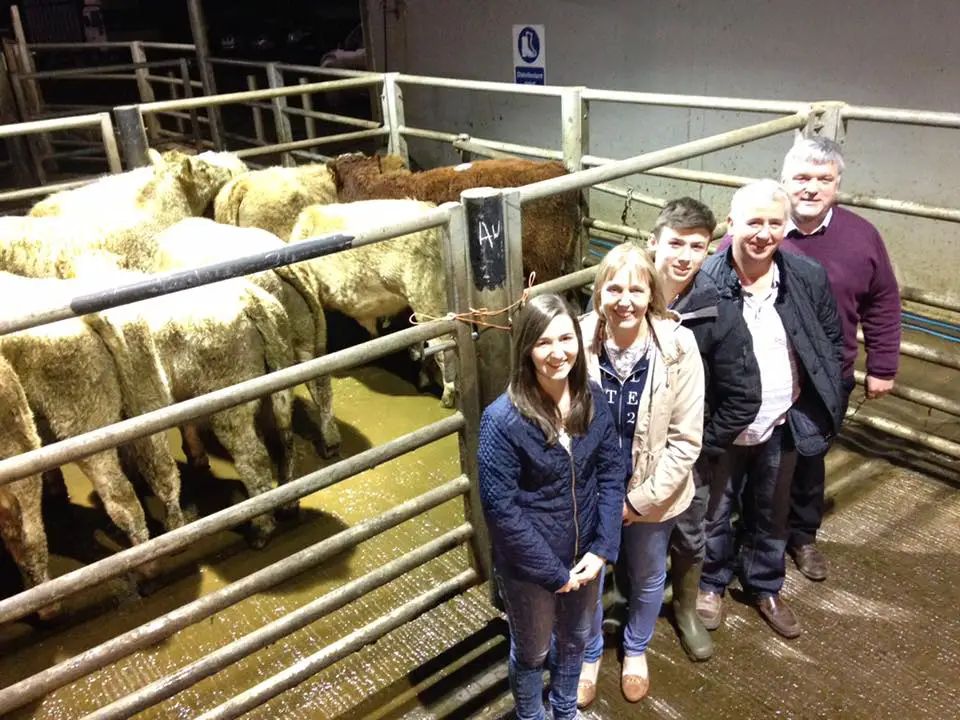 Donations and commission from this year's Christmas Show and Sale at Markethill Livestock will go towards Northern Ireland's Air Ambulance Service, in memory of Lesley Ann McCarragher.
The service, which will be based at the former Maze prison site, relies on donations despite its reception inception.
The Christmas Show and Sale shows off the hard work and dedication of farmers who show top quality stock, but it makes the mart proud to be part of the local farming community, which gives so generously year in year out.
Thank you to all the sponsors who have donated to the auction and to all the farmers who are preparing their stock for next Thursday.
Auction Items
1) Charolais heifer (approx. 550k): Anonymous
2) Freezer ready pig: The McCarragher Family, Milford
3) Bateman calf de-horning crush: Fane Valley Stores
4) Jumbo bag Ash firewood: Gareth Marshall, Tynan
5) One night dinner, bed and breakfast for 2 Manor House Country Hotel, Killadaes
(Expires 31st March 2017)
6) Karcher hoover (lifts hot ashes) Craigmore, Richhill
7) Home security alarm system A-One Control Services, Markethill
(Does not include installation)
8) £200 loin of beef: Linden Foods
9) Weekend stay at Roe Valley Hotel: Markethill Beef Group
10) One tonne Coarse Weanling Crunch ( to be collected): W K Powell & Son, Keady
11) 20″ chain saw (nearly new): George Coleman, Armagh
12) £100 X2 vouchers from any Corries Butchers Shop: Corrie Meats
13) V.I.P. pass for 2 people Tandragee 100: North Armagh Motorcycle & Car Club
14) 20 boxes Armagh Bramleys: Holly Farm, Clonroot, Portadown
15) John Deere Toy Tractor: Markethill Livestock Sales
16) Ulster rugby top signed by Ruan Pienaar: Ruan Pienaar
17) LED rechargable hand lamp: Diffin Farm supplies, Killylea
18) Killyhevlin, 2 nights mid-week bed and breakfast, 1 evening meal for 2 persons. (Expires 31 March 2017): Killyhevlin Hotel & John& Luke Murray, Tynan
19) Framed N.I. football shirt signed by 2016 squad: Brian Monaghan, Tynan
20) Toolmaster tool cabinet: Pittstop car Accessories & Motor Repairs, Armagh
21) 1 tonne ABP Beef Meal (to be collected): North Armagh feeds, Portadown
22) 10 hours plant hire: Roy Nesbitt & Son Plant Hire, Killylea
23) £100 voucher Deans Bridge Supermarket: D Cuttle
24) Painted milk churn I.D. Design, Glenanne: Ian Johnston
25) 1 night bed and breakfast in Roe Valley Hotel: Roe Valley Hotel
26) 750k bag of granulated lime: Alexander Mills, Benburb
27) 10 round bales of silage: The McCarragher Family, Milford
28) Gammon: Simply Irrestible, Banbridge
29) 7'6″ Super 3000 slurry pump: NC Engineering
30) Ireland rugby top signed by Rory Best: Rory Best
Please share this post and get the word out to help raise money for Air Ambulance NI in memory of Lesley Ann McCarragher.
Read more news:
Tractor run to be dedicated to two young men who died earlier this year
'Little boy racers' terrorising passersby from city centre car park
Adorable pup stolen from yard outside family home
Ulster Canal restoration high on agenda as North-South Ministers to meet in Armagh
Co Armagh primary school does one of the best Mannequin Challenges you'll see
Councillor warns of con artists targeting Co Armagh residents with sophisticated scam
Caravan stolen from Co Armagh house in broad daylight
Former prison site will be central location for our new Air Ambulance
Sign Up To Our Newsletter