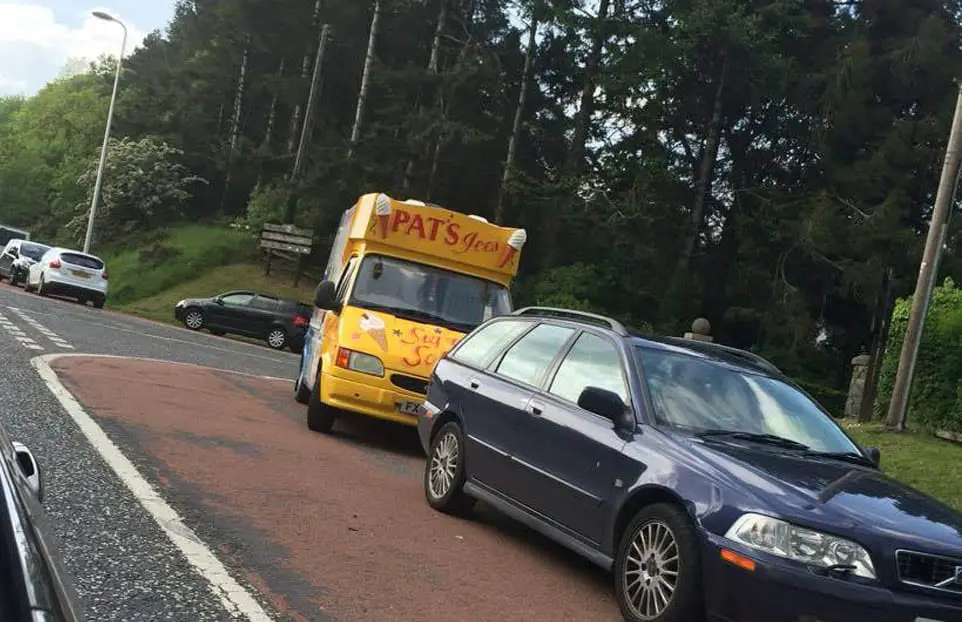 A photograph of an ice-cream van parked at the entrance to Gosford Forest Park has prompted the launch of a petition in a bid to force the authorities to take action.
Armagh I posted the photograph over the second May Bank Holiday weekend.
With the weather warming, more than 70 motorists had parked up on the hard shoulder.
And with the crowds came the ice-cream van to cater to the vast numbers.
The huge number of vehicles parked along the hard shoulder at Gosford has been an issue for some time.
But the image highlighted how serious the issue had become, with Armagh I asking: "Has the hard shoulder at Gosford become more of an attraction than the park itself?"
Our piece prompted a huge reaction, with many arguing that the situation is "an accident waiting to happen".
Now a petition has been started on change.org under the title: "Sort the parking issue out at the entrance of Gosford Forest Park before someone is killed."
The petition has been initiated by Markethill Community Association and was created on Monday.
The association – which has used the photograph run by Armagh I with our story last weekend to highlight the problem – felt compelled to take action.
It did so after "many concerns have been raised by local individuals, families, drivers and visitors to the area".
The MCA intends to forward the petition to the PSNI, Armagh City, Banbridge and Craigavon Borough Council, as well as Forestry Service and Roads Service (TransportNI), who they feel "all have a part to play in resolving the issue".
The association is encouraging people to sign the petition, share with friends and ask them to do likewise.
It states: "The general feeling is that something needs to be done sooner rather than later to address the issue of cars being parked along the hard shoulder at the entrance of Gosford Forest Park.
"It shouldn't take someone to be seriously injured or killed before a solution is found."
The petition can be found by clicking this link.
Read more news:
Exclusive interview: Armagh councillor Garath Keating on becoming new Lord Mayor
McDonnell recalls how legend Ali helped Armagh to All-Ireland victory in 2002
Police appeal to find owners of dogs which were "running loose" on main Moy Road
Trail of destruction after another night and morning of vandalism in Armagh
Sad end to brilliant day as thieves steal ducks from Marie Curie fundraiser
Bingo hall extension will leave Armagh's car park boozers out in the cold
REVEALED: Just how much was raised in car park charges at our local hospitals?
Mall litter shame: Bottles, wrappers and even soiled nappies blight city green
More than 20,000 expected to flock to Armagh show
Sign Up To Our Newsletter