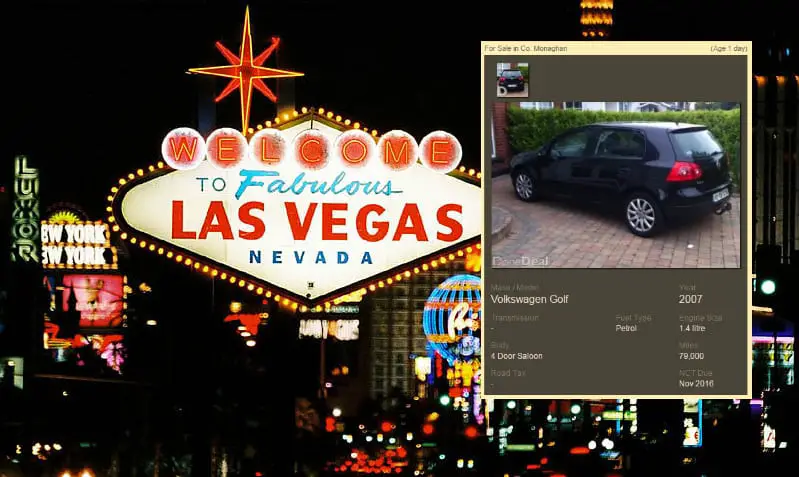 Sometimes you just have to admire people's honesty!
A Monaghan man, known only as Mark, has created quite a stir online after posting his car for sale on DoneDeal.
Perfectly normal, you would say.
But for this seller, he admits to being driven to part with his prized Volkswagen Golf after blowing his money on a holiday with his mates to Las Vegas!
He really does have a way with words and, as we say, you have to admire his 'come clean' sales tactics in pleading for a "quick sale".
Money-challenged Mark writes: "Genuine reason for selling this beaut. I'm with the lads in Vegas and I'm stone broke.
"Thought I was Terrence Big Balls the first two nights and now i'm atein scraps.
"The price of the dollar has my heart broke as well!!
"The cars a beaut and drives like a Porsche. She gets plenty of attention from the L-A-D-I-E-S as well.
"One woman owner before myself who only ever drove her to the shop and back."
The ad – which was posted on Tuesday – certainly seems to be drawing the attention.
Already more than 3,350 people have viewed Mark's ad for the black 2007 VW Golf.
But viewing's one thing, buying's another!
For Mark, it appears there have been no takers to date and it looks as though it might be a while before another holiday is in order!
Read more news:
Minister says crime risk to the elderly 'very low' but fear remains high
Assembly hears Armagh's cattle theft numbers at an all time high
Cats Protection renewed appeal to find elderly and ill Ozzie's owners
Community anger as vandals run riot at Keady Grotto
BHF honours local MP for helping in fight against heart disease
Sign Up To Our Newsletter
Sign up to our newsletter for major breaking news stories as they happen – right to your inbox.