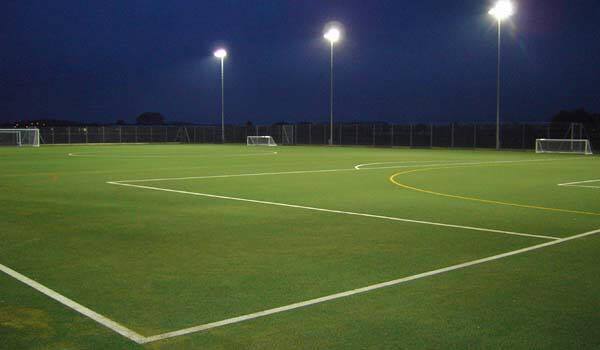 A major blueprint has been drawn up aimed at addressing sporting need in the borough.
And it could see huge investment in a whole host of new facilities to support local clubs.
The document covers everything from GAA to bowls, from rugby to rowing, and will be above and beyond the current proposals for new leisure centres being built across the borough.
A range of recommendations have been drawn up and the draft sports facility strategy is to be discussed at a committee meeting of Armagh City, Banbridge and Craigavon Borough Council tonight (Thursday).
Councillors will have the opportunity to express their views as they plan the way forward.
There are already plans for a new leisure centre in Craigavon.
And there is movement too to replace the Orchard Leisure Centre in Armagh.
But this will address other shortfalls and future needs up to the year 2026.
The development of the strategy has included a comprehensive consultation process which began last July with area–based club meetings to establish needs. Councillors and officials have also been discussing provision with statutory partners and governing bodies of various sports.
Among the recommendations is that the new South Lake Leisure Centre addresses the current and future sports hall and swimming requirements following the closure of the three existing swimming pools in Craigavon.
It is also recommended that the feasibility study for a new Armagh leisure centre considers the required sports hall, swimming pool, artificial grass pitch, grass pitch, health and fitness and athletic facility requirements for the future – plus provides the opportunity for 'elite spectator' events.
The strategy also recommends the council provide a plan for the refurbishment or replacement of grass pitches as well as tennis/bowls pavilion changing rooms across the borough.
Using formula to calculate provision needs based on number of users and teams, it is deemed there is "sufficient 3G rubber crumb pitches for soccer across the borough".
Using the same formula, it was found that there is a need for nine 3G rubber crumb pitches for Gaelic Games across the borough. The audit identified that there is a number of small pitches available for training but not large enough for matches at St Peters GAC, Sarsfields GAC, Derrynoose St Mochua's GAC, Davitt Park in Lurgan, Cheney Park and Raithfriland High School.
This strategy supports the development of one 3G GAA pitch – large enough to provide for matches and training – in each of the main town areas as a minimum to provide for competition facilities – one in Banbridge, one in Armagh City and one in Craigavon.
A GAA 3G pitch would also need to be constructed as a World 22 Rugby IRB compliant pitch which would allow for GAA, rugby and soccer to be played.
The council is currently working with the City of Armagh Rugby Club and Armagh GAA as part of the feasibility study for a replacement Orchard Leisure Centre and this, the strategy says, could "meet the gap in provision for 3G GAA pitches".
In terms of rugby, the strategy reveals that Banbridge Rugby Club require access to pitches for training, Portadown Rugby club, through consultation, have indicated a need for a 3G pitch. And City of Armagh Rugby Club require training facilities.
The latter's needs, the strategy states, should be "considered as part of the Orchard Leisure Centre wider Armagh City facilities study".
From a sustainability view point, it says 3G rubber crumb pitches should be used during the day by schools and the evenings for training and weekends for competitive games.
Opening up access to artificial grass floodlit pitches and sports halls on education sites – schools and colleges – would help to satisfy existing unmet demand for sports facilities and particularly grass pitches.
Wherever possible, it says, the IFA, IRFU and the GAA are keen to work in partnership with local authorities to develop new multi-sport facilities, providing access for all.
Sports NI is also asking councils to consider "strategically located artificial bowls greens in the future".
It is suggested that the council could consider offering bowls clubs a new pavilion with an artificial bowls green to manage the facility and lease the facility for 25 years. The cost of the artificial green could possibly
be recovered over a number of years from savings on grounds maintenance. The cost of a six rink
artificial bowls green – as of February this year – was estimated at £146,000.
It has also been recommended that council should continue to support the bid to the Sport NI Performance Fund to work with Rowing Ireland to create a 'Rowing High Performance Centre' at South Lakes Leisure Centre.
Rowing Ireland has identified it as a possible suitable location; it would require dry land facilities, fitness gym and boat storage, relaxation space, meeting room, office space and use of the Water Sports Centre.
In terms of athletics, it is recommended provision be considered as part of the Orchard Leisure Centre replacement.
The strategy has also identified a need to carry out a study to identify the future ski facility needs in Craigavon and the investment required for the provision of a new ski slope and ancillary facilities.
It is recommended too that council work with external partners to develop outdoor provision comprising walking and cycling routes/trails linking sports facilities and transport and using forests and greenways.
The changing needs will be kept under review during the course of the plan.
The strategy is only currently up for discussion by councillors and it must be stressed that it is in draft form.
Actual plans will have to be brought forward and considered and agreed before action is taken.
Sign Up To Our Newsletter