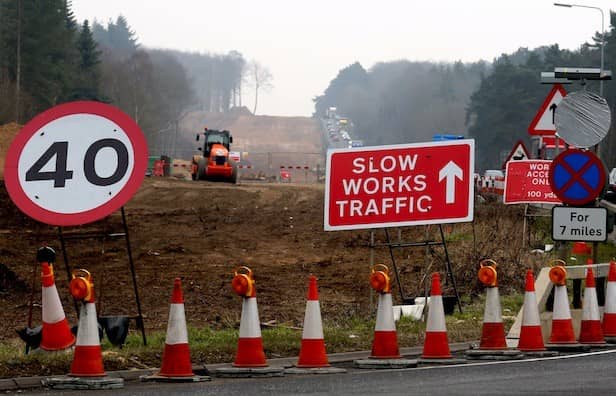 A new £200,000 road improvement scheme will begin in south Armagh later this moth.
Infrastructure Minister Chris Hazzard has announced the start of the £200,000 project on the A25 Newry Road, Belleek, Co Armagh.
Preliminary works are scheduled to start south of Belleek village near its junction with the Cavanakill Road on Monday 4 July with the main site works to begin on 25 July for ten weeks. The scheme is expected to be substantially completed before October 2016.
Minister Hazzard said: "This scheme will stabilise the road over a raised section that is showing signs of potential slip failure. The intended scheme will include surfacing work over a short length, culvert extensions and associated fencing works."
In order to facilitate the works and ensure the safety of workers and the public, lane closures and a short road closure will be required to complete the works. The actual dates of the planned closure will be published in advance of the commencement of any road closure.
Road users are asked to obey signage at all times and to continue to cooperate with site personnel in the interests of safety whilst these improvement works are being carried out.
The above planned dates are subject to favourable weather conditions and Transport NI will keep the public informed of any change.
Transport NI has carefully programmed the works operations and traffic management arrangements in order to minimise any inconvenience to the public, however motorists should be aware that some delays may be expected and that additional time should be allowed when planning any journeys.
Read more news:
Nephew Joe joins Ancre Somme pilgrimage to lay wreath on Willie McBride's grave
Teacher hits out at government scheme that could force him to seek work abroad
Will it happen? Lengthy deferral sees £1M Cathedral Road revamp left in limbo
Tributes paid to 'absolute gentleman' who died in Portadown Road collision
Co Armagh to host music festival – 14 acts, two stages and talent galore!
Watch: Mayor 'busts some moves' as he shows how Zumba is really done!
Two arrests in County Armagh fuel raid
Newsletter
Sign up for our weekly newsletter here.