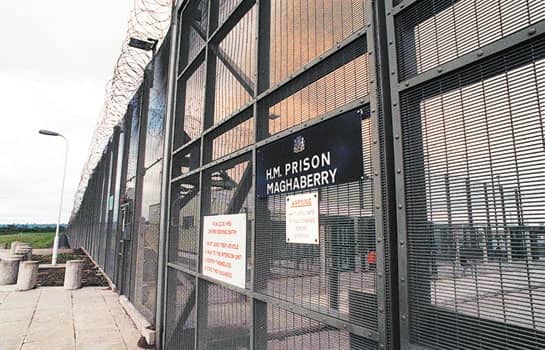 All visits to Maghaberry prison have been cancelled following a security alert.
It is believed police were sent to the scene following a telephoned bomb warning this morning.
Police are currently on the scene at the minute.
The Old Road has been closed between Corrstown Road and Leckey Road. No buildings have been evacuated.
This follows on from last night's incident which involved 40 dissident republican inmates and understood to have ended without the use of force.
The BBC reported that the prison service management withdrew staff from Roe House landings because of verbal abuse and threats from dissident inmates.
The story added that last week, a group representing some dissident republican prisoners in the jail released a statement saying that recent structural changes to Roe House landings were an attempt to debase and disempower the inmates.
Police and ATO at the scene of a security alert at Maghaberry Prison in Lisburn following a bomb warning. pic.twitter.com/BCrcXyvSnH

— Kevin Scott (@Kscott_94) February 3, 2015
Northern Ireland Prison Service director general Sue McAllister said: "I can confirm the incident involving separated prisoners in Roe House has ended with no injuries to staff or prisoners.
"Managing prisoners in a high security facility is challenging. We are clear that we wish to move to a normalised regime within a secure environment."
Today, the Department of Justice released a statement which read: "Due to a security alert outside the perimeter of Maghaberry prison, all visits to the prison will be cancelled today. We apologise for any inconvenience."
Read more news:
Public backlash over Irish News article on PSNI's social media 'overindulgence'
Forkhill fuel laundering dumping 'environmental terrorism'
World's top athletes for 25th anniversary International Road Race
£3.3M plans to convert St Patrick's Trian into community 'hub'
Mall one-way traffic consultation event planned for next week
Judicial Review into murders of county Armagh victims to begin today
Sign Up To Our Newsletter
Sign up to our newsletter for major breaking news stories as they happen – right to your inbox.