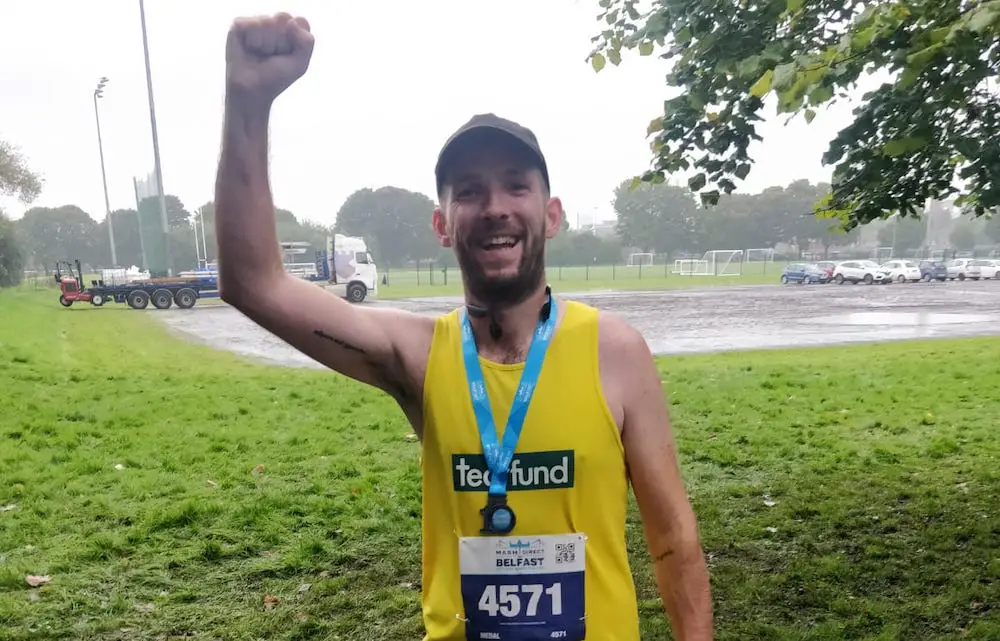 When Waringstown father-of-two, Chris Thompson was diagnosed with arthritis in late 2020 he had to take almost two years off running.
Following a diagnosis that is unusual for someone in their thirties, Chris, who works for global aid and development charity Tearfund, didn't know when he'd be able to resume running again.
However, over the weekend, he was back to it, completing the Belfast Half-Marathon in 1:45.
"I even enjoyed training four times a week," he said. "Not being able to run over the last couple of years following my diagnosis, I'm thankful for the impact of medication and training that has allowed me to keep going now', said Thompson.
Currently working as Tearfund's Northern Ireland Acting Director, Chris added: "I'm running for Tearfund because I've seen firsthand that the work the charity does makes a tangible difference in some of the most challenging places in the world. Every pound raised or donated is spent responsibly to go as far as it possibly can.
"As a Christian, there is a connection between what I believe about God and how I view my responsibility in the world: I want to use what I have to bring hope to my global neighbours."
Tearfund works in the world's 50 most vulnerable countries. Chris recently visited its work in Chad, which is one of poorest countries in the world: one in five children living there dies of things like malnutrition and disease.
"It was humbling to visit the communities that Tearfund is working in in Chad. I met people whose lives had been completely transformed thanks to the support of people around the world.'
Chris remembers meeting Edward, a man who was living with a disability that meant he couldn't work.
"Thanks to some training and a micro grant delivered by Tearfund's partner, Edward had begun to raise and sell livestock, and was now a pillar in his community, supporting others," said Chris.
An independent report released earlier this year demonstrated that every £1 invested by Tearfund in the CCT (Church and Community Transformation) process yielded up to £28 of 'social value', or local community benefit.
This means that through resourcing leaders and churches who share the vision and empowering them to support their communities, lives like Edward's are changed forever.
Chris has raised over £500 so far.
He added: "Everyone is feeling the pinch of the cost of living crisis, coming after the global pandemic. I'm so grateful to those who have sponsored my run: every penny raised will go towards supporting more people like Edward around the world."
To make a donation in support of Tearfund's work support Chris Thompson's Half-Marathon challenge, visit his Justgiving page here.
Sign Up To Our Newsletter