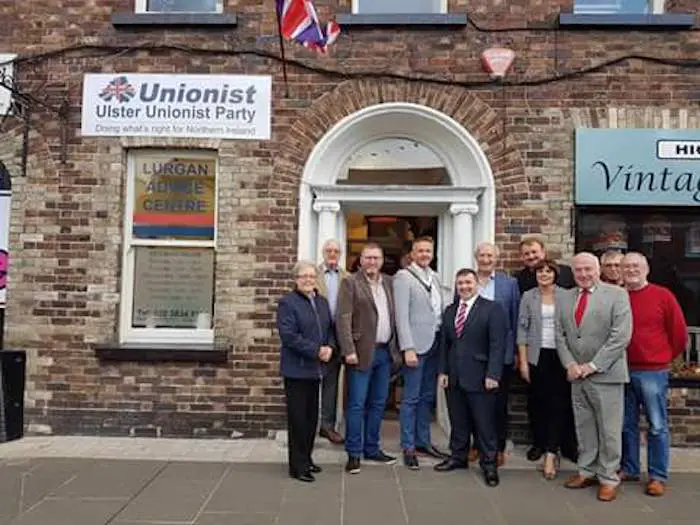 A new office has been opened by the Ulster Unionist Party in Lurgan by Party Leader Robin Swann MLA.
The north Armagh town has had an Ulster Unionist office for almost 27 years until last year when MLA Sam Gardiner bowed out of politics.
The new office is at 48b High Street close to Love Coffee. It will be open five days a week from 1pm to 5pm or by appointment.
Attending the official opening of the office last Friday, Doug Beattie MC MLA said: "It's not about how you fall down…its about getting up again."
Ulster Unionist Councillor Colin McCusker (Lurgan DEA) said new rules meant that MLA Doug Beattie could only open one office in Upper Bann. As his office was in Portadown ( Bridge Street, Edenderry)  he and the Party said there was a need for Lurgan constituents to be represented locally.
"We have had a presence in Lurgan for the past 27 years," said councillor McCusker.
He added that local activists and volunteers have worked hard and 'dug deep' to raise the funding to open the new office in High Street.
"It was all funded by local subscriptions and will be manned by ourselves, all the local councillors and volunteers in the community," he said.
"We will be dealing with all the usual issues local constituents want help with from housing, planning or other issues. We will be making ourselves available to our constituents so they can get the help they need," said Cllr McCusker.
Contact details: Lurgan UUP Advice Centre, 48b High Street, Lurgan. BT66 8AU 028 3834 8592.
Sign Up To Our Newsletter