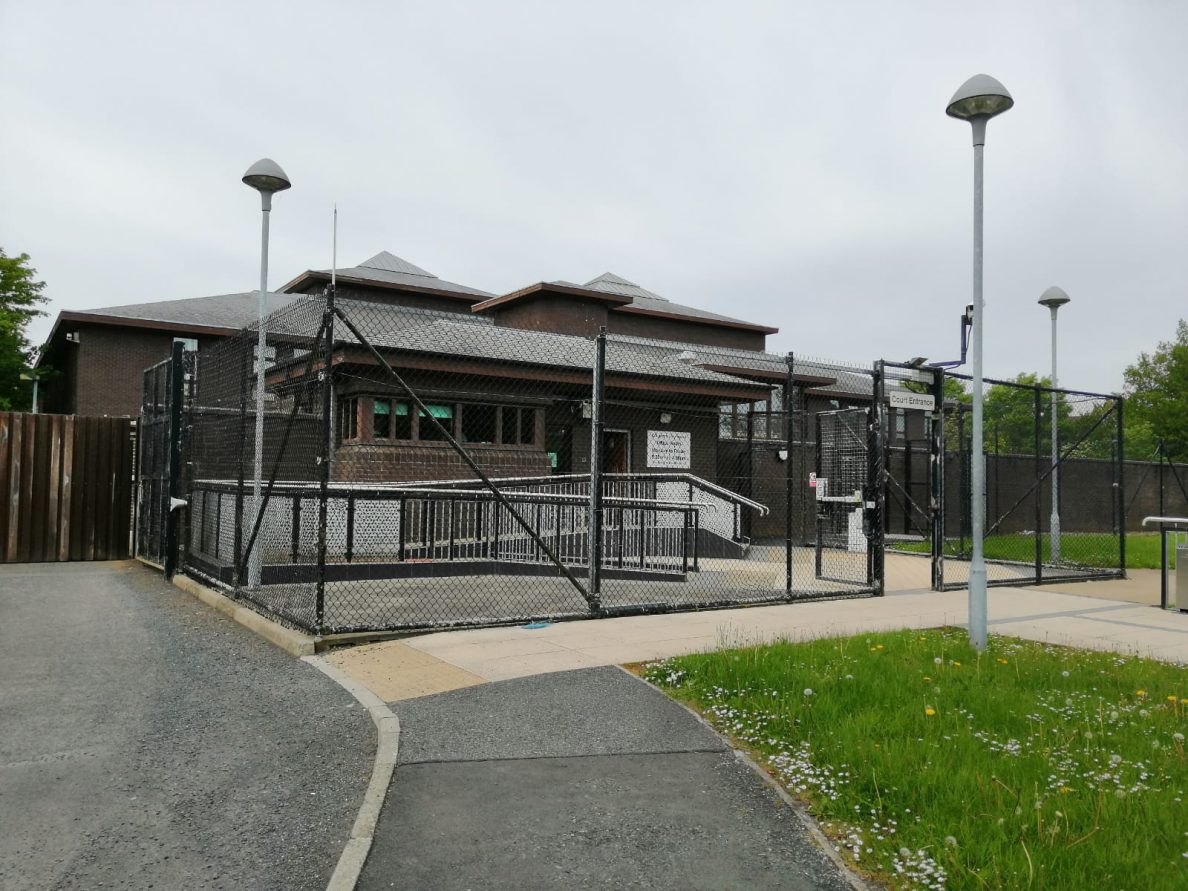 A Lurgan woman was forced to leave her home after a man damaged her door and made threats to burn her house down, a court has been told.
It was heard that the 37-year-old banged on his neighbour's door and chanted "the wicked witch is dead".
Gerard Lavery, of Brownlow Terrace, pleaded guilty to criminal damage, threats to damage property endangering life, threats to kill, resisting police, breach of a restraining order and assault on police at Craigavon Magistrates'.
Opening the facts, the prosecution outlined that on September 7, at 5.40pm, police were contacted by the injured party who accused Lavery of having damaged her front door.
In a statement, she alleged that at 2.30pm the defendant, who was a neighbour, had started banging on her door.
She further alleged Lavery had said he was going to "burn her out" and had started chanting "the wicked witch is dead".
The injured party also claimed the defendant had thrown liquid over her window and scratched her door.
Prosecution stated that police had observed baby carrots over a windowsill of the alleged injured party's property.
At 8.15pm, police arrested Lavery and he made no reply after caution.
Whilst in the rear of a police car, the defendant attempted to light a cigarette and continued, despite being told this was not allowed.
Lavery was cuffed to prevent him lighting the cigarette but became aggressive.
The defendant swung with his arms and legs before headbutting a female officer on her left temple, he was eventually restrained using handcuffs and conveyed to Lurgan Custody Suite.
Prosecution outlined that Lavery was currently subject to restraining order with regards to the injured party, which is due to run out on August 13 of 2020.
Defence barrister John McCann stated: "He has been in custody since mid-September, some late evidence was served in the case and this would have led to an earlier plea.
"It is accepted that alcohol played a role in this unsavoury incident, alcohol is a problem from him and he does suffer from mental health issues which he does not deal with appropriately".
He added that the defendant did wish to write a letter to the injured party in order to apologise for his actions.
After consulting with the injured party, who was present in court, prosecution stated: "The injured party is having to leave her home due to this and is moving to a fold.
"She says that this has gone on for so long and she does not wish to receive a letter from Mr Lavery".
Mr McCann said: "Mr Lavery offers her sincerest apologies, he does have a record his last entry for assault on police was in 2011.
"He does have entries for criminal damage, the most recent was dealt with back in September for which he was sentenced to three months in custody".
Sentencing the defendant, Deputy District Judge John Connolly said: "I have to accept that there was a decision taken by the defendant following evidence being served late.
"He has also been in custody since September, which is a considerable amount of time".
Lavery was sentenced to six month in prison suspended for the maximum period of three years, he was also ordered to pay £100 in compensation to the officer he assaulted, along with the offender's levy of £15, within 26 weeks.
Judge Connolly also ordered that a new restraining order was put in place for a period of three years from this dat until December 30 of 2022.
Sign Up To Our Newsletter