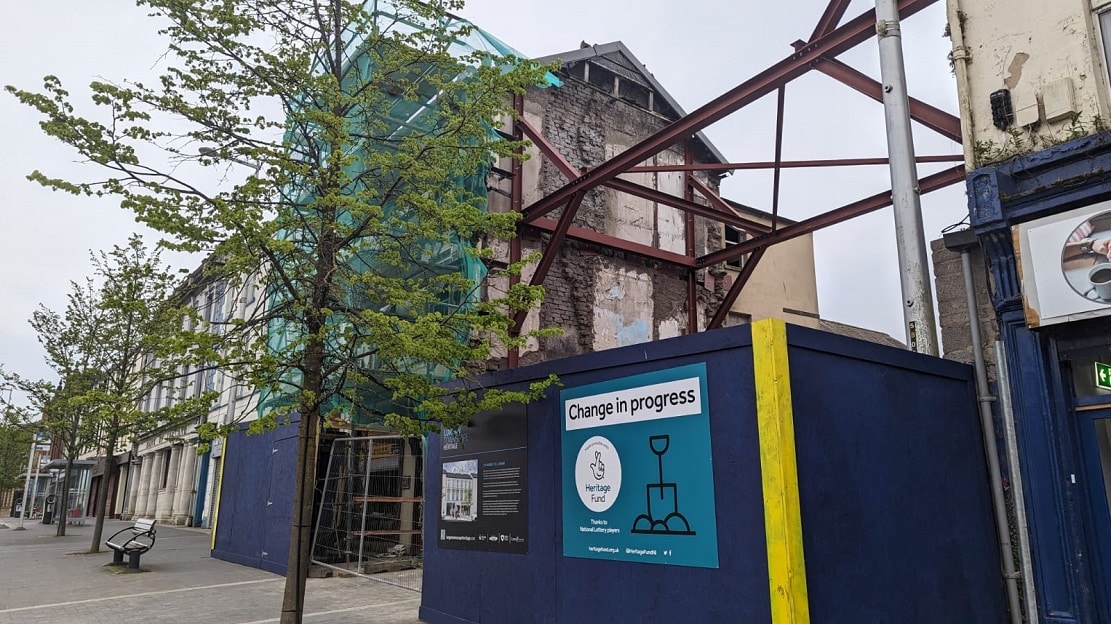 Work has started to reconstruct a former bomb-damaged building in the centre of Lurgan.
In 2009, number 3 Market Street was in a state of dereliction, and owing to its poor structural repair due to damage sustained in the 1992 bomb attack, was demolished.
Now, owners Carey Developments, supported by Lurgan Townscape Heritage, will bring the idle site back into a usable space with plans to reconstruct number 3 to "closely replicate the building that formerly stood" with restoration work having also started to neighbouring number 5 in order to restore it to it's former glory.
The buildings were originally constructed in the early 1800's and formed a mid-terrace three storey, six bay block with ornate sashes and was a blend of commercial and residential units, with an arched opening that provided access to the extensive rear of each property.
During it's 200 year history the buildings hosted many of the town independent retailers, listing local grocer and spirit merchant, John Rooney, as a tenant during 1864 -1881. Other traders included Peter Duffy (Grocer, Provision Dealer and Spirit Merchant) and Samuel Thompson (Haberdashery and Millinery Dressmaker).
But perhaps the longest standing and most recognisable tenant, trading from 1881, was John Malcomson who established a general merchant business in the premises, later evolving into a funerary and carriage hire business in c.1893 –  later moving operations to the rear of number 5 in the 1930's.
The funeral business was founded by John Malcomson, who was later joined by son Jack , following a return to Lurgan after emigrating to Canada in 1911. Jack returned to Lurgan at the outbreak of the First World War with the Canadian Army, and when peace was declared in 1918, he decided to stay and join the family business.
2008 brought about the end of the businesses 127 year association with the property with Malcomson's relocating to Robert Street in the town.
Read more: Scaffolding goes up as one of Lurgan's oldest buildings to be lovingly restored
Among the many later businesses occupying the shop front of number 3 was the prestigious and major retail outlet for Audio and hi-fi goods, television and domestic electrical appliances, Stereovision, which started trading in Edward Street in the town before relocating to Market Street.
Among other notable tenants were Lipton's grocers who also had a store on Scotch Street Armagh, Solicitor John G. O'Reilly and butcher, William Seyton.
The scheme will result in the creation of two ground floor shop units and five residential apartments, once again allowing both buildings to become a part of day-to-day life of Market Street.
---
Read more: Lurgan's famous Manhattan Bar to be lovingly rebuilt and re-opened after fire
Historic Lurgan properties damaged in 1,000lb IRA bomb 30 years ago to be restored
Sign Up To Our Newsletter