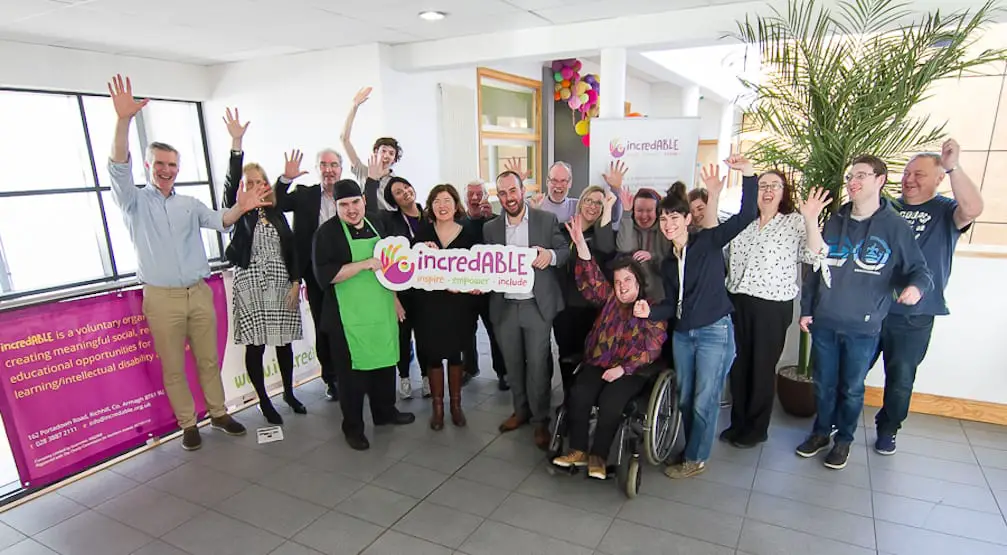 Permanent Secretary at the Department of Finance, Sue Gray visited Café incredABLE in Lurgan's Jethro Centre recently.
After incredABLE secured two wins and two highest commendations at the Social Enterprise NI Awards in October, Sue was interested to learn more about incredABLE's work and spent time meeting with young adult trainees, gaining further insight into incredABLE's various social enterprises and discussing the charity's current work and vision for the future.
Welcoming the Permanent Secretary to the Jethro Centre, Nigel Hampton, Director of incredABLE said: "We immensely appreciate and value the interest that the Sue has shown in our organisation, taking time out of her busy schedule to come and talk to our participants and beneficiaries and witness first-hand the many aspects of our work and the impact and difference we are making locally to the lives of children and adults with a learning disability & autism."
Speaking at the visit Ms Gray said: "It has been a great privilege to spend time this week with the incredABLE team. I am hugely impressed with the amazing students, their committed tutors and the many volunteers who give their time so freely. It has been wonderful to see first-hand the life changing impact this local enterprise is having on all those involved."
Visiting alongside Sue were Nicola Wilson, Head of Economic Development for the Armagh, City Banbridge and Craigavon Borough Council; Colin Jess, Director of Social Enterprise NI; Derek Browne from the ABC Social Enterprise Programme; and incredABLE Board Members Alan Turtle and Edwin Graham.
The Jethro Centre in Lurgan is home to Café incredABLE as well as incredABLE enterprises Souper Stars and incredABLE Packaging, where people with a learning disability and/or autism gain invaluable training, employment and meaningful daytime activity,
Young people aged 18-25 with a learning disability and/or autism who are interested in a social enterprise placement with incredABLE should check out our website at www.incredable.org.uk or call the incredABLE office on 028 38872111.
Sign Up To Our Newsletter