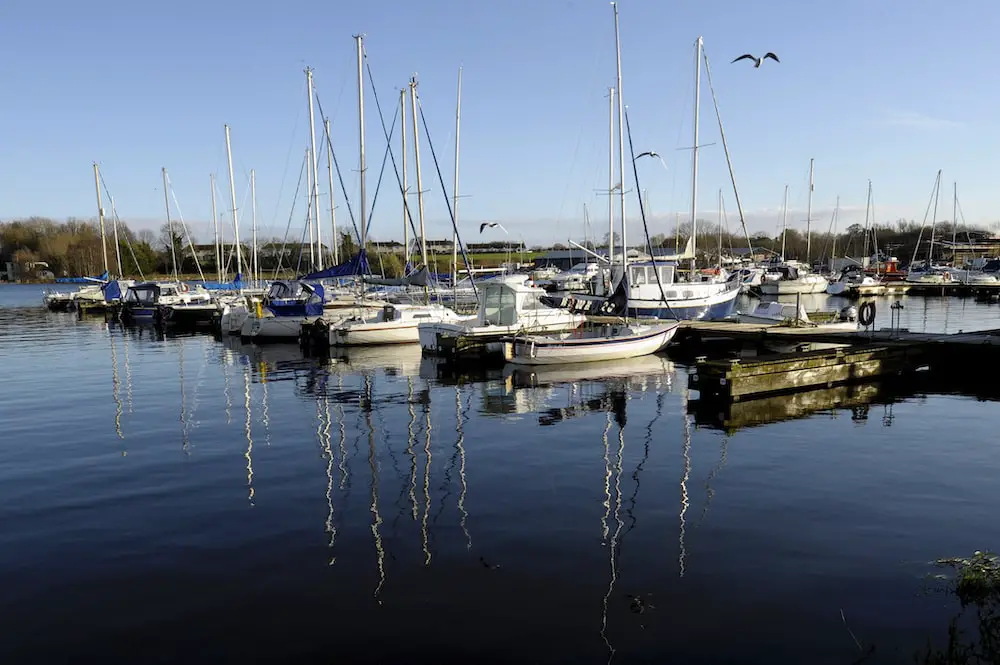 Co Armagh's popular Kinnego Marina is about to get a whole lot more popular – with glamping pods in the pipeline!
The marina – situated on the edge of Oxford Island National Nature Reserve near Lurgan – is also set to see an investment of over £640,000 for a new state-of-the-art Lough Neagh Rescue Centre.
Led by 'Southern Organisation for Action in Rural areas' or more commonly known as SOAR ABC, the highly anticipated project received an investment of over £480,000 from the NI Rural Development Programme with additional funds coming from ABC Council's Financial Assistance Programme and the Ulster Community Investment Fund.
Kicking off recently, the project will see the construction of a brand new Lough Neagh Rescue Centre, establishing it as the central base for rescue, training and cooperation activity, as well as the development of four new high-spec glamping pods, providing an added boost to the local tourism offering and economy.
The revamp, due to complete in early 2021, will also include new fencing, road resurfacing, a utility block refit and an upgrade to the rescue centre's 'Gary Breen' vessel.
Undergoing an extensive consultation process with local public and private representatives, the project has been shaped to address local needs and aims to deliver significant benefits to the Lough Neagh catchment area.
Announcing the start of the scheme, Lord Mayor of Armagh City, Banbridge and Craigavon, Councillor Kevin Savage said: "I am delighted to announce the start of this exciting project at Kinnego Marina on the Oxford Island National Nature Reserve. Through SOAR ABC's NI Rural Development Programme, this investment will help address the needs of the local community as well as support the local economy.
"This scheme will deliver a modern, fit-for-purpose rescue centre for the Lough Neagh Rescue team and four new glamping pods as well as aesthetic enhancements to the area, helping the popular recreational and visitor destination reach its full potential. I very much look forward to seeing the completed works."
The regeneration works at Kinnego Marina represent one element of a wider collaboration initiative between SOAR ABC and neighbouring local action groups: Mid Ulster Rural Development Programme and GROW South Antrim. Working together under the Lough Neagh Cooperation Project and funded through the All Island LEADER Cooperation Scheme, the joint venture is committed to delivering larger and more integrated improvement schemes across the Lough Shore enhancing its accessibility and utility.
In the Mid Ulster council area, the cooperation project will see the refurbishment of over 70 angling stands and a new 1km trail along the River Bann at Portglenone, as well as upgrades to access at the Washing Bay, helping facilitate canoe launching, wildlife viewing and camping. In the borough of Antrim and Newtownabbey, there will be improvements to Lough Shore Park in Antrim, including enhancements to jetties and slipways as well as landscaping and environmental works.
Chair of SOAR ABC, Councillor Kyle Savage said: "As a local action group, we are delighted to see this very worthy cooperation project at Kinnego Marina get underway. Bringing about the development of a new rescue centre and the construction of new glamping pods among other aesthetic improvements, the project will help ensure the long term provision of a highly trained and well-equipped search organisation on Lough Neagh's waters as well as enhance and broaden the recreational and tourist offering in the local area.
"This particular project has been a long time in the making and I am very grateful to all those who have worked so hard to get these projects approved and I am delighted to see the works commenced on site."
SOAR ABC has been appointed in Armagh City, Banbridge and Craigavon Borough Council area to implement the LEADER element of the NI Rural Development Programme 2014-2020.
Supporting the rural community in the borough of Armagh City, Banbridge and Craigavon, SOAR ABC provides support through a number of programmes, namely Rural Business Investment Scheme; Rural Basic Services Scheme, Village Renewal Scheme and Co-operation Projects.
For further information on SOAR ABC please visit www.soarni.org
Sign Up To Our Newsletter