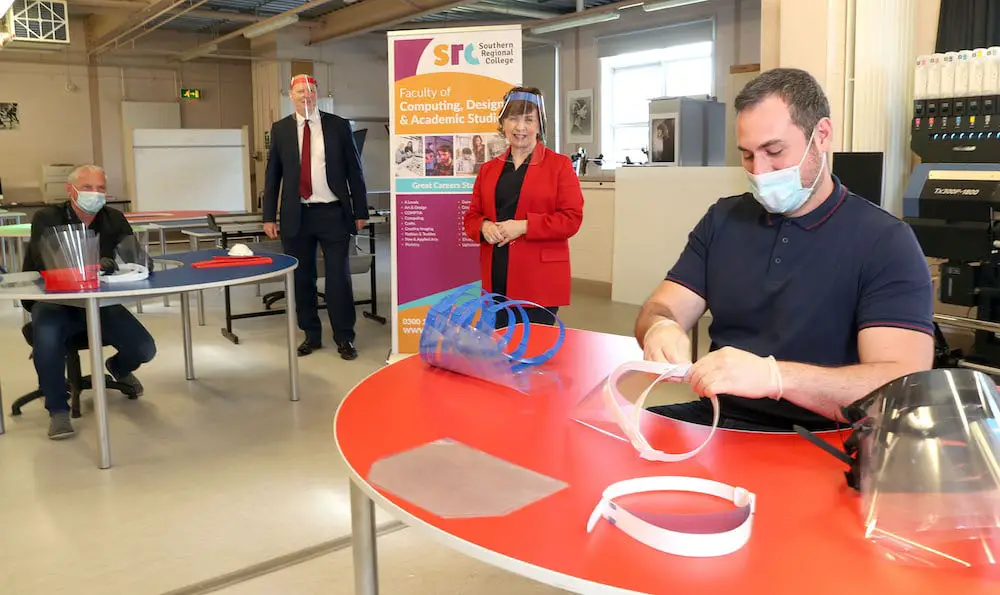 Economy Minister Diane Dodds today visited Southern Regional College's Lurgan campus to meet staff who are making PPE for health workers.
Using laser cutting technology, the college team have produced 1,000 face shields in little over four weeks.
The PPE produced at SRC Lurgan is being donated to: Newry Hospice; Southern Trust (Community Nurses); Southern Trust (Acute Care Team); Leonard Cheshire Care Home; Aughnacloy Care Home; Gordons Chemist; R4 Recycling; Newry Care Home Support Team; Ulster Hospital; Banbridge Community Nurses; Hills Pharmacy; Orchard Pharmacy; Sandringham Care Home; Samuel Kelly Care Home; and Ashgrove Nursing Home.
The Minister said this was just a snapshot of the work going on across the further education sector to contribute to the fight against Covid-19: "Over the past few weeks, all six of our further education colleges have stepped up and focused their skills, knowledge, resources and talents on the response to the virus. I am deeply humbled by their selflessness and sense of public duty.
"Since the campus was closed to students, the team at Southern Regional College in Lurgan have been producing plastic facial visors at pace. To have reached the milestone of 1,000 pieces made in such a short period of time is testament to their dedication, skill and hard work.
"These masks are being donated in batches to healthcare, pharmacy and business settings – so they are directly benefiting key frontline workers."
Welcoming the initiative, Health Minister Robin Swann said: "The provision of PPE to our frontline workers is an absolute priority. We continue to actively pursue all feasible supply routes for PPE, both locally and internationally. The work being undertaken by SRC's Lurgan campus staff is just one example of the amazing response we have seen from all parts of society as we work together to tackle the impact of Covid-19.
"Whether it is the overwhelming adherence by the public to the restrictions which have been imposed or the production of equipment to protect our NHS staff, it is indicative of a truly inspiring public determination to do all they can to protect front line workers and save lives."
Minister Dodds went on to acknowledge the role of local businesses and organisations: "The production of PPE would not be possible without the necessary raw materials. Graham Steel and Engineering Works, Greiner Packaging, Trade Signs and ReGen Recycling, as well as the Education Authority, have all been very generous with their donation of polypropylene sheets and other materials to the college."
Mrs Dodds added: "Staff in colleges across Northern Ireland are contributing to the effort by a variety of methods, including producing PPE, volunteering their time and donating chemical supplies. They have shown no hesitation in doing so and I thank and commend them."
Principal and Chief Executive of Southern Regional College Brian Doran said: "I am immensely proud of the staff at our Lurgan Campus who have gone over and beyond the call of duty to manufacture and deliver these essential face shields to key frontline workers in the southern region, assisting them in the battle against Covid-19.
"A special word of thanks has to be extended to Chris Hobson (Curriculum Area Manager), Trevor McKee (Technician), Stephen McDowell (Technician) and Darren Haughey (SRC Business Support) who have ensured the timely production and delivery of these visors to key staff within the local area.
"Whilst our campuses are closed at this time, our staff continue to deliver classes and support to our students and it is important to highlight that Chris and his team have produced this essential PPE whilst also doing their day jobs at SRC.
"We are very grateful for all the efforts of our staff during these unprecedented times and I am sure that Chris and his team will continue to produce these visors for as long as is possible."
Sign Up To Our Newsletter