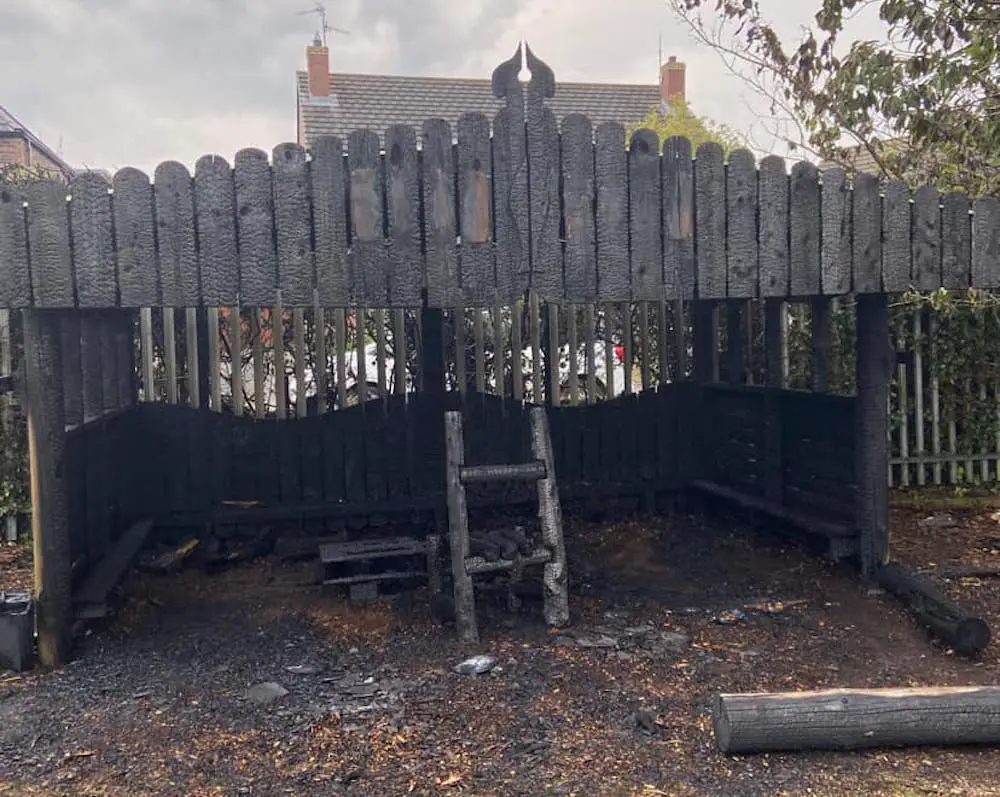 The principal of a Lurgan primary school says she and her staff have been left "devastated" after a fire completely destroyed precious garden equipment enjoyed by the children.
Jill Hunter, of Harrison Nursery School, took to social media following a suspected arson attack carried out by three youths seen fleeing the scene on Friday evening…just days into the beginning of a new school year.
The outdoor house, table and chair were destroyed by a deliberate fire. This equipment was funded and donated by parents, the local community and the staff.
"Harrison Nursery School … the place I have given my heart to," Mrs Hunter wrote on social media.
"I am devastated. My staff are devastated."
Ms Harrison added: "I have given my life work to Lurgan and truly we are hurt. I am hurt.
"The shelter was fundraised for by the school and was built by Red Odgers. My beautiful reading chair gifted to me by Anna Cruickshank. The beautiful sign donated by Kerry Geddis and Kyle Geddis. The table that we created with the children in June. All gone.
"Sincere thanks to the fire service and PSNI for their rapid response. We will rise from the ashes bigger and better. We need your help."
A GoFundMe page has been set up and has already raised close to £1,700 for the school, in less than 24 hours.
Upper Bann MP, Carla Lockhart, said the equipment "was enjoyed every day by the little ones and the principal and staff are just devastated."
She added: "Anyone with any information please come forward to the PSNI. CCTV footage is being looked at currently. Help solve this despicable act by ensuring any information you may have is passed on to the police.
"Everyone loves Harrison Nursery and I know that the community will rally round and rebuild this bigger and better."
You can donate to the GoFundMe page here.
Sign Up To Our Newsletter