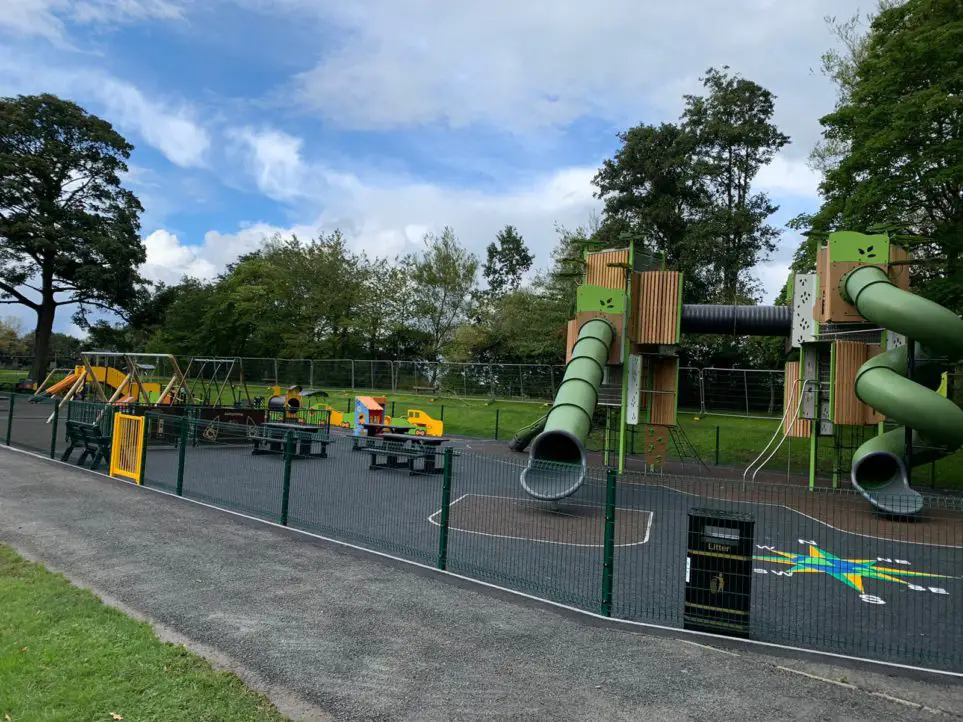 A meeting is to take place this week between councillors, senior council officers and all interested parties in attempt to tackle the growing problem of anti-social behaviour at Lurgan Park.
Raising the issue at Armagh City, Banbridge and Craigavon Borough Council's monthly meeting, Alderman Stephen Moutray said the meeting needed to be held ahead of the Easter holidays as the situation is "escalating week by week".
"Over the last few weeks we have seen a rise in the reports of anti-social behaviour in Lurgan Park, especially near the children's play park," said the DUP representative.
"The play park opened recently at a cost of approximately £250,000 but over the past number of weeks parents of young children are being intimidated by the young people who are congregating there.
"I was at the park earlier and it is clear the litter in the area does not come from small children. There are clearly young teenagers hanging around the play park.
"I propose we convene a meeting of senior council officers, local police and all interested parties, including Lurgan councillors, as soon as possible to ensure this remains a place for the people of the borough and those that come to this great gem."
Alliance Party councillor Peter Lavery seconded the proposal and urged Council to act before the park becomes a "no go zone for kids" and told members how the trampoline has already been vandalised.
"All Lurgan members have been have been contacted recently from parents about the abusive language and quite awful stuff that is going on in Lurgan Park," said Councillor Lavery.
"I was told by a parent on Friday they were effectively chased out of the park because of the activity going on, we don't want the park to become a no go zone for kids.
"It is a tremendous facility that should hopefully last 15 years and we need to make sure we are protecting it, it is bad enough that the trampoline has already been vandalised."
SDLP Councillor Declan McAlinden welcomed the proposal and asked if it could be extended to Craigavon councillors as well noting anti-social behaviour problems are also evident at Oxford Island.
Councillor Louise McKinstry thanked Alderman Moutray for highlighting the issue and said she is keen to attend the meeting.
"We need a long term solution to this problem and I would like to add my voice to this proposal and will make myself freely available for any potential meeting.," said the Ulster Unionist Party councillor.
SDLP Councillor Thomas Larkham said he would "concur" with all that has been said and asked if youth services and the Education Authority could also be invited to the meeting.
In response to these comments, Alderman Moutray said he would like the meeting to be open to all who "bring any positive input to the table" but sought to keep the focus solely on Lurgan Park.
"This situation is escalating week by week. I would like an assurance tonight [Monday, March 22] that we will have a meeting this week," he said.
"I don't want this taken away only to come back to committee in a number of months, we need a meeting on this issue before the Easter holidays arrive."
Confirming a meeting would be arranged for later this week, Council's head of estate and asset management, Jonathan Hayes said he was "acutely aware" of the anti social behaviour problems across the borough's parks.
"It is a very important issue and it is very disappointing to see the park is being used in this manner," said Mr Hayes.
"I am happy to do as proposed and arrange a call with Lurgan DEA members this week. I am acutely aware that anti-social behaviour exists across our parks and am happy to follow up on this with other members as well.
"I will also take a report on the matter to committee but with regards to Lurgan Park, I am happy to follow up on this as a matter of urgency."
Sign Up To Our Newsletter