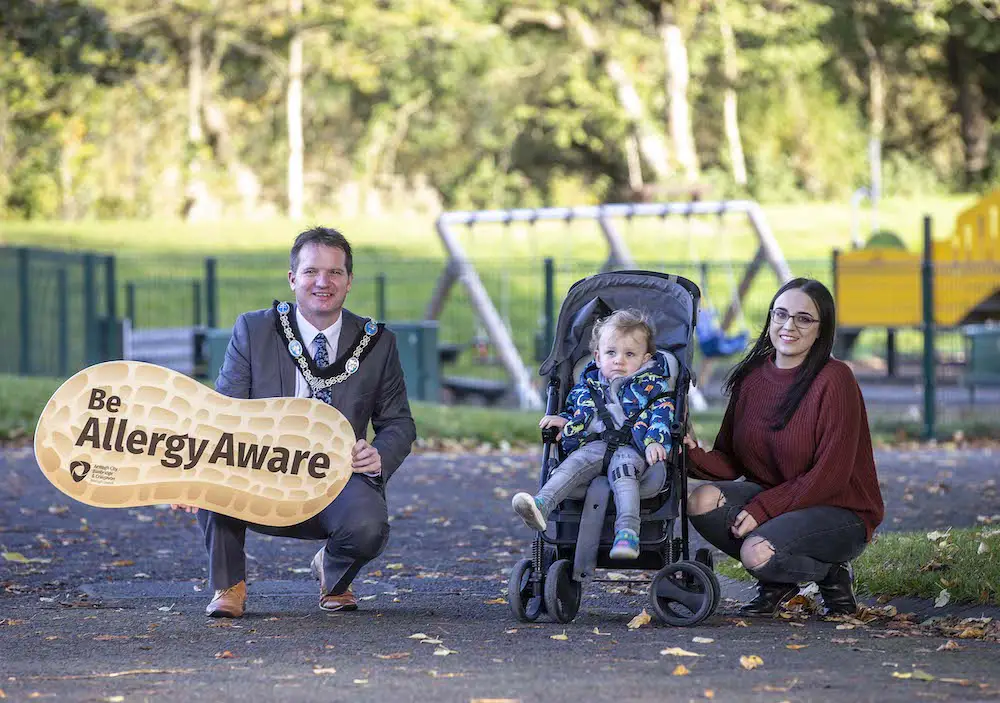 There has been a lot of publicity recently around Natasha's Law – the new Food Safety Law that is now in place requiring food retailers to provide full details of the ingredients and allergens in all pre-packaged food.
This publicity has heightened public awareness around an issue that can have a major impact on many people's lives. It is not just the ingestion of food that puts people suffering from allergens at risk.
The Lord Mayor of Armagh City, Banbridge and Craigavon Borough Alderman Glenn Barr, has joined with Kayleigh Dawson and her son Wyatt, from Lurgan, to raise awareness of this issue with local residents, and highlight the importance of general allergen awareness in our everyday lives.
The Lord Mayor said: "Kayleigh approached my office to see if there was anything I could do to help raise awareness of allergen issues.
"Kayleigh highlighted to me the fact that nuts don't have to be eaten to cause a reaction, people can have airborne and contact reactions. This is why the throwing of nuts and seeds to feed animals, or even dropping an empty packet that may have contained nuts, can be dangerous in public areas. Children, especially young children, are naturally curious and will touch and potentially even place them in their mouths.
"I would encourage everyone to 'be allergen aware' when in public areas to help children and adults enjoy the outdoors and parent's like Kayleigh have more reassurance when letting their children play".
Kayleigh is a mum to two year old Wyatt who like many other children, has a diagnosed peanut allergy that means she must carry EpiPens everywhere she goes.
Kayleigh said: "I want to encourage all local residents to be allergy aware when in public places. The throwing or scatter nuts on tree trunks to feed birds or squirrels in the park, puts a child with a food allergy at risk of hospitalisation. Many people just don't realise the impact it can have".
It is understandable that most people don't think about this in their day-to-day lives but awareness and small changes can make a big difference to the quality of life for people with severe allergies in our community.
Sign Up To Our Newsletter