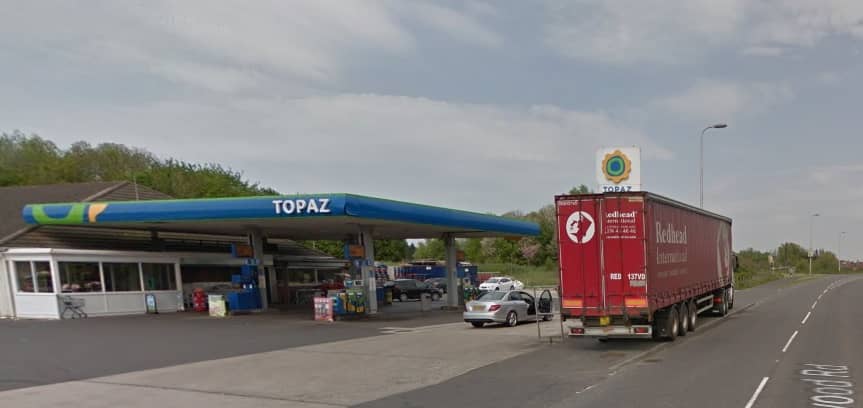 Lorry drivers who park illegally at a county Armagh service station will be hit with fixed penalties from today.
Huge 40-foot trucks have been parking illegally at Silverwood Service Station in Lurgan for months, which has led to accidents outside the forecourt.
And despite repeated calls from agitated shop managers, the message has not been heeded.
However, police not insist any offending lorry drivers and their vehicles will be hit with a fixed penalty notice
Inspector Brian Mills of Lurgan Neighbourhood Policing Team, said: "The problem is caused by lorries that park on the footpath between the two entrances. The management at the premises tell me that they have repeatedly asked drivers not to do this but they have been ignored.
"The management have had complaints from their customers. They are keen to have no further accidents as these have the effect of closing the road for long periods affecting their business.
"PSNI posters were put up in the shop  warning drivers that parking on the footpath is an Obstruction Offence for which a £30 non-endorsable fixed penalty ticket can be issued.
"I have been advised on most of the offending drivers. They will be advised that from next week we will be issuing fixed penalty tickets at that location."
Read more news:
Family picnic area wrecked in 'disgusting' late night drugs binge
Post mortem due after discovery of man's body in Banbridge
Man charged and due in court accused of murdering Anita Downey
Police move into Meadows area as scores of young people ignore warning
Man arrested as vintage tractor is recovered week after it was stolen
Police confirm identity of woman found dead in Lurgan
Community stunned as woman 'murdered' yards from school
Murder investigation launched after woman's body discovered
Department of Infrastructure respond to Armagh parking ticket furore
Sign Up To Our Newsletter