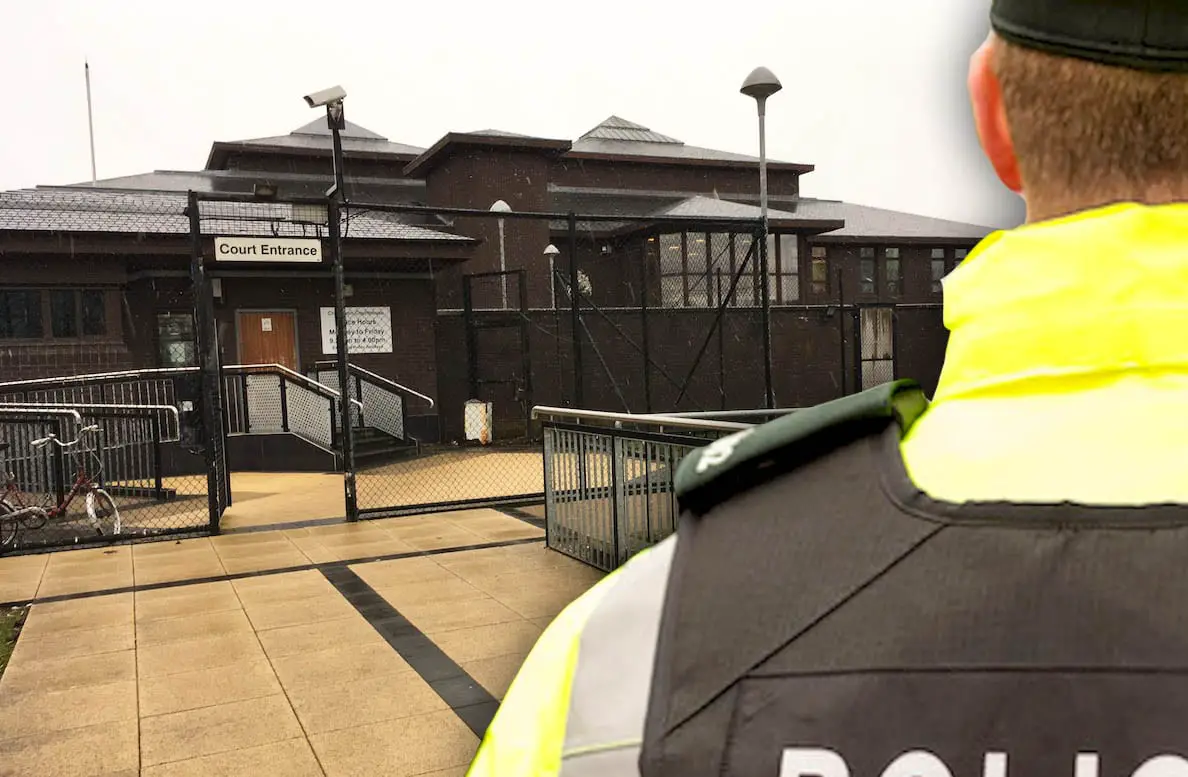 A man who threatened staff with a hammer during a robbery on a service station in Lurgan has been given a jail term.
Michael Evans, of Sydney Lane, Aughnacloy, Co Tyrone, appeared at Craigavon Crown Court via videolink from Maghaberry Prison.
The 28-year-old pleaded guilty to two charges of robbery and criminal damage relating to the incident on July 15, 2021.
The court heard that at 8.15pm that evening, police received a report that a lone male had entered  Bellevue Service Station on the Antrim Road armed with a hammer.
He threatened staff to open the tills and struck the Perspex screens with the hammer before smashing two tills open and removing cash.
He made off over railings at the back of the shop and was seen jumping down onto the railway track.
Police found the defendant lying on the railway track and he appeared to have broken his ankle.
He was arrested, taken to hospital for treatment and a sum of £705 in notes was recovered from his underwear.
A hammer, with his DNA on it, was also recovered.
The shop confirmed that £706 had been stolen.
The prosecution said that at the time the defendant was under a licence period in relation to causing grievous bodily injury by dangerous driving in an incident in 2018, for which he received three years.
He also has a number of offences in relation to drugs.
Defence barrister Sean J Doherty said his client had entered guilty pleas at the earliest opportunity.
He said the defendant had a "sincere sense of remorse and regret" and "wishes to apologise publicly to those affected by his senseless actions".
He noted there was an absence of previous relevant convictions, a history of drug misuse and mental health problems, and that it was not a "particularly sophisticated operation".
His Honour Judge Lynch QC said the circumstances of the case were set out in a statement of one of the staff members who was serving a child at the till when the robbery took place.
He said, that having read the account by one of the victims, one can envisage "the fear that was engendered in people going about their lawful business".
Judge Lynch accepted it was not premeditated and that the offence took place at a time when the defendant was at a particularly low ebb and resorting to misuse of alcohol and drugs, which he added was an "explanation but no excuse".
However, he said that for those who were at the receiving end it was a "frightening experience indeed".
"The sheer irrationality of the accused's behaviour in itself was an additional fearsome factor since the persons inside the shop would not know what Mr Evans was going to do," he said.
He sentenced him to 42 months in prison on the robbery charge, half to be served in custody and half on licence, and six months concurrent on the criminal damage charge, along with a £50 offender levy.
Sign Up To Our Newsletter