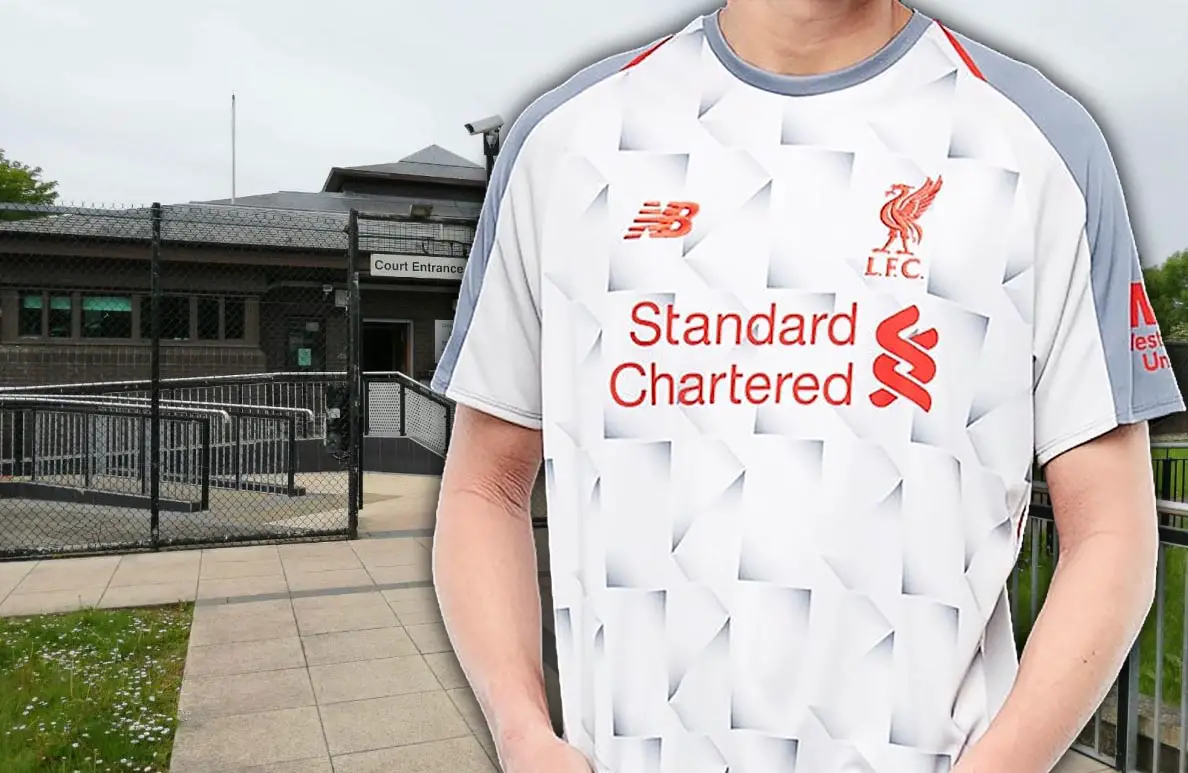 A grey Liverpool FC jersey helped police convict a Lurgan man who was spotted brandishing a three foot long machete as he walked down the street on Champions League Final night in June.
The 47-year-old, who was found guilty, after contesting the charge, had also entered a plea to urinating in a police cell following his arrest.
Keith Edward Brown, of Avenue Road, Lurgan appeared charged with possession of an offensive weapon in a public place and criminal damage at Craigavon Magistrates' Court on Monday.
Defence barrister Aaron Thompson stated that his client had pleaded to the criminal damage, which referred to the defendant urinating in a police cell, but would be contesting the possession of an offensive weapon charge.
Prosecution called an independent witness to the stand to give evidence.
He said that on June 2, at around 12.05am, he had been driving down Avenue Road in Lurgan when he observed a male wearing a grey Liverpool football shirt, carrying what he described as a large knife.
The witness clarified, when prompted by the prosecution, that this has been a machete, approximately three foot long.
He described the male as being around five-foot-ten, in his thirties, with shortish hair.
The witness explained how he turned his vehicle around to make sure of what he saw before contacting police.
After following the male for approximately 200 yards he observed him stop at a property and start banging on the door.
He told the court: "I rang police again as he had moved from where I initially said he was but as I did this police drove past me and pulled up outside the property.
"After I saw a police officer get out of the vehicle in front of the house I drove off."
Mr Thompson stated: "The accused denies it was he who was the man you saw walking down the street in a Liverpool top carrying a knife.
"This was the Champions League final night, there would have been a lot of people on the street; it would be fair to assume quite a few of them were in Liverpool tops, did no one else encounter this male?"
The witness said that many people who had been approaching the male crossed the street upon seeing him.
Mr Thompson stated: "You say he was never out of your sight but then you said as soon as the police arrived you drove off."
The witness replied: "As soon as I saw one officer get out of the police car I drove off as I didn't want to see what would happen."
Mr Thompson commented: "All I am going to suggest is that the defendant was not the man you saw carrying the knife."
The investigating officer was also called to give evidence. He said that the defendant did not have the machete on his person when they arrived.
He stated that as he got out of the vehicle he observed a "large gleaming object" in a neighbouring garden, which turned out to be a machete.
No forensic analysis was carried out on the weapon with the constable stating that this was because a forensic officer deemed it unnecessary.
He confirmed that no CCTV was available from any local business which covered the main walkway, house to house inquiries had also been fruitless, due to the time of night.
The constable commented: "I had been on duty that night dealing with a number of public disorder offences, I came across a lot of people in red Liverpool tops but none in grey."
Mr Thompson retorted: "This is a circumstantial case, the machete is found in the garden, he is arrested in a grey Liverpool top and a witness saw the male walk to that address, or around that address.
"Forensics, DNA or fingerprints are not present, or indeed is there any CCTV for your worship to watch."
District Judge John Meehan said: "The evidence of the independent witness is followed simultaneously by the defendant's arrest by police.
"He is found wearing a distinctive grey Liverpool top, not red, and the machete is found nearby."
Brown was found guilty of the charge.
Judge Meehan commented: "I think this is a case for a pre-sentence report; he has a seven page record, he faces a high likelihood of going to prison for this offence".
The case was adjourned until October 23 for sentencing.
Sign Up To Our Newsletter