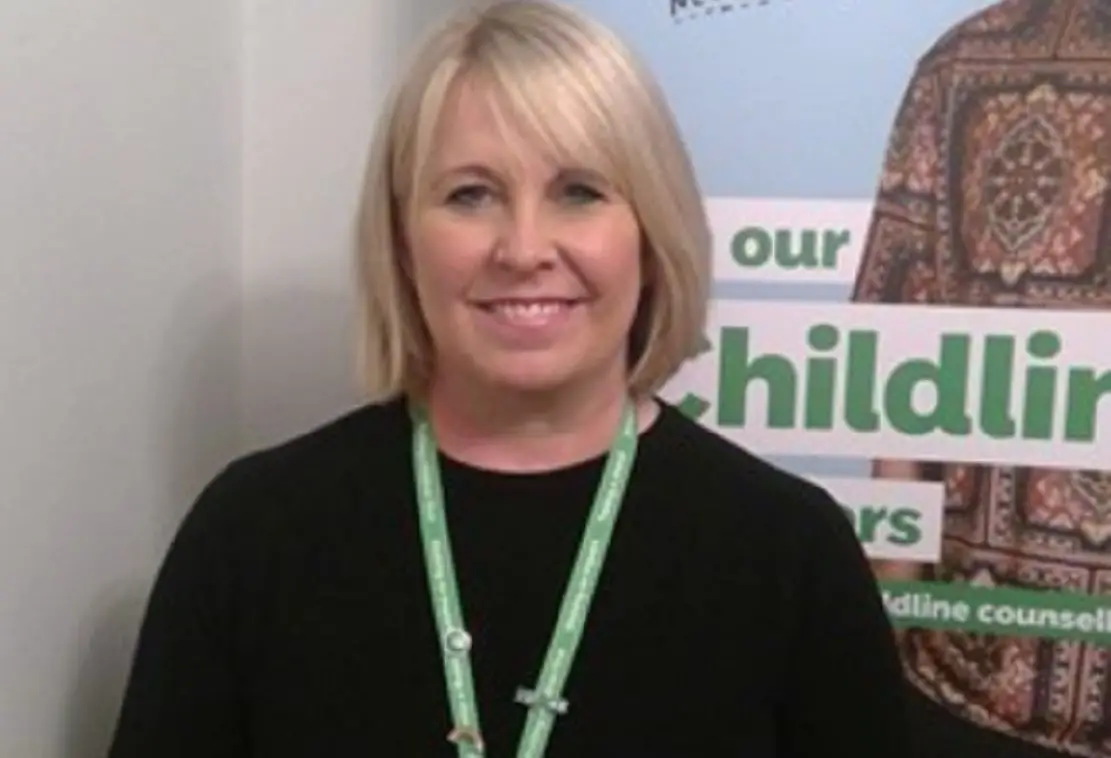 Dollingstown woman Gillian Mills had been running her own beauty salon in Comber for 13years when she heard an interview on her car radio which included an appeal for more volunteers at NSPCC's Childline service in Belfast.
While she loved the work at her salon, she felt it was time to take on another challenge and applied for the volunteering role straight away.
Gillian, who lives with her husband, step-daughter and two dogs, trained to become a counsellor and volunteered for Childline for three years.
She then made the decision that she wanted to change career and work full-time for the organisation. She is now a volunteer co-ordinator at the Belfast office, and is appealing for more people to consider becoming a volunteer.
Explaining what drew her to the service in the first place, she said: "I always enjoyed making people feel good about themselves when I had my salon but I decided I wanted to do something more, and especially something positive that could make a real difference to the lives of children and young people.
"When I was called along to train as a volunteer I really didn't know what to expect but it turned out to be the best thing I ever did.
"The initial 11-week training you receive from Childline is practical, supportive and really interesting, and I learnt how to best support children and young people and help keep them safe.
"However, once the official training period is over, you're never just left to get on with it – there is always ongoing support, extra training, and workshops to help improve your knowledge and skills.
"Importantly, even when you've been volunteering for quite a long time, you still have access to staff and supervisors on every shift, in case you need help, support or just to chat about some of the calls you've received.
"It's a truly supportive atmosphere and despite some of the sad and distressing calls and messages you can receive, there is such a positive atmosphere at the base, because everyone is working together to help children when they have nowhere else to turn."
Soon after becoming a volunteer, Gillian decided that she wanted to continue working with Childline as a career, and was delighted to get a job as a staff counsellor.
"This role was part of a small but dedicated team of counsellors who sometimes work the most anti-social hours but, as I discovered, that is when the demand on the service can be at its highest so it's very rewarding to be there to help," she said.
 "I then progressed to my current role as volunteer co-ordinator. This is a new challenge for me and I feel in some ways that I have come full circle – it doesn't seem long since I joined as a volunteer and now I am employed to look for new volunteers and help with their training.
"We have two bases in Northern Ireland, Foyle and Belfast, and both could not function without our amazing volunteers – they really are the lifeblood of our organisation and truly inspirational in their dedication. It's a constant privilege to work alongside them."
Gillian has also begun training to be a sessional supervisor so that she can work alongside the volunteers to support them.
Additionally, she has enrolled for a degree in Psychology at Queen's University in Belfast which she enjoys immensely.
"After a gap of almost 30 years away from education, joining the team at Childline has inspired me to change the direction of my life and has also given me the confidence to go back to studying and I love it," she said.
"I think a lot of people don't know that there are so many children who are lonely or scared and really don't have anywhere else to turn.
"I was working on Christmas Day one year and took a call from an 11-year-old girl who told me that she was feeling so sad because she and her mum were on their own at Christmas. Because they had so little money, they weren't able to have any sort of Christmas dinner or presents. She just wanted to talk to someone about this and we were able to listen and support her.
"I also had some feedback from another young person who had been in touch earlier in the day. She told us that because of Childline she was still alive that evening. This is why I do the job I do and that's why I am calling for more volunteers so that we can be there for every child who needs us."
Anyone interested in finding out more should visit nspcc.org.uk/volunteer for information, or consider attending one of the charity's volunteer information evenings.
Sign Up To Our Newsletter