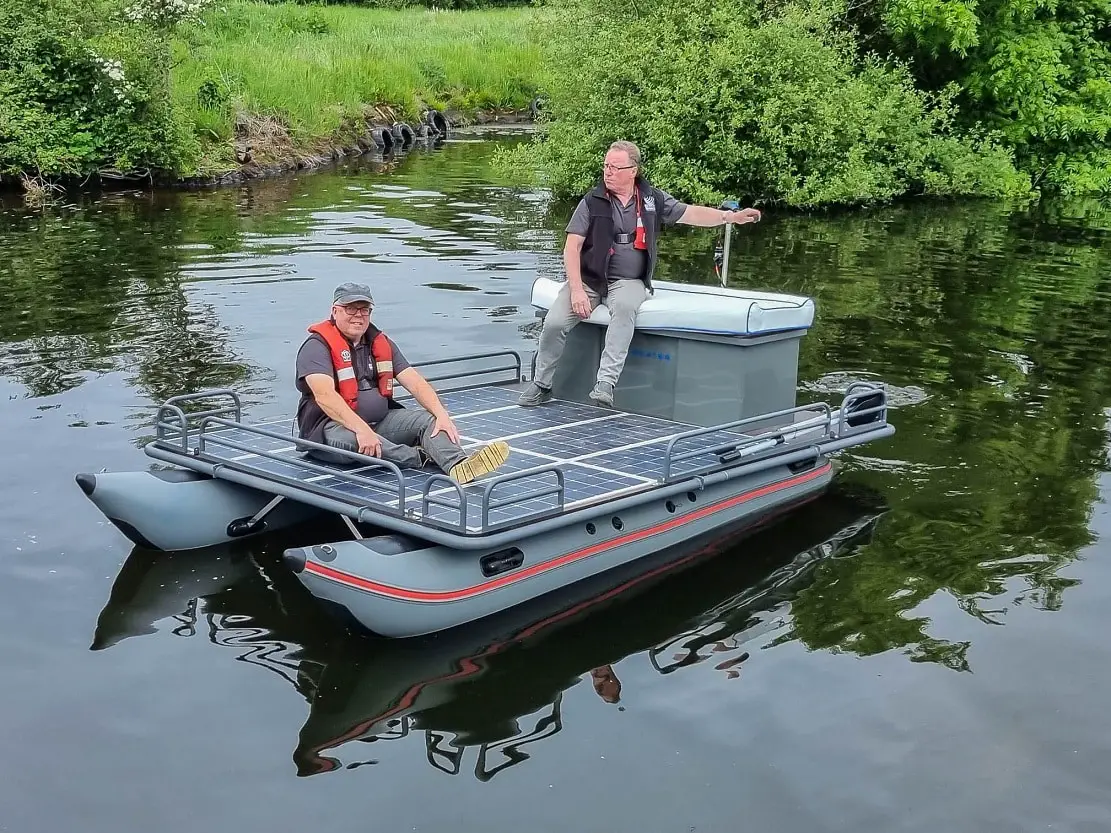 A new multipurpose solar-generating station that can be used on water, on land and on the move is set to be put to its most extreme test yet with a charity voyage around Lough Neagh.
Dundrod man Mark Magee has set himself the epic challenge that will not only push this new system to its limits but also raise money for two very worthwhile charities.
Mark will be circumnavigating Lough Neagh using the self-powered solar vessel, using one electric engine, one battery system, in one day and manned by just himself.
Mark, a Marine Engineer, works in production and R&D for the Lisburn-based company Trade Renewables Limited, who have developed a new off grid power system in the form of a boat, that can also be transformed into a trailer system for off grid use on land.
The GRIDBEATER is capable of supplying anything up to 1800W of power.
It includes eight 130W walkable panels on deck and up to four 235W deployable expansion panels. There are also up to four 200ah storage batteries and a range of USB and 12V power outlets.
Each 200ah lithium battery is capable of running a kettle, a fridge or a microwave oven for hours. On a sunny Summer's day, the GRIDBEATER can fully charge four of its batteries.
Mark will set sail at the end of July, with the trip raising money in aid of  Northern Ireland Air Ambulance and the Lough Neagh Rescue.
He will be accompanied during the 50-plus mile journey on the Lough by Bann River Cruises as a support vessel.
Speaking on the charities, Mark said: "I'm looking more exposure just for the charities. I think the Lough Neagh Rescue don't get enough exposure. A lot of people aren't aware of it. There's actually three rescue stations based around Lough Neagh and they only get support through charitable donations."
Mark explained: "It'll be myself, the boat, the engine and the battery system. Hopefully it will self-charge itself to keep me going the full distance."
For the product itself, Mark says that the aim is that it could eventually enter the leisure market and for application in emergencies and disasters, providing small amounts of power in emergency situations.
He explains that the vehicle is "completely green" and consists of a solar panel floor and a seat-box which contains the batteries and the control systems. The engine is run by the electricity, which is supplied through the batteries that are charged by the solar panels.
"We've got a pretty eco system too so everything is 100% recyclable."
Speaking on the circumnavigation of Lough Neigh, Mark said: "Getting around is going to be a challenge. Especially if it's going to be a constant 15 hours.
"The route will start at Antrim and down towards Oxford Island then across the Lough and onto the West coastline and right up towards Toome and across over to Antrim. It's about 75 kilometres.
"I've got a speed of about six to seven kilometres, but that's allowing for stoppages and everything else."
Mark says that the boat has been tested extensively, including the batteries and the charging of the systems.
"As far as the durability is concerned, we've thought of all the safety factors. It's just pretty lightweight and I think she'll actually meet a lot of the leisure industry requirements. We've been on the Bann River itself,  going against current and wind and the boat performs magnificently."
This challenge is set to be the biggest test yet, with the journey pushing the boat to the "extreme", being the longest distance it has ever travelled.
Mark added: "It's pretty well tested. We've just decided that it's now time to do something that will benefit somebody but also give it a really good test."
If you would like to donate to Mark's appeal, you can donate to Lough Neagh Rescue here or Air Ambulance NI here.
Sign Up To Our Newsletter