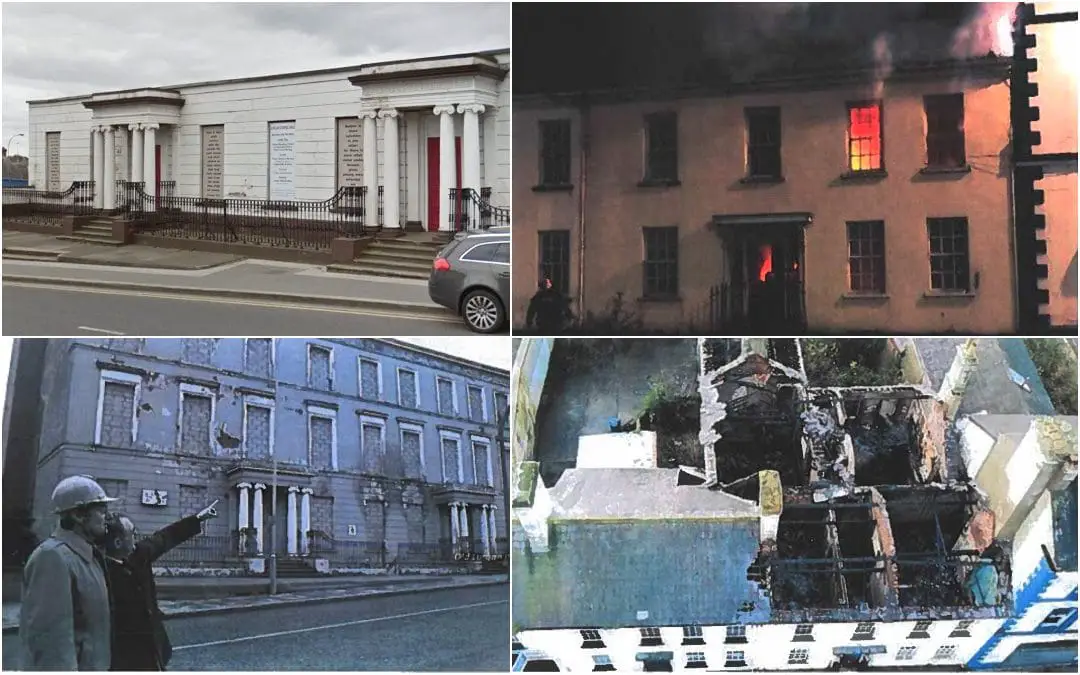 An historic building in Lurgan town centre could be set to undergo an urgent transformation to prevent it being lost forever.
The property in question has been vacant for about 10 years now, having operated as a dental practice. But it has had many different uses over its close to two-and-a-half centuries in existence.
The building, at 47 High Street, has withstood much over the years and even sustained damage in an arson attack on a neighbouring property just four years ago.
But the Ulster Architectural Heritage Society- which believes it and neighbouring number 45 were originally a farmhouse dating back to around 1790 – fears for its future unless something is done.
And now, it appears, something will be done.
An application has been submitted to Armagh City, Banbridge and Craigavon Borough Council for consideration.
And the owner is expected to make a bid to the Townscape Heritage Initiative funding being overseen by the council in the town.
The cost of the works has been estimated by Construction Information Services to be in excess of £250,000.
But it would be money well spent in preserving part of the fabric of old Lurgan town.
What remains of the building sits adjacent to Lurgan Gospel Hall – within the town centre "retail core" – and is currently "vacant and in disrepair".
Its "special architectural and historic interest" was recognised 40 years ago when listed building status was granted in August 1981.
The applicant is AJ Construction (Lurgan) Ltd, and the hope is to carry out "alteration, conservation and renovation" works on site.
These will comprise repairing the historic fabric, internal layout alterations, new window openings, new door openings, blocking up existing openings, and reinstatement of metal railings to a raised plinth.
There will also be steps constructed and a platform lift to provide level access to the rear. 
The existing corrugated sheeted roof over the rear extension will be replaced with a new flat roof, and other associated site works are also planned.

From 1732 until the mid-1850s, the land on which the property now stands seems to have been leased by the Cuppage family from the Brownlow family.
Numbers 45 and 47 were separated from one farmhouse into two buildings around 1840. Many of the outbuildings most likely date to the late 1800s and are most likely associated with the emergence of the linen industry on the site.
Indeed, they have been associated with various linen and weaving companies over the years and even at one stage a confectioner and "aerated water manufacturer". They became associated with the medical professions in the mid-1950s, firstly as a doctor's practice and most recently as a dental practice, until closure a good decade ago.
A design and access statement reveals the ambitions and the hope to seek financial support for the works.
It explains: "The intention is to conserve this listed building and to bring it back into long term use thereby saving it for future generations to enjoy.
"To make the scheme financially viable the client will be submitting an application for an urban development grant under the Townscape Heritage Initiative scheme which is currently running in Lurgan. This building is on the council's priority list to avail of this funding."
A structural report has already been carried out on the building.
According to the design and access statement: "The existing main building has suffered extensively by the ingress of water through holes in the roof, some of which were caused by the fire in the neighbouring property in 2017.
"This has resulted in areas of extensive rot, localised collapse of ceilings, failure of structural timber beams, localised failure of suspended timber floors, structurally significant cracks in walls, and the subsidence of the stair half landing.
"We intend to make the building structurally sound which will involve the replacement of failed structural beams and the localised rebuilding of sections of wall that have failed structurally."
Timbers will be repaired and roofs re-slated, and all surviving historic windows and doors repaired too.
The statement adds: "All surviving historic detail is to be retained and repaired where possible and, where sections are beyond repair, they are to be replaced like for like."
Partitions will be removed and layout reconfigured of the single-storey rear extension to provide a disabled toilet and a staff room/kitchen.
Only short sections survive, but the railings – believed to have been removed and melted down as part of the war effort – are to be replicated and reinstated too.
The hope is that the building can be brought back into public use but the applicant has stressed the urgency to move now on this matter to council planners.
The statement concludes: "It is a time limited opportunity to conserve this building to a high level, to rectify past inappropriate alterations and to bring back historic detailing that has been lost."
This application is now with council and will be publicly advertised this week before a decision is made.
View all the latest Lurgan news here.
You can join our Lurgan News Facebook group here.
Sign Up To Our Newsletter